First thing I'd like to mention is multiplatform multiplayer. It's a lot of fun playing on a PC against your friend in another room playing on his iPad. The game controls work flawlessly on regular PCs with mouse and on iPad's touch screen, so there isn't any unfair advantage for anyone.
We are putting a great deal of effort into balancing units. In Blue Libra 1 both sides had identical set of armies that differed only in graphics. In Blue Libra 2 we made both sides play differently. They have become more specialized. Forces of Libra have powerful and resilient ships, while Garians have them weaker, but also cheaper. Thanks to this, Garians are quicker to expand and are more capable of launching multiple attacks at the same time. Forces of Libra on the other hand have fleets that are really hard to defeat in direct confrontation.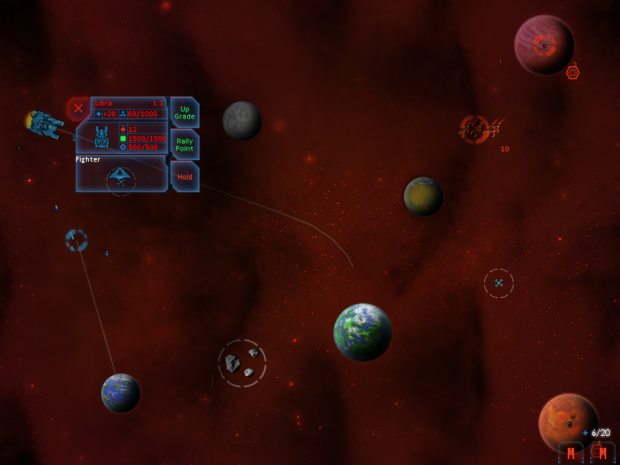 Important part of the game is choosing your fleet composition. It's something we've greatly improved over the first game. There are three factors to consider when producing your armies.
1) Unit level. This is a new concept, not available in Libra 1. In Libra 2 all shipyards can be upgraded. Upgrading gives access to new units. In Libra 1, player had access to top tier units from the start. We've decided to change that. It makes the game play a lot smoother and more comfortable as well as gives more strategic decision making. Upgrading shipyards is free, however it takes some time, during which the shipyard is inoperative. Players need to balance between short term and long term goals. Having bigger fleet of weak ships quickly or wait and be able to produce better units.
2) Unit production time vs mineral cost. Mineral cost is a new concept as well. In Libra 1, the only way to balance units was by making better units produce a lot longer. Thanks to adding mineral mining, we could make this a lot more fun. Big units will now produce only a bit longer than small units, however they will require a lot more minerals to make. Its for the player to decide if his economy can sustain producing the big boys or if he needs to settle for something smaller.
3) Counter strategies. All units have some specialty. They are good against some particular unit(s) but weak against other. This concept was present in Libra 1, but we've improved on it. For example fighter is a quickly produced unit perfect for early expansion. Destroyer has a new ability, named Damping shields, that nullifies weak damage, making it perfect against large quantities of small ships. Battleship has its own unique ability that works like the opposite of destroyer's. Battleship's ability reduced all large damage to a fixed number. This means that any enemy large ship will be inefficient against our battleship. The best way to deal with a battleship is with a lot of small ships.
There are even ship combinations that may work better if executed together. For example, a new ship in the game, called "Valiant" improves your fleet's defensiveness. As long as ships in the fleet have their shields on, all incoming damage is reduced. If its paired with the repair & recharge ship (replenishing shields) you get a very tough cookie to crack. As long as they work together, destroying fleets supported by those two ships may prove difficult. Of course, there is a counter strategy for everything. An improved version of the Eradicator ship. Which specializes in giving extra damage to shields will deal with them swiftly. Each unit in the game has a certain role to play. This should provide a lot of fun.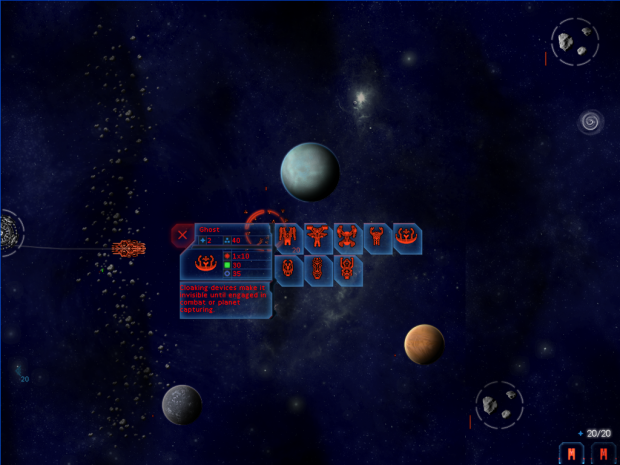 We're also improving the visual aspect of the game. Missions will have more backgrounds giving a lot of mood to the game. Units will have more detailed animations than in Blue Libra 1. All in all, we're very happy the game.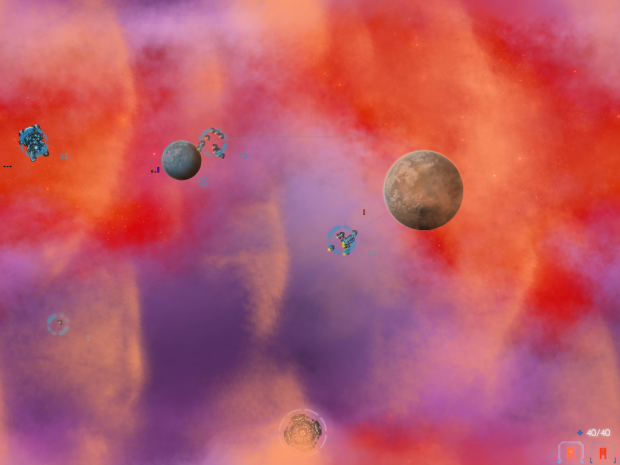 This last screen makes our graphics artist especially happy. He likes the psychedelic feel of the image.