So you've been doing pretty well so far. You managed to find a pretty sweet shotgun off of some guyyou chainsawed to death, scrape by a rather terrifying Shredder, and your Killometer is on the rise.But whats this? This guy just seems to be using a giant shield. That guy happens to be a Battlemaster(guitar riff), and if you can't trick him, you are going to have a bad time.
"Look at him, hiding behind his shield like a loser"
But what are Battlemasters? You can think of them as higher level mooks in the mook generating machine. These guys essentially have more health, more armour, and hate your guts. They wield two powerful weapons. One is whatever gun they generate, usually a smaller weapon across any of the weapon classes. Why is this? You may say loudly into your monitor. After you apologize to your monitor (we will give you a moment), you can read that Battlemasters lug around giant shields. These shields, and the blood on them, aren't just for decoration. They are capable of blocking pretty much everything you can throw at them, allowing for them to calmly advance on your position while firing at you. Get too close however, and Battlemasters will bash you with them, knocking you back a little bit.
We have also tested the limits of our time space vortex. First and foremost, your games got really weird. What is this chest high cover stuff? Aiming down the sights? Madness. We did manage to send a note to some other wacky group that is making the right kind of game. With actual Nazis and Blowfish (we don't get it either, just trust us). Regardless, when they weren't looking, we quickly stole one of their guns and put it in our game, and because we're in the past, that means we did it first! Suck it time paradoxes!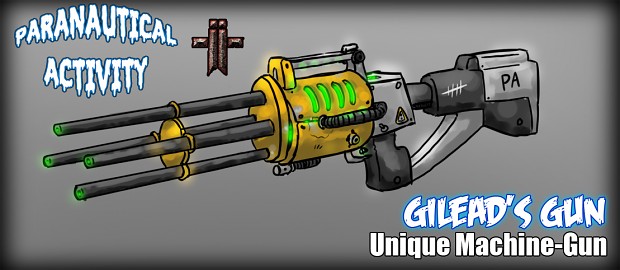 "You have picked up

Gilead's

Crushgal's Gun"
Be sure to check out Paranautical Activity on Steam!