This is a once in a lifetime opportunity (at least from us here at Actos Games)!
Starting today, anyone who upgrades or backs at the $23 (Mini-Collector's Edition Tier) or higher will get THERMOBIRD (for mobiles) and TITANOMACHIA (Our upcoming game based on Shadow of the Colossus for PS2) for FREE. That's right. We're so trustworthy of you fans that we're willing to give away two more games as we develop them!
Not only that, but you will get an EXTRA copy of APEXICON as well! That means the double tier becomes triple, and the triple tier becomes quadruple!

What if I already have backed at $23 or higher?
Then you get the same deal!

What if I want to upgrade from my early bird $12?
It's only $11 more to the Mini-Collector's, plus you get all the sweet swag!

What is THERMOBIRD? What is TITANOMACHIA?
THERMOBIRD is our exclusive mobile title, that will have you playing easy controls to help Thermobird reach his girlfriend, Thermobirdie, and both migrate farther south than the harsh colds of Major City!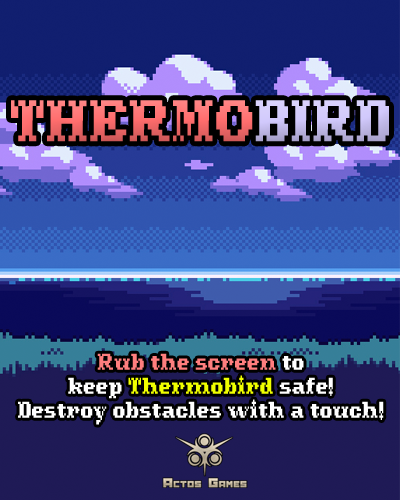 Thermobird, our first exclusive mobile title.
TITANOMACHIA, however, is still in deep design at this stage. It's our next big project, but we'll guarantee you'll get in on the ground floor.

Just like the name implies and the Shadow of the Colossus reference, we're aiming TITANIC with this future game. We'll share more info on it as we can announce later.

Any questions and comments, please put in the comments below, and we'll be sure to answer them!