Buying stuff with to kinds of currency.
Credits:
Credit are for buying expensive stuff, like your SpaceShip Weapons, House upgrades, "Tresures" or for some Quests. You gain credits by completing missions. You can also sell crystals that you grab in the Ship Shooter Mode, or sometimes in hidden spots in the RPG Mode.
Tickets:
Tickets are for Food, Bars, Vending Machines, Gym, and other usable objects and services. Every citizens have a daily pay of Tickets. So every day you wake up you have a Tickets amount... But you can make a higher pay if your "Rank" is higher! So get good at SpaceShip Combat if you want more money! (You can also find Tickets in the RPG mode, in Quests or by discovering secrets)
Types of Shops
Convenience/ Corner Stores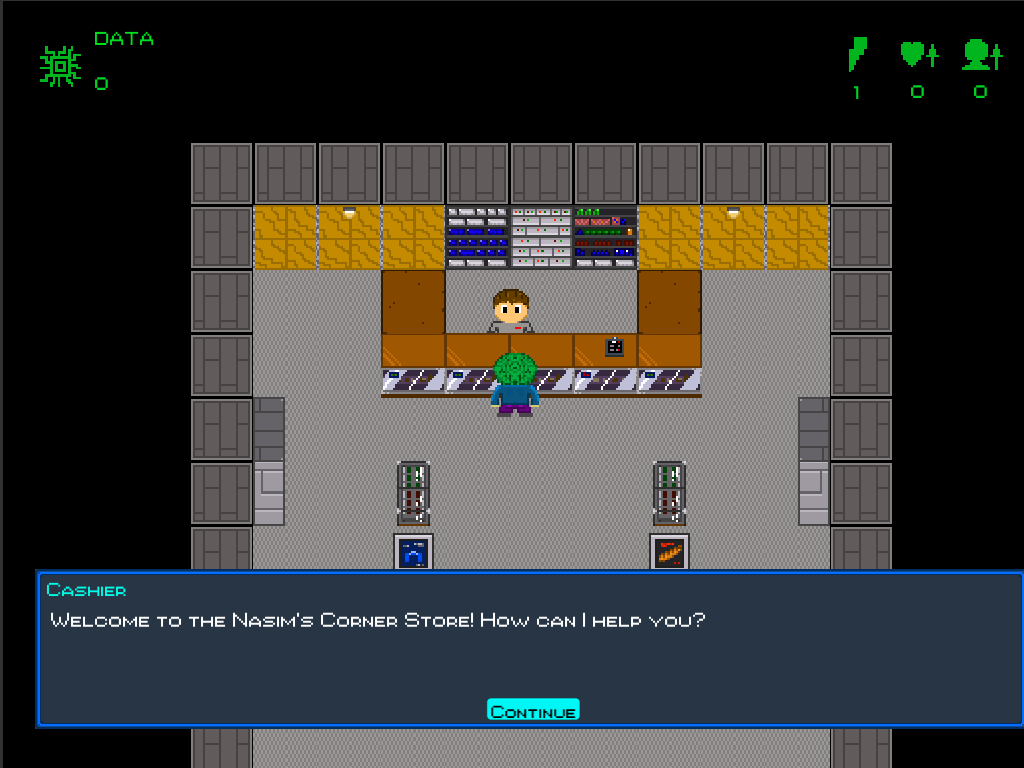 Here you can buy about anything like junk food, soda, beer, a pack of gum, etc.
Some Examples:
CandyBar
Gives you Energy Points.
Energy Drink
It wakes you up! (lower your fatigue level). And gives you some Energy Points too!
Mints
For a fresh breath! Gives you Charisma Points!
Coffee Shops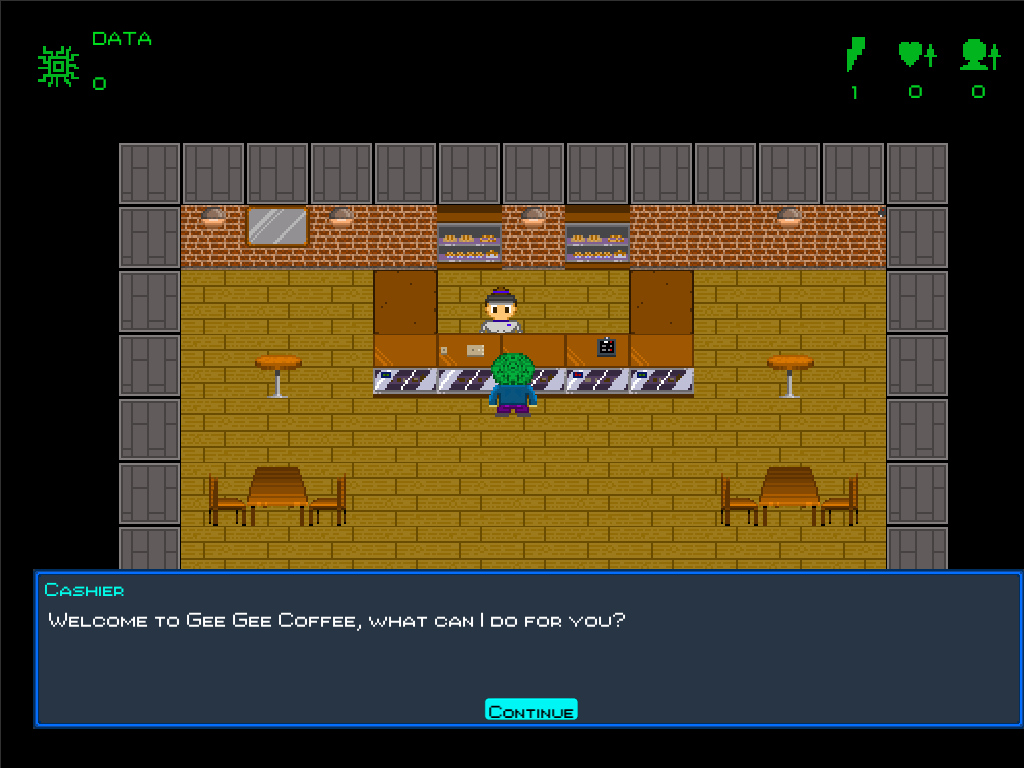 Go there to wake you up and eat some pastry!
Exemples of items:
Coffee Cup
A regular blend. Wake up your Character!
Espresso
Also wakes you up... But gives you a much higher kick! Take that if your Fatigue level is real high.
Donut
What's better that a Donut snack? Gives you Energy Points.
Fast Food Restaurants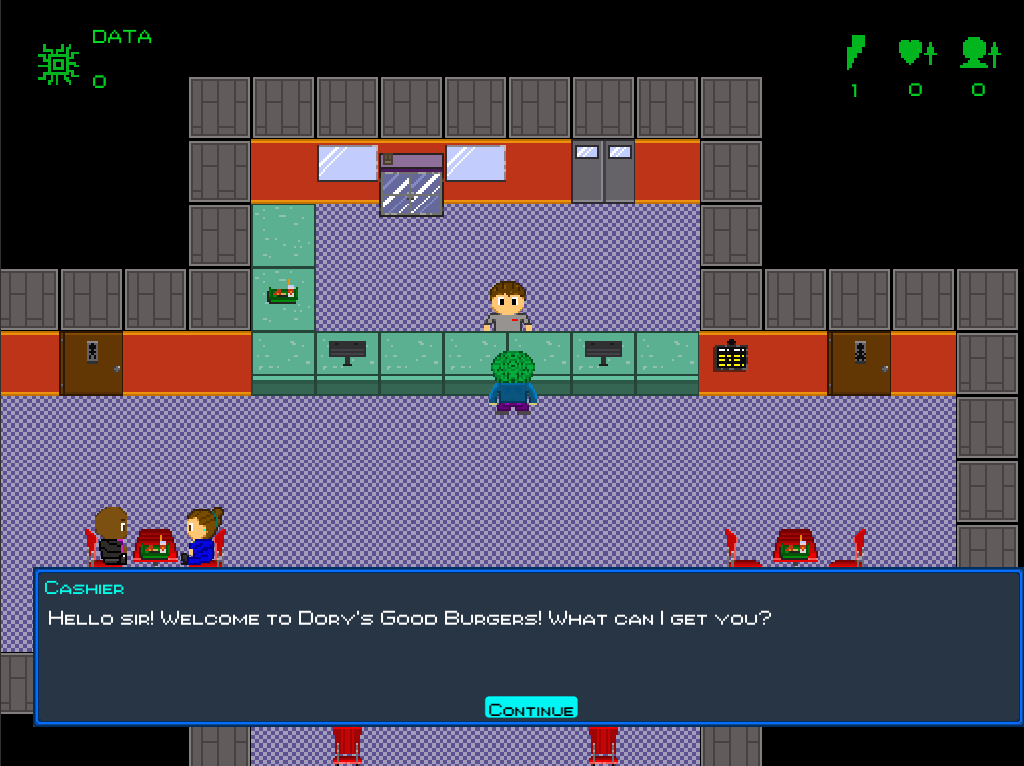 In those places, you can eat a good fast food meal, for energy and happiness!
Exemples of Foods:
Fries
Good with a burger! For Energy Points.
Hotdog
How about a good hotdog with ketchup? Gives more Energy Points.
Hamburger
Just prefect! (but the Cheeseburger is better). Gives even MORE Energy points!
Bars / Taverns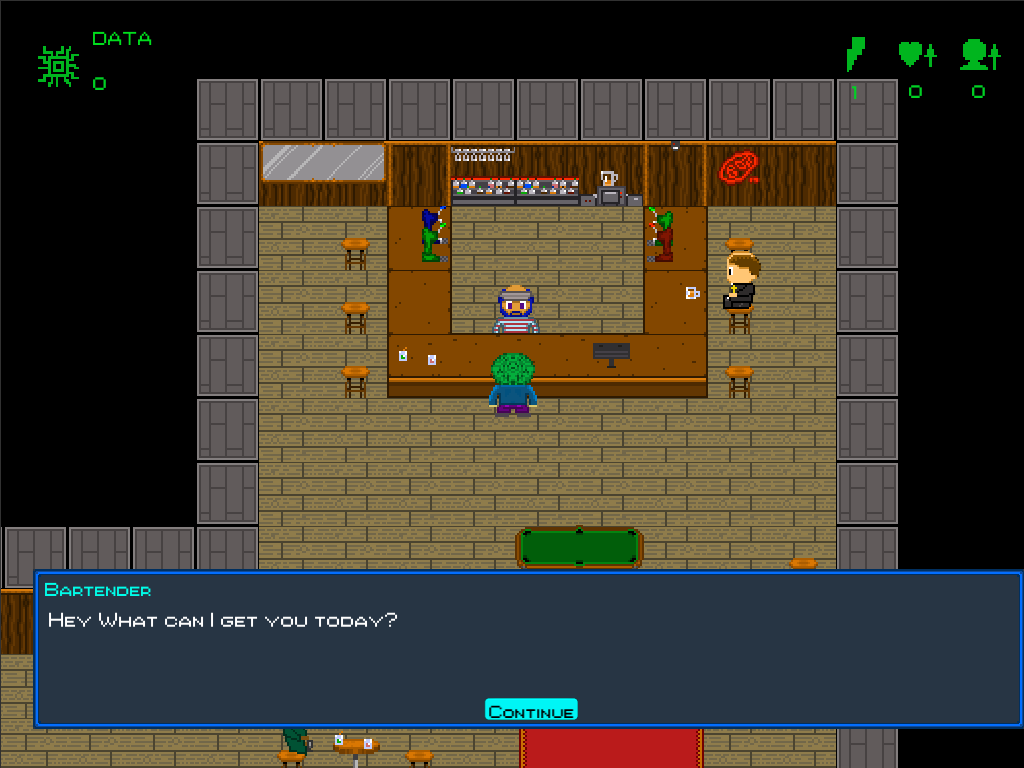 It's a good place to hang out, drink Alcohol (for Morale Points), play pool, and talk to new people!
Bakery
For good pastry and joy in the stomach!
Croissant
A realy tasty pastry! For Energy Points.
Chocolate Eclair
You'll fall in love with this dessert! Gives you Energy Points and Morale Points!
CheeseCake
You know you want that! For Extra Energy and Morale Points!
Drug Store
For medication. You need an ordonnance for these drugs... But you can find a way to work around!
WakeUps
If you are asleep, this is the thing for you.
Anti-Depressant
If you want to cheer up real quick!!
Anti-Stress
When you need to feel chilled and relaxed.
Crystal Shop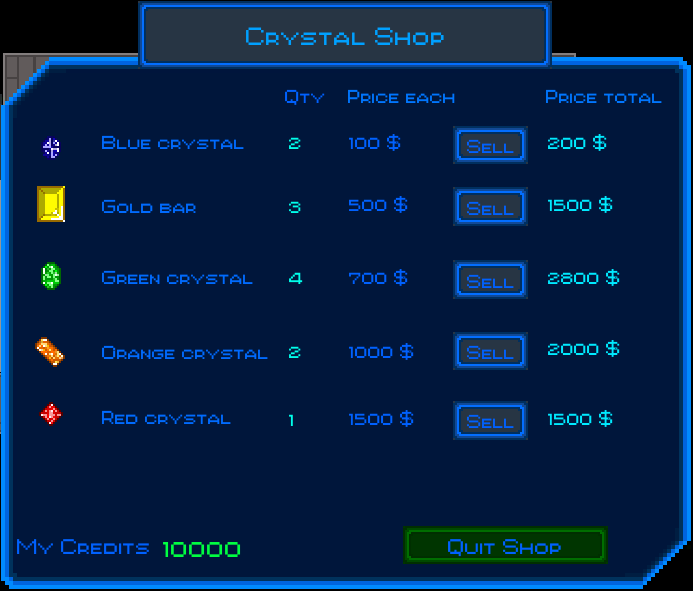 It's not for buying a Crystal but for selling it if you want extra Credits.
Weapon Shop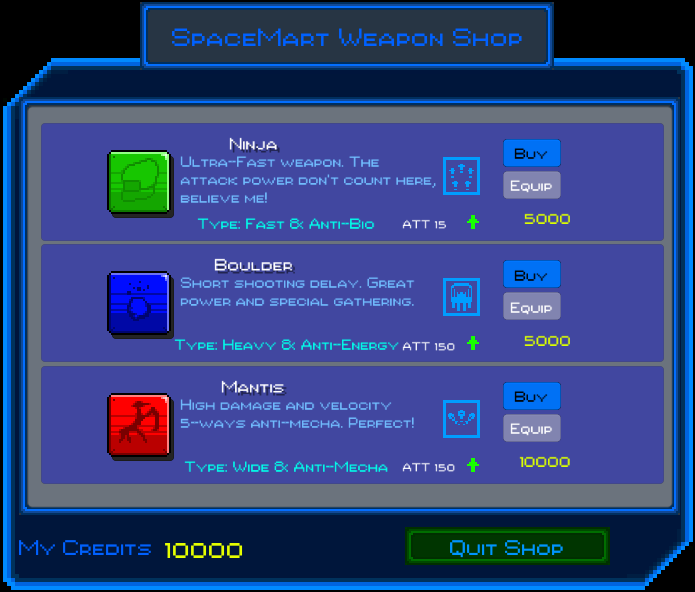 Where you can buy the latest most powerful Weapons for your SpaceShip!
House Upgrades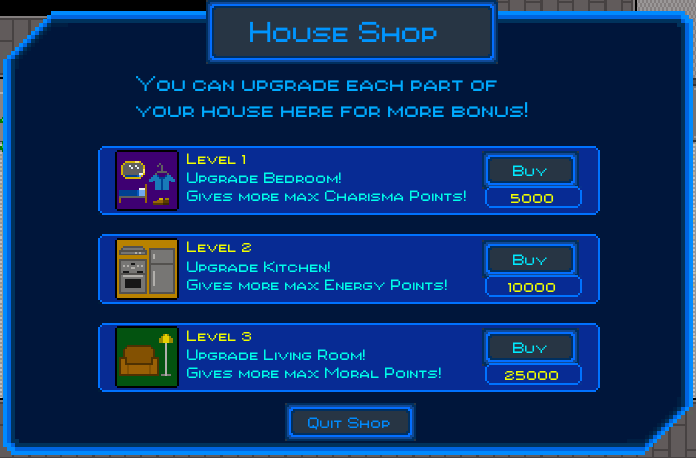 When you'll acquire a house, you'll need this to upgrade it. Each room upgrades, level ups your Max Character points, and give you a boost once per day, to start your adventure!
Other Shops Description! (no screenshots for these yet)
Resorts

There are many kinds, and they give various bonuses. The Tanning Salon boost your Charisma Points, the Virtual Resort Gives you a lots of Morale Points, Spa give a combo of Character Points, Etc.
Restaurants

Different from Fast Food. There, you connot take out. It's the waiter that comes to your table and you order what you want. Much more Expensive!
Library

In some you can buy books, in other just read... Reading is good for the mind and the Spirit! You can win XP or Data Points!
Lounge

It's like a bar but with high quality drinks. You can also find a different kind of customers, with an abundance of wealth.
Hotel /Motel

When you are in a city and you've taken one too many drinks and you can't walk, just call a Taxi to the nearest Inn.
PawnShop

You can Find any kind of interresting things in this... But when it's sold, it's sold.
Cosmetic Store

You ca buy Deodorants, Parfum, Hair Gel, etc. They're all products that gives you a Charisma boost!
Cinema

Movies are great for Morale and other things. You can also find someone who saw the same movie as you and you can talk for hours about that!
Medium

Some Oracles say they can foresee the future. You can't take that seriously... But we never know...
Gyms

Gym training is good for evey aspect of your life! But it can be tiresome!
Liquor Store

If you want alcohol to take out, this is the place for you!!!
A free Demo coming soon!
Thanks for taking the time to look at this feature, I love you all! I'm working on a Free Demo and will release it before the end of the year. I Hope you will all try it out, and see how all of these features are working together!
Twitter: @NiceHit2
Facebook: Facebook.com
Instagram: instagram.com/nicehitstudio
Web Page: www.Nicehit.ca