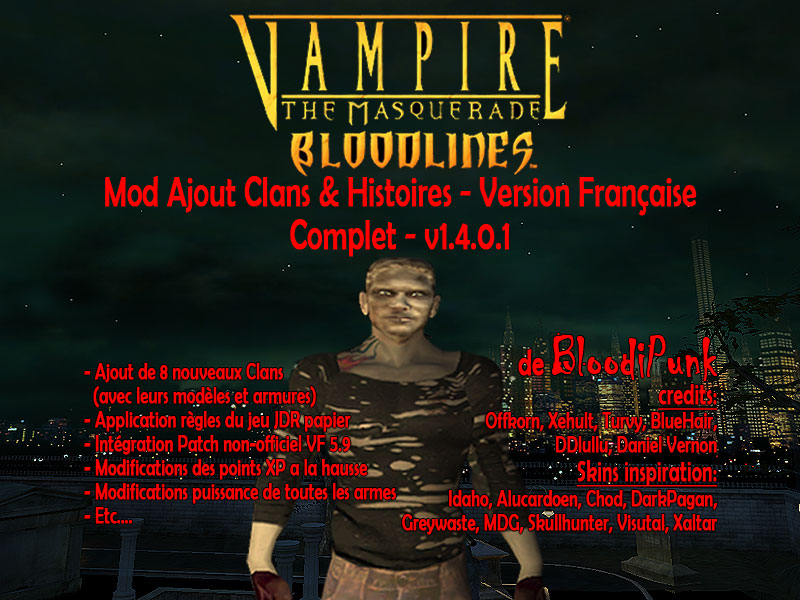 This Mod is applying the P&P rules to the gameplay as well as adding 8 new clans and integrating the histories for Camarilla clans (among other modifications).
It is intended to be installed on a FRENCH version of Vampire: the Masquerade - Bloodlines.
This Mod actually exists since 2005 and has been downloaded around 20,000 times since its first delivery from the french vampire-network web site.
THE MOD:
Addition of 8 new Clans and applying of the P&P rules of the orignal game
Inspired by the P&P Clans Add-on 2.10 Mod by Jack Zahn© (aka offkorn).
this is a free adaptation of this mod and not a french version of it. The work of Jack Zahn was just a (very good and very instructive) basis of workl.
NEW CLANS:
The Mod P&P Ajout de Clans et histoires count 15 Clans, with 8 new (with new models and more than 60 new skins) :
- Sabbat Clans
- Salubri Antitribu
- Lassombra
- Tzimisce
- Gangrel Antitribu
- Independant Clans
- Assamite Warrior
- Follower of Set
- Ravnos
- Giovanni
Integration of the histories for the Camarilla Clans:
Inspired by the interesting Histories revised Mod 2.1 by Xehutl©.
In order to add more interest for the existing Camarilla Clans, after studying this Mod, I have set up the histories for all Clans of the Camarilla, whilst fixing the many bugs of Xehult version
About :
- Gameplay modifications (stats, stealth, etc...) built in Xehult Mod, they have not been applied, prefering the modification applyed by the P&P Mod by OffKorn.
Integration of the Unofficial Patches for the french version
This mod was built upon the UP 1.8fr and has benn regularly upgraded with Werner UP.
It is now at version 5.8 of werner's UP (integrating 5.9 Milligan problem resolution)