Command & Conquer: Tiberium Crisis Unit showcase
---
Titan Mk. II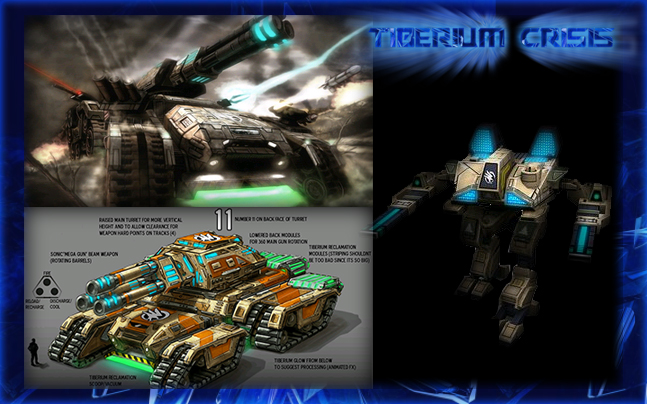 Titan Mk. II is an assault walker of the Global Defense Initiative Offense Class.
GDI Commando (Only can build one)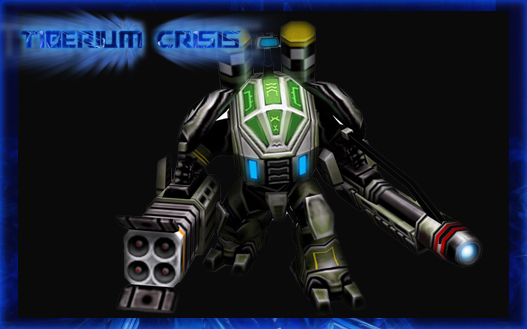 GDI commandos have had their marksmanship training taken to the point where they are capable of dual-wielding weapons with astounding accuracy, such that they almost never miss their target.
Refractor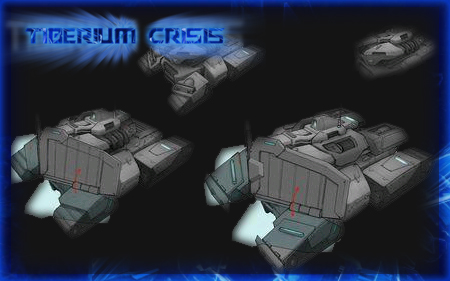 The AT-414 Refractor is a tracked vehicle that serves in GDI's Offense Class as a heavy tank in anti-heavy operations. Due to the unique requirement of its operation, the AW-414 is built on the chasis of a Mammoth Tank in order to support its movement. Its primary and only armament is the Skybeam Laser Cannon with a high yield that is capable of destroying large targets. Whilst the front shield is up, the Refractor is unable to fire its Skybeam Laser Cannon . However, after it redirects energy attacks back at their source, the shield can be lowered and the tank can use its primary cannon to finish off the wounded enemy vehicle.
Mastodon (Only can build two)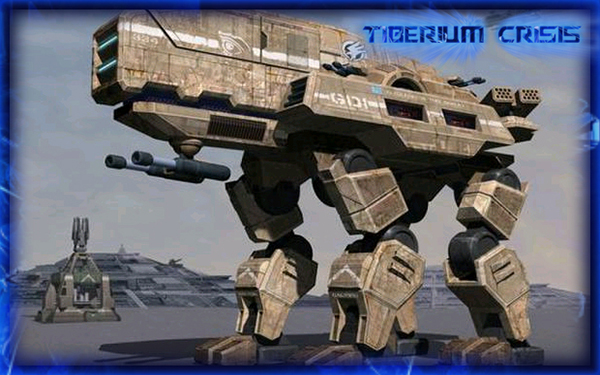 The AW-12 Mastodon is a large GDI Offense quadrupedal walker and a base assault platform. The Mastodon eschews its predecessor's large experimental railguns for a powerful, but also less expensive, chin-mounted "Tusk" artillery battery. The battery can fire four sonic shells in rapid succession to destroy targets in its line of fire, achieving a similar effect to the railguns. The reduced cost allows multiple Mastodons to be deployed simultaneously in a given area. Groups of Mastodons are referred to as "herds". The Mastodon's legs are also armored against charges' flechette shrapnel. Secondary armament consists of a pair of anti-surface/anti-air missile launchers and the Depth Charge Emergency Ejection System. The Depth Charge system dropped explosive charges from the walker's flanks to repel close-quarter assaults, compensating for the artillery battery's forward-only firing arc.
Kodiak (Only can build two)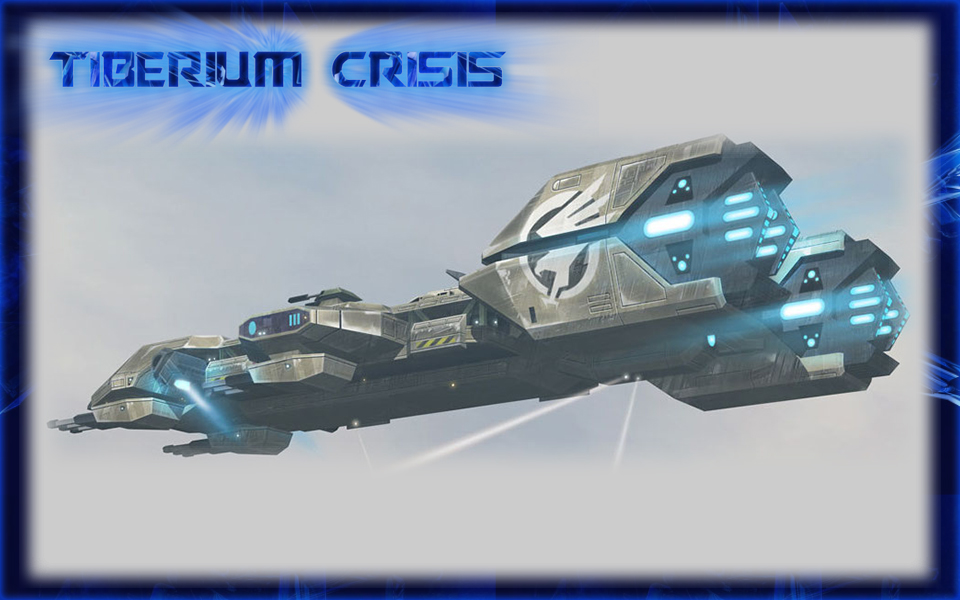 It took six long years of on-and-off development, but in 2068, GDI unveiled the foundation of their space fleet, the Kodiak-class battle cruiser, named after Michael McNeil's legendary command vehicle. However, the name was about the only thing in common the two ships had - unlike its command-oriented predecessor, the new Kodiak is a warship first and foremost, armed with nine 24" guns grouped into three turrets with a compliment of Vulcan cannons for anti-air defense.
MARV (Only can build one)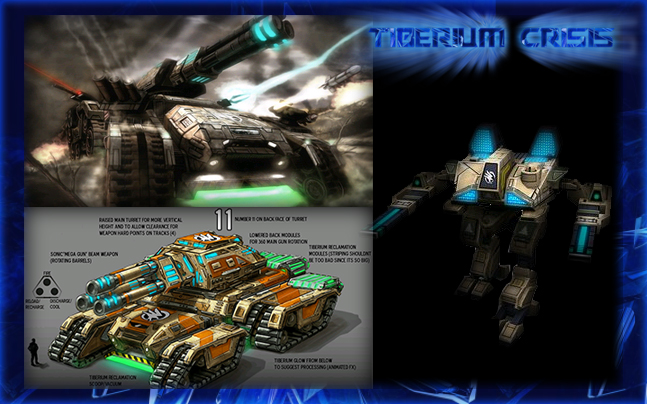 The Mammoth Armored Reclamation Vehicle (MARV) was an ultra-heavy tank/Tiberium-processor hybrid designed by GDI Zone Operations Command (ZOCOM) during the Third Tiberium War. The Mammoth Mk. III-based design was used to support ZOCOM's Tiberium-abatement operations in red zones which were traditionally vulnerable to Nod and separatist mutant attacks. The MARV was extremely powerful and versatile, and it was capable of defeating most ground units in an one-to-one battle (any, if garrisoned by four Zone Troopers). It somewhat filled the role of the old Mammoth Mk. II as the ultra heavy assault unit in the GDI arsenal.
Cyborg Commando (Only can build one)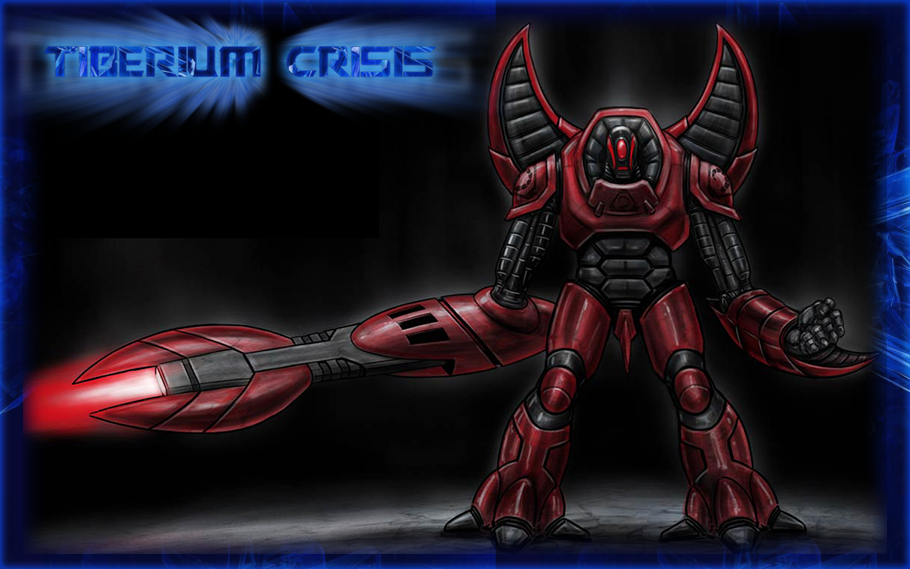 These cybernetic commandos are the elite infantry of the Nod Offense class. Their bodies are almost entirely robotic, which allows them to be recovered by the Brotherhood if damaged. Their battle armour utilizes a scorpion motif, complete with a pincer-shaped laser weapon. As they are almost impossible to fully destroy, going through the cycle of destruction and rebuilding ad infinitum created a sense of detachment from their fellow comrades in them. Combined with their enhancements, this means that each commando preferred to work alone on the field. Some are even provided with personal stealth generators allowing them to be deployed behind enemy lines where they were capable of operating for weeks without food or water or any form of support. They will continue to fight even after losing limbs and sustaining heavy damage. It's been noted that their sheer force of will allowed them to continue to function, traversing the battlefield by pulling themselves across the ground with their armoured arms. If one manages to find a vehicle, he can tear it open and hijack it.
Avatar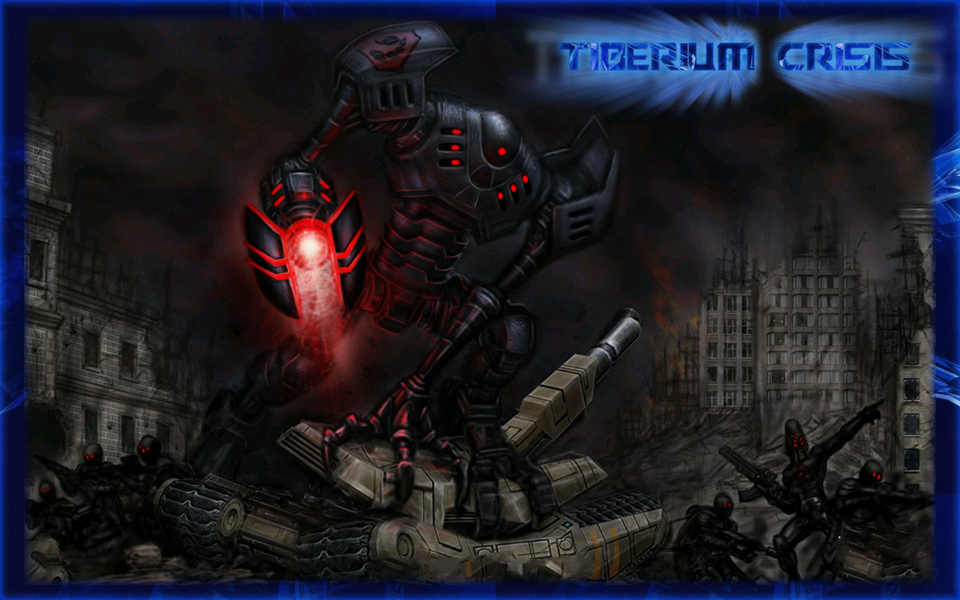 In the wake of the destruction caused by GDI walkers to Nod armed forces during the Second Tiberium War, the Brotherhood became interested in the technology, perceiving it as an innovative way to expand their forces. While GDI abandoned the technology, deeming it a dead end of development, the Brotherhood Black Hand began its own research, basing it in part on GDI designs and taking advantage of its own research in other areas to accelerate the development of the Avatar.
AW-30 Avatar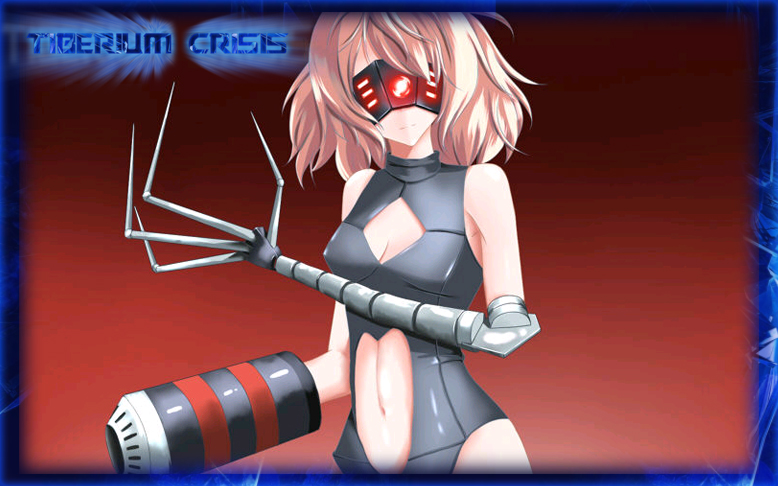 The Avatar continues its role as an anti-tank walker. As it is damaged, these cannons are blown off from the Avatar, significantly increasing its speed with each cannon lost and allowing the player to retreat the unit to repair and, quite literally, re-arm.
Tyrant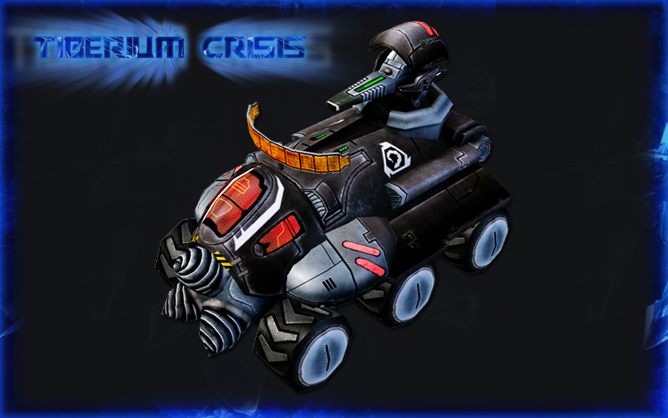 An agile laser cannon that enhances the rate of fire of nearby allies, the Tyrant is an interceptor tank, speeding ahead of the main force to hit heavy ground units with its laser. It also has the ability to burrow.
Leviathan (Only can build two)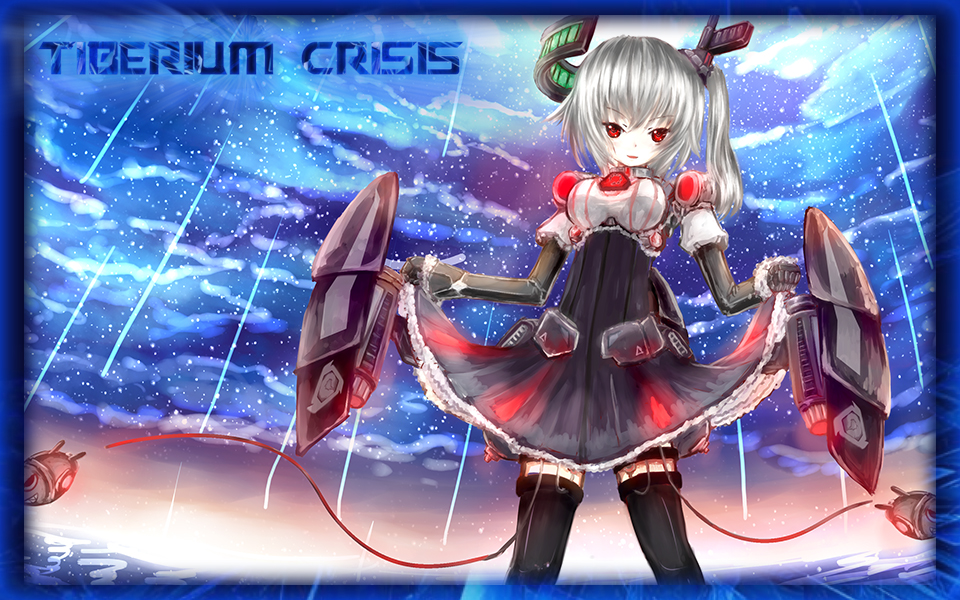 The Leviathan is armed with 3 long-range firebomb launchers, similar to those used by the Flame Column. The firebombs deal large amounts blast and flame damage upon hitting their targets. The firebombs are most effective against large clusters of vehicles/infantry and structures.
Mechapede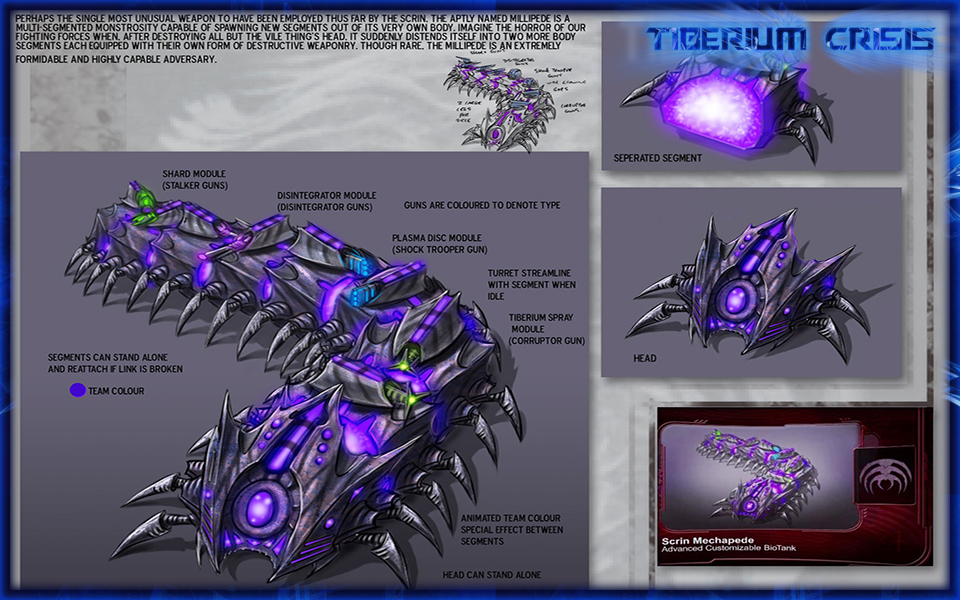 The Mechapede closely resembles a Terran millipede or centipede, though it is exponentially larger. Its speed is faster than even a Seeker, and can fire in any direction.
Ironback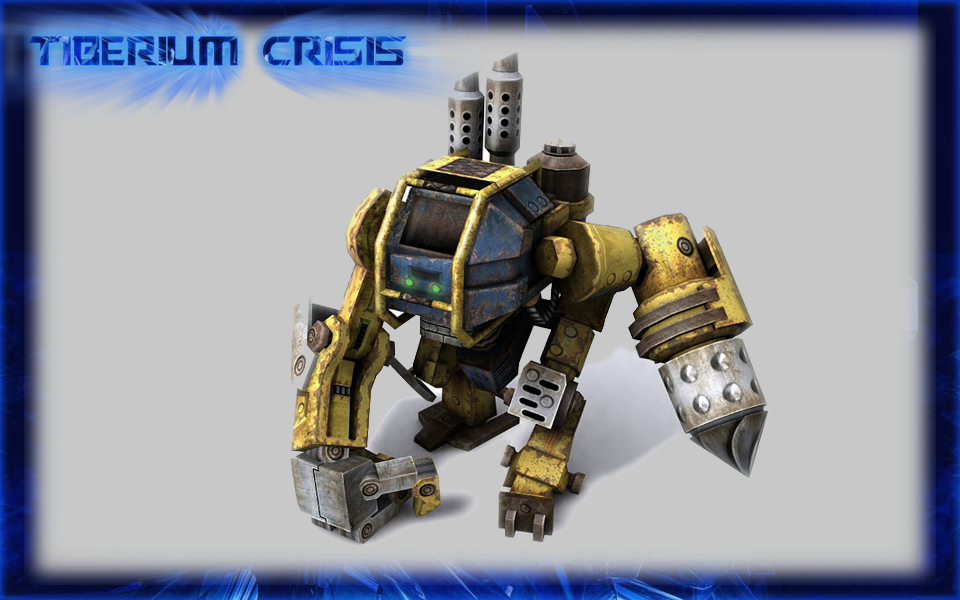 ---- Edit by AutoGavy on Jan 29th, 2018