You all start in the same team. A few seconds after gamestart the Phantom will be chosen. He gets an additional amount of resources every few seconds and his job is to defeat every other player. The other players must team up against him, but here's the challenge: Nobody (except the Phantom itself) knows who the Phantom is - so every other player has to play the big guessing game, and be prepared to be wrongfully defeated by hordes of your own allies.
There's a bunch of extra settings: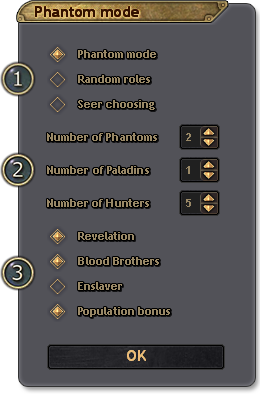 ● Activate the Phantom mode to play it on any Deathmatch map there is.
● A random amount of Phantoms, Paladins and Bounty hunters are chosen depending on the amount of players in the game.
● Should you choose to have a Seer in the game, the Player who gets this role will learn who the Phantom is in due time. But, will they speak? Will they share their secret?


● You can set the number of Phantoms.
● Enable the Paladin, the ultimate Phantom hunter, to fight by your side. In order to crush the Phantom he gets the same bonuses the Phantom does. Of course, now the Phantom can claim to be a Paladin to stay under the radar. Can you tell the truthful Paladin from the deceitful Phantom? Who can you trust?
● Anyone who is neither Phantom nor Paladin is a Hunter. Their job is to hunt the Phantom down and, if possible, end its tyranny.


● If Revelation is enabled, the Phantoms will learn every other Player's role.
● Blood Brothers allow two Phantoms to bond together and fight side by side.
● Enslaver lets Phantoms take control of their enemies once they have been defeated, forcing them to turn their backs on their allies and fight for the Phantoms.
● Population bonus enhances the maximum unit limit for Phantoms and Paladins.

Phantom mode can be activated in mirage settings.