Being developing on & off since the beginning of 2015 to now. The game have been progressing.
It has been released in alpha, pre-beta & beta version (each for a short period)
And now here on November 24, 2010-- the thanksgiving day (US)...
'Fry Me Omelettes' is now officially released!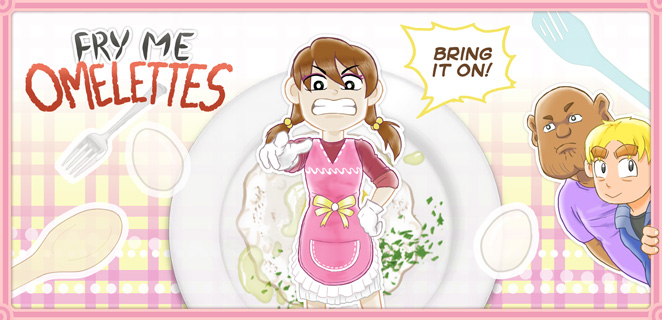 ---
'Fry Me Omelettes' is a html5 based egg frying simulation game.
Basically: You play as a chef who has to cook egg dishes to win the judges. If 2 or more judges approve your dishes. You win a round.
Now please have a moment and watch this video. It shows most of the main game footage.
Now that you seen the video footage, many may beg the question...
What makes 'Fry Me Omelettes' so special?
I'm sure some who had watched the video don't quite understand what they saw. It doesn't look like those time management games, or those follow-the-steps girl games.
So what kind of cooking game is 'Fry Me Omelettes'?
Well, a more TRUE cooking game, of course.
Please allow us to explain the 3 fundamental keys of 'Fry Me Omelettes'.
A. A TRUE COOKING GAME EXPERIENCE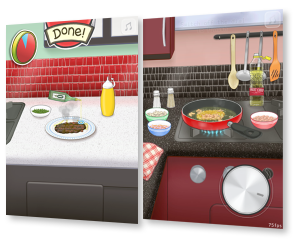 There's never been in our memory- any cooking game can quite qualified as REAL cooking game. Well there's one that comes close: Cooking Mama series by Japanese game company Office Create. Besides the few rare ones that tries to be original & creative, most in the market are using the same formula, it's really uninspiring.
This becomes the main reason why we want to make 'Fry Me Omelettes'.
We create a simulation close to real-life cooking, in this case-- frying an egg. The stove fire, pan heating, oil temperature comes to play & affects each other. When the pan's is hot, it starts to fry the egg. It slows down when you add more oil or turn down the stove fire. There's more interactions going on unnoticed. We don't show the stats, so that you can create it by your own cooking instincts.
Another important key feature: In this game, You are able to make whatever you want, it won't count as mistake and the game progress until the judging part. Most cooking games don't do this as they follow a strict way to proceed. In reality, cooking can be very flexible.(or even subjective) This is what 'Fry Me Omelettes' strives for.
B. EXTENSIVE JUDGING SYSTEM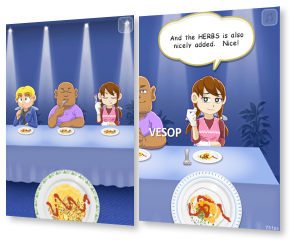 Since you can make your egg dishes in many ways possible, how can you prove your cooking is any good or bad? That's why having a judging system makes sense. The judging system goes through 4 procedures:
Visual Critique -> Rejection Barrier -> Taste Critique -> Verdict

Just like a real food critic. This can bring in a new kind of excitement after the cooking. Whether or not you're winning their votes, or happily pranking them, It's all your call.
By the way, all food critics have their own favorite taste. Discover what they like and you can catering to their own taste buds.
Once Again, very-very few cooking games had ever done this.
C. THE EYE CANDY -'EGG LOOK'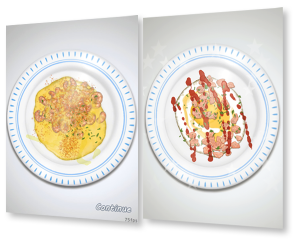 'Egg Look' is a 'beautified' extension to the regular small sideway-angled egg/omelette. This is the main visual highlight of the game. When you think you'd made an "ugly" looking dish and then realized it being far prettier in 'Egg Look' screen, This will make you appriciate the game a lot more, we hope.
This game may not have great art style & UI design, but this is worth something to behold.
Other Features:
Egg Records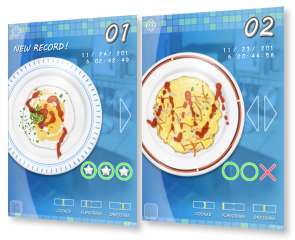 Initially an extra feature, this feature will let you crave for more egg dishes. Egg Records simply stores a history of what/when you had cooked, and some other basic stats just enough to make you proud of your works. Egg Records can store up to 20 dishes, by the most recent.
In-Game Stats, Unlock-ables & Achievements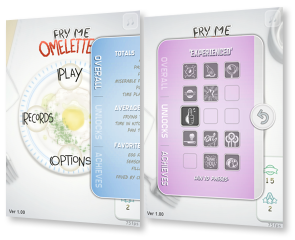 In a game almost be played intuitively by default, some will want to see some numbers. In some extent, 'Overall' provides some statistics & will satisfy your hunger for numbers! Also 'Unlock-ables' & 'Achievements' can also gives you more reasons to spend time on.
Ham Omission for Specific People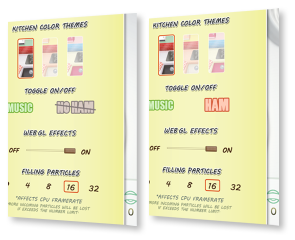 Unintentionally, The game contains Ham (pork) which could be triggering for some individuals of certain groups or religions. Some might be wary or offended by Ham.(even in gaming) Yet we don't want to lose those potential players. So In favor of them, we added this little on/off feature.
Ham, can be totally omitted by clicking 'Ham' into 'No Ham'-- from the 'Option' menu. Once disabled, you'll never have to see a piece of ham hanging somewhere in the game. (not even in records)
Now that you've read the features, what do you think?
Would you give it a GO?
After all, IT'S TOTALLY FREE TO PLAY. So come on down and play it!
'Fry Me Omelettes' is available on Kongregate.
Click Here to enter or click on the pic below.
---
Further Notes:

- Snouty Plays is humbly respectful of one's choices of food, any misconception to one's personal/cultural/religious preferences is purely unintentional.
---
You can visit the game's landing page or the development log here.
Or visit via Facebook or Google+ to follow & support my game.
See You Around!
-Allen T, Snouty Plays