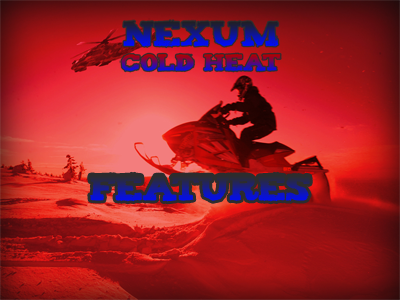 NEXUM: Cold Heat is a racing game with Skidoos in wich Combat is playing a huge and thus probably even a bigger role than the actual race. You got one Character and a Driver, the Driver drives your Skidoo and your Character can shoot with various guns. There are different Weapons to pick up for your Character and even your Skidoo.
Your Character and Drivers can die, wich limits your Combat Abilities.
There are various Options you can enable for your race, like Enemies, Mines or even an Attack Helicopter that will destroy everyone if you don't shoot it down or evade it's rain of bullets.
NEXUM: Cold Heat Features:
- 8 Different Characters to choose from
- The ability to easiy mod the game and thus to add your own Character
- Each Character has his own Special Weapon that will purify your enemies
- Up to 6 Computer Opponents, each one with their own Weapons, Characters and Tactics
- A Trophies System for the KickAss Skidoo Drivers that want to master everybit of the game.
- 18 Weapons in total including Grenades, Shotguns, Machineguns for People AND your Skidoo, Minelayers, Bazookas and the controlable Luna Missile
- Customize your Race, change gameoptions like Snow, Enemey Count, Mines on the track, track length or even a Helicopter
- If enabled, a Helicopter will come by occasionally and make sure that noone leaves the Race alive.
- Run over your Oponents after they flew out of their crashed Skidoo and leave a trail of blood behind! You can do the same with Naked Dude's running across the Track sometimes, those deserve to die!
- Be ready to unleash the carnage! Dozens of Bullets fly around at once, heavy explosions will shake the camera and limit your view, Skidoos will explode Violently and people will scream in pain when they die!
Do you think that you can win this race? We will see when everyone is ready to go on the tracks!