Off goes a grenade and your enemy fly's into pieces right in front of you bringing victory to your soul knowing that your victim is no longer a threat.
I talked a bit about this in last weeks podcast with Razura where in most zombie games, all the death animations are exactly the same as well as models and variations of amputation for the exactly the same style of zombie even if the way they got turned is different which is VERY obvious for people that look out for these things and can kill the game for certain people that only play a game for this reason.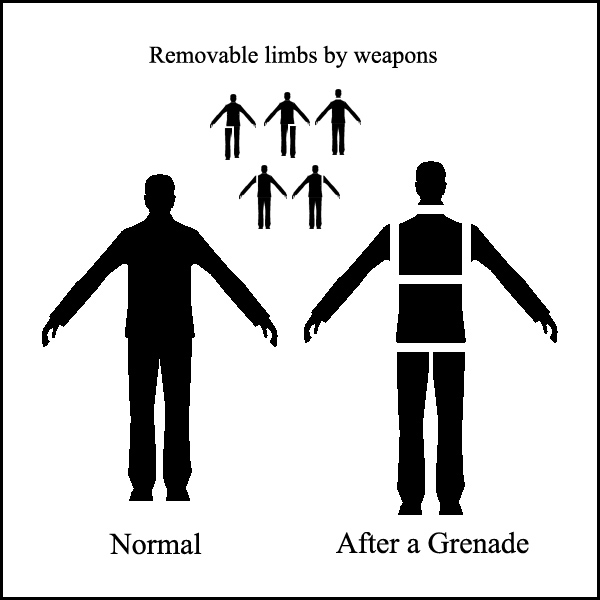 The picture above displays a rough image of how many different ways to amputate a body by parts or by a grenade along with the old model. These are only referring to unrealistic ways of making this possible where using weapons obviously you wouldn't be able to remove limbs with tiny pellets; although using melee weapons like the ever more popular katana or machete would slice something up in millions of different ways which would be near to impossible to calculate in a game, which is where having around 2-3 keeps a fraction of that realism as well as making it less repetitive.
When it comes to Removable Limbs on a model, all we think of is how many different ways you can slice them up and with what weapon. Well what people don't seem to realize is the reason why this feature isn't implemented into many mods and games is because it requires a LOT of models as for every limb that you remove turns into a new model as well as the remaining of the template, which is where you can start to imagine all the different models that are requried to create such a feature.