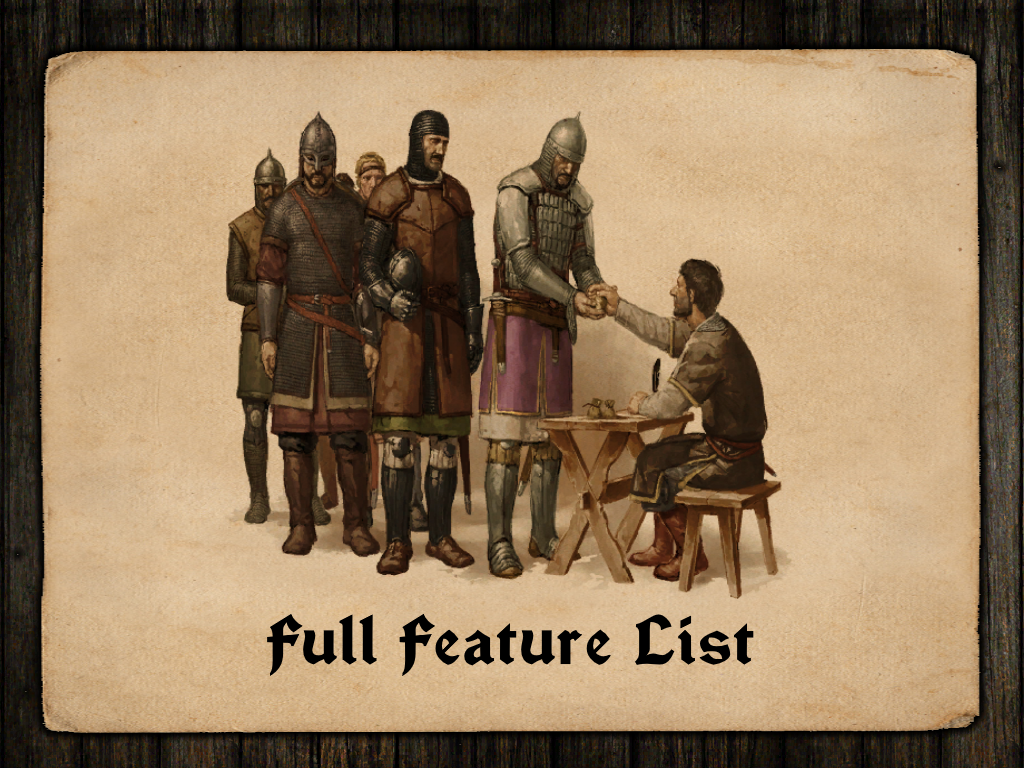 ---
---
This is the list of all the features that this mod contains
---
Mechanics/Features
- Better cultures (Face sets for every faction)
- Blood Pools
- Real Trading (Merchants Ledger)
- Sea Battles/Trade & Seafaring
- Kingdom Management (Diplomacy 4.3)
- Pre-battle orders & deployment (pbod)
- Can enlist in lords Armies (Freelancer)
- Improved trade goods
- Customizable sparring matches
-Dueling
- Companion/Inventory Management (Lav's)
- Troop tree viewer
- Custom Kingdom Troops
- Salt mine (Can put prisoners there to work which gives you money)
- 60 new companions
- Bridge battles
- Sea battles
- Barbarian Invasion (Endgame option)
- Improved battle AI (AI formation and special orders/Realistic Routing)
- Lavs companion overseer (Activate using 'o' on world map)
- Spear Bracing (Press 'b')
- Whistle for your horse (Press 'm')
- Advanced Sky-boxes (All sky-box re-done HD)
- Better Tournaments
- Besieged Castles and Towns are surrounded by spikes, visually indicating their status
- New buildings (Blacksmith, University, Guild Hall, Palisade)
- Overhauled all faction troops
---
Graphical
- HD Equipment/Items
- HD Textures
- HD UI (User-Interface)
- HD Everything...
---
Audio
- Immersive medieval musical pieces
Immersive sound overhaul
- Culture-Specific troop sounds (Needs re-doing)
---
Other game-play changes
- Can recruit faction troops in Castles/Towns
- Increased Mercenary sizes
- Player can besiege castles when they are neutral to any faction
- Village raids can be aborted
- Towns and villages prosper better making them worth defending
- Player can end mercenary contract if you speak with liege
- Can always choose sides in a battle
- Reduced Lords defecting
- There are Dukes, Counts & Barons (Town, Castle, Village)
- Building times slightly increased
- Can ask wife to join party
- Schools increase the loyalty of villages to you by +1 every week instead of month
- Cattle will follow player
- Mercenaries cost more than normal faction troops
- Some dialogue changes & fixes
- You can ask the tavern keepers about the latest rumours
- Female body changed
- Faction Colours changed
- Arrows and bolt are Deadly
- Horses are deadly
- Wandering merchants carry better goods
- Arena master: you and your troops can now practice in the arena for some days (huge xp boost for money)
- More Mercenaries
- You now can enable/disable the companion complaining
- Travellers now know the locations of the new NPCs
- Speak with the tavern keeper to rest a day and give your troop free time [good for moral]
- New Bandits
- New Town/Castle/Parties Icons
- Moving Horses in Scenes
- Musicians playing instruments in Taverns
- Can spectate battles
- Better end of battle loot
---
Scenery
- Huge battlefields (Gives you chance to choose your place of battle and use tactics)
- Huge one-scene Culture Specific towns (Swadia, Nords, Khergit, Vaegir, Sarranid. Rhodok - WIP)
- Half the worlds Castles overhauled
- Overhauled terrain borders (looks like the worlds alive)
---
Animations
- Tavern Animations
- Complete Combat/ Another overhaul (More realistic)
---
New Items/Equipment/Horses
- Over 100 + mounts
- Over a 500 + new pieces of armour and weapons
- + much more
---
Re-designed Map
Map has been re-designed to try and fit Bannerlords more (Not fully accurate ofc)
---
Adding more to the list soon. I have modified so much I will have to remember the rest.