S ome of you have asked about the keyboard / gamepad support with the new UI and about its appearance. In this short article I hope to answer any questions etc. I'll also be running through a few screenshots of the new menu and talk about the changes made.
Camp Menu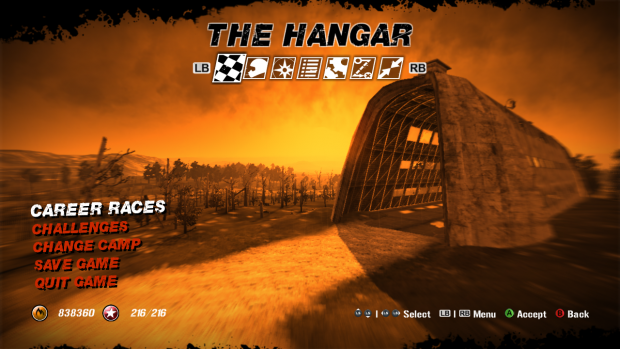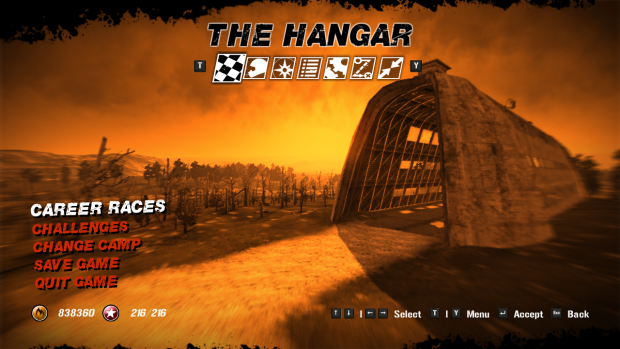 Above is the camp menu, the first menu you encounter when you open the game.
Note that fact there is no GFWL LIVE branding or anything else obstructing your view. Also if you look at the bottom left, you can see the new economy / progression menu - much smaller and out the way.
Garage / Vehicle Select Menu
The vehicle select menu has been totally redesigned to bring you more information, while using less space. You'll see in the bottom left a cut down version of the economy menu, in the same place as on the main menu. The vehicle name now replaces the "Performance" title text on the left stats menu, with three new additions - price, class and mass. You'll also notice that following the vehicle name is a tag in square brackets that identifies the vehicle discipline - I found this far more accurate and effective than the previous two rows of stats used to identify it.
Vehicle price either shows the price of the vehicle or a piece of text saying "Owned" if you've already purchased it. Mass & Class replace the Off-road & Road stats, with Mass rating the overall mass of the vehicle (i.e. a truck would have more mass than a buggy) and Class is an average of the vehicles top speed and acceleration ratings, useful for comparing vehicles and specifying vehicle selection in online events.
For those of you who haven't played a previous version of my mod then you'll notice FUEL: REFUELED sorts all the vehicles into they're relevant groups and provides a better color palette including requested colors such as Black, Purple and Teal to replace some of the rarely used colors.
Map Menu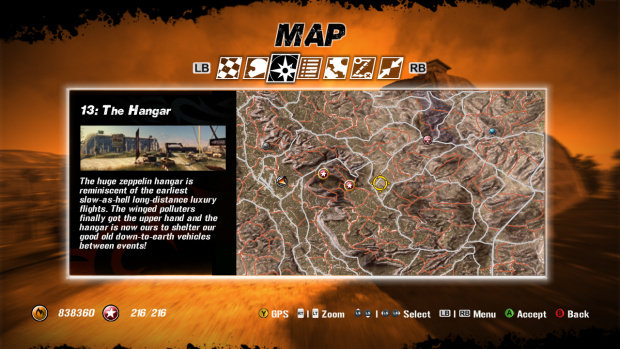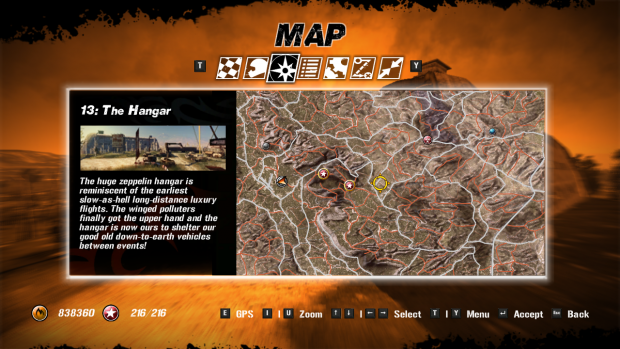 Many users complained that the main map menu window was to obstructed - in V15 I've done away with all those silly stock game graphics and given the map full center stage. You'll notice on the left menu that the "< Zone >" text has been removed and that zones are now numbered from 01 to 19, this was found to be a far more useful setup. Along the bottom of the menu are all the keys and buttons identified - even if you cannot access a particular function at that time, this is a change made based on feedback - and tbh I find it easier this way too. Other minor changes include the ability to zoom in further, scroll the map faster and icons have been reduced by 1/3rd to prevent the map from getting too clogged up with all the added map points.
Online Session Menu
The online game lobby was one of the most lacking menu's in the entire game - countless users have complained that it was hard to use due to the incredible lack of available information. Information such as what zone the race is taking place in, what vehicle type is being used and what is the vehicle discipline. Another change I've also now made is to simplify the race type names, now its simplified to either checkpoint, circuit or point-to-point (A-to-B), this is explained further in my tutorial here.
FAQ
Q: In some screenshots you've showed the menu with tint and others without it - which version is available in V15?
A: Both. In V15 there will be a few options for you to set the menu to your liking - including the ability to enable and disable the background window tint.
Q: Is both keyboard and gamepad versions of the menu supported?
A: Yes. As you've seen in the screenshots above both versions of the menu are supported in the single mod version - plug-in a gamepad and the menu-style will instantly change like in the stock game.
Q: What languages are available? Will you be adding more languages in the future?
A: English only. This is because it is a one-man project and I am only fluent in English. If you would like to translate the mod into another language then feel free to do so.
Q: You mentioned in earlier discussion the option of customizing the menu through present themes - what does mean and what options are actually available?
A: The basic menu is as you see above - however I will be providing options to make make text bigger, hide the background window tint and an option to hide certain elements. If you wish to customize the basic template and create a new design then I'd be happy to support it in a future release.
Q: How easy is it to edit the menu's, what can be achieved and what is currently impossible?
A: It should be noted that it is currently not possible to create new elements, however you can customize and change the elements already available. Through my resourcefulness I was able to turn the vehiclesdef.tsc file into a makeshift UI element storage for text files - this was how I was able to call on the race to identify the zone, discipline and vehicle type. These are not dynamic values and are called upon by using a tag in the online vehicle selection list.
Well I hope I've answered a few questions - if you have anymore feel free to leave one in comments and I'll get back to you.