I'm sure alot of you have heard about this ever so popular game, Encore. It's a 21st century side scrolling game, where musicians are warriors and music is the weapon. San Francisco is being invaded by mysterious creatures. The city has become darker, quieter, and gloomier ect. You have all the elements that point to an artistic and original game developed outside the circle of influence of the many gun and run games out there today. I (Aramageddon104) contacted Roderick Lizardo president of Ethereal Muse Studios Inc, developers of Encore, and asked if I could ask few questions about the game. They reply that it would be fine to do so. So, Lets get started.
Armageddon104: Thanks for taking the time to talk to us Ethereal and shedding some light on this awesome game of yours. The world within Encore is awesomely artistic. What were your motivations and inspirations for creating something so outstanding and a breath of fresh air in the gaming community?
Ethereal Muse: What were my motivations? As a kid it was always my dream to create something bigger than star wars and I thought to myself, "If I don't create my ideas, I will never see it in real life." My motivation for creating this company is not Encore itself -- it was the bigger picture, which is a business where artists can create whatever they'd like and turn it into a video game or an animation.
For example, Encore originated from two or three of my networks, but the idea was all about a guitarist( Kena) and the video game was controlled with the guitar hero controller. As a 22 year old entrepreneur I wanted to take the chance and fund the production from my life savings. The production had its ups and downs, and when time came my account had been exhausted. It was a very dark time for me and the people who originally thought of the game concept left the production. I had nothing left but the concept and a bunch of files in my hard drive. After altering the concept into an entirely new project I was able to pull in investors and turn things around for the good.
Armageddon104: How have you guys been responding to everyones comments on your game, and did you think this would become this popular when you started?
Ethereal Muse: The response me and my team had was more of a relief than anything else. This is the very first production for Ethereal Muse Studios and the chances would be very high for coming up with a boring concept. Not at all did I think this would have become accepted at this caliber in any way.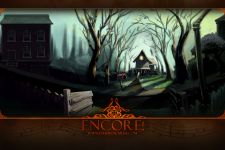 Armageddon104: Have you been planning to sell this or just make it a free indie game?
Ethereal Muse: Throughout the production I have spent over $45,000 so far, and I think it would be safe to say that it would be best to sell this. The target market I am aiming for is XBLA and Steam.
Armageddon104: Did you first plan to make this a mod in anyway?
Ethereal Muse: As a mod, no. We had our eyes set for Microsoft XBLA since the beginning.
Armageddon104: How large is your team, and what previous experience do they have?
Ethereal Muse: This production has at least 20+ members, including: Artists, Programmers, Musicians, and Investors. In terms of experienced our artists range from no experience to professional standards. The programmers in our production are very wise with over 8+ years of experience.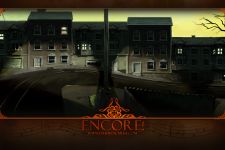 Armageddon104: Back to the game, did you have any roadblocks along the way?
Ethereal Muse: Roadblocks? Yes. Lots of it. Financially speaking I had to end the production which had stalled the project for at least 4 months. It was very depressing and it got to the point where it was just me on board, but now -- all is well.
Armageddon104: I'm a little fuzzy on the story could you tell us more, or is it a secret, or do you not have a story?
Ethereal Muse: The story is very broad right now because the story for Encore! is going to be key. Creating this video game will give us the chance to show off our animation skills. It is a goal of mine to turn encore into an Animation Series via youtube.
Armageddon104: Why did you use a fifteen to sixteen year old girl as the main character?
Ethereal Muse: I chose the initial age of the main character to be sixteen because it gives room for character development. It also gives the chance surprise the audience, even though the main character is a teenager you won't believe the kinds of horror there is to come. Also, in youth there is growth...
Armageddon104: What is the deal with those zombie twins? How do they play a part in the story?
Ethereal Muse: The zombie twins is part of the story, which people will have to wait for.
Armageddon104: Once again thank you for taking the time to be here. I can't wait to play you amazing game!
Ethereal Muse: Thank you for giving us the opportunity to be interviewed. The demo will be finished around mid April and I should be putting it up on the moddb.com website. check out our new website where you can track our activity! Ethereal-muse.com