Somewhat surprisingly, Dawn of War II is actually my most-played game on Steam, by in-game hours. I played it, and its predecessor, half to death, both in their campaign and multiplayer modes. I took to the Dawn of War series in a way that I never have to an RTS before because the games aren't afraid to rethink core RTS concepts, and blur the line between macro strategy and micro tactics.
Given Relic's design flexibility, I knew it was inevitable that Dawn of War III would go after the MOBA market. You'd have to be dense not to, considering the success of League of Legends and DOTA II. While I admire Relic's openness to new ideas for Dawn of War, I've personally never taken to MOBAs as the complexity brought out through item combinations and intense micro hero control just goes over my head.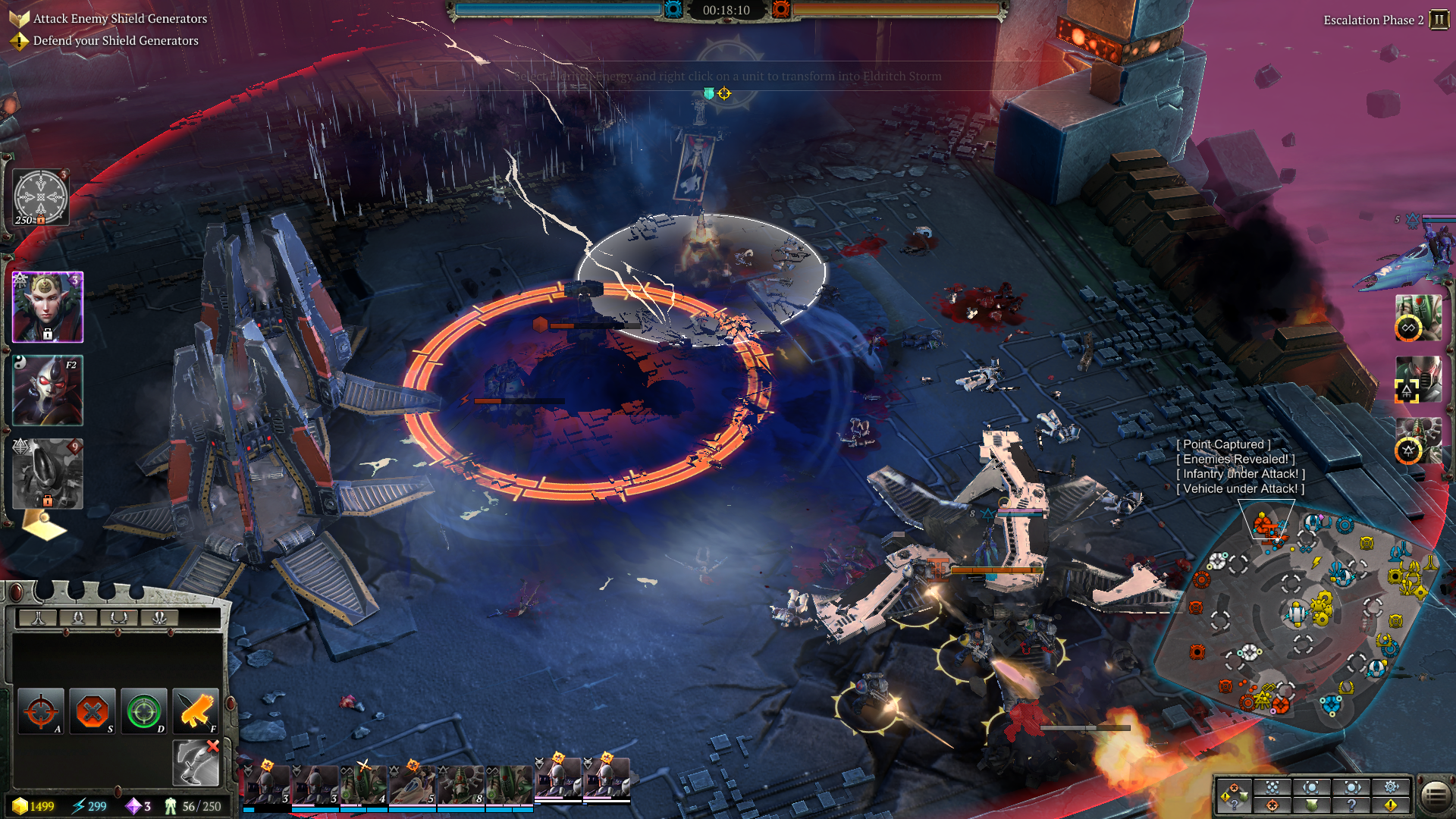 You can imagine my hesitation, then, when I load into my first Dawn of War III closed beta match, and it's all about pushing to destroy towers and turrets. Yet, while Dawn of War III presents itself as a MOBA at first glance, there are still elements of the series' tactical gameplay underpinning each match. But much has been rethought and redefined – which is not unusual for Dawn of War, but it might not necessarily be what I'm personally looking for.
"While Dawn of War III presents itself as a MOBA at first glance, there are still elements of the series' tactical gameplay underpinning each match"
While Dawn of War II limited you to a single spawn building for units, but allowed you to build small field structures like turrets, Dawn of War III brings back more traditional base building. While this does allow you to augment your strategy in some way – for example, the Eldar can relocate their buildings by teleporting them to the frontlines, so they can reinforce from there – base building feels like a vestigial RTS element that just isn't the main focus of this iteration of the series.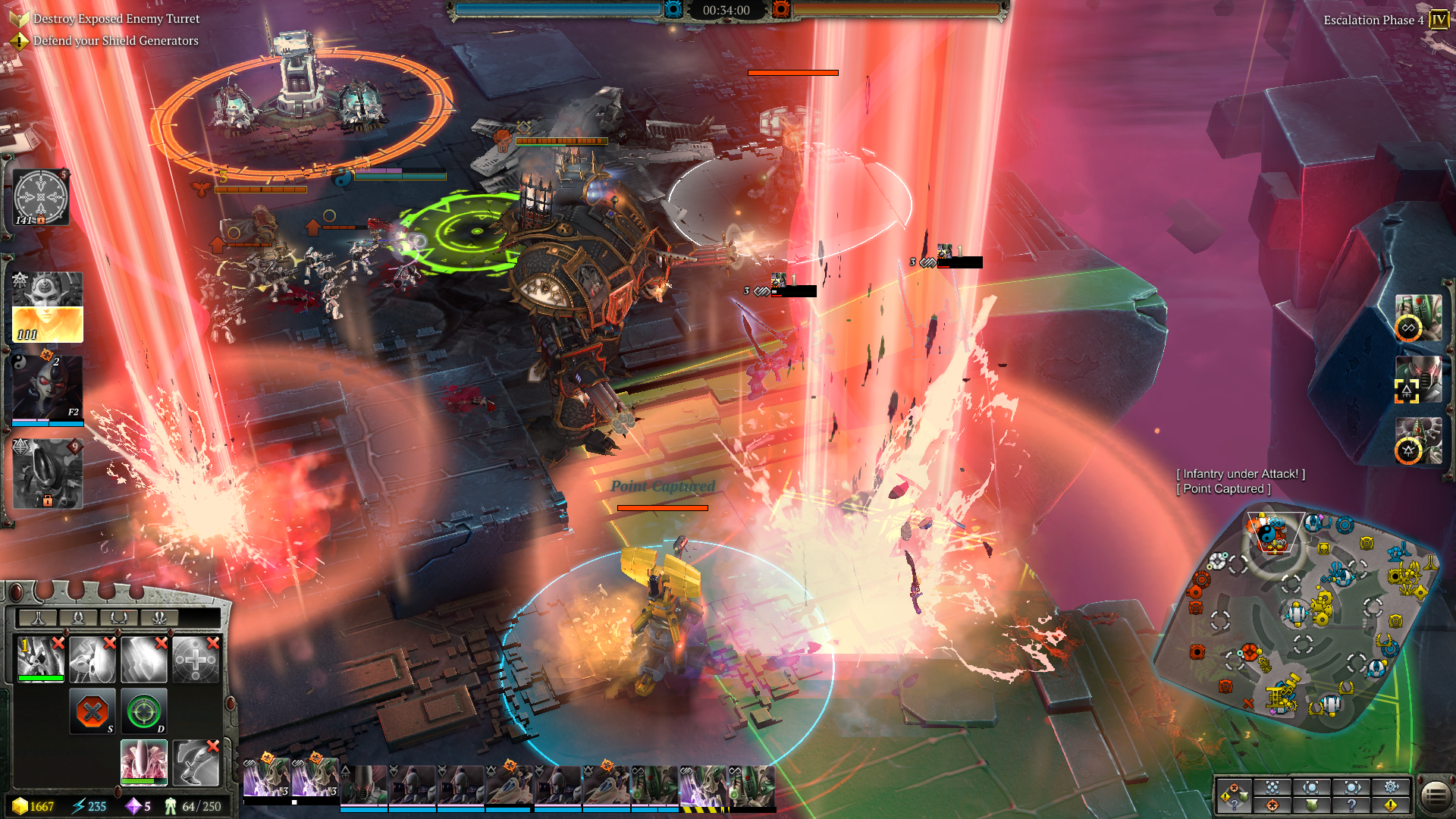 That main focus now is unit-vs-unit tactics, though this time it all takes place on maps that feel far more like artificial MOBA constructs (sans clear lanes), and not the dynamically changing battlegrounds that were a hallmark of Dawn of War II and Relic's WWII RTS series, Company of Heroes. The smart, directional cover system from Dawn of War II and Company of Heroes, where you could protect units by positioning them according to the terrain (or even your own blast craters), has been replaced by "cover bubbles" which resemble shield domes at fixed points on the map. There are also concealment areas at fixed points on the map, where smoke rises from fissures in the ground to hide your units from line of sight – a mechanic similar to what you've likely seen in StarCraft II.
This move to fixed map features feels at odds with what were traditionally highly-varied tactical combat encounters, where positioning according to the changing landscape of the battlefield was of utmost importance. What results are maps with some of the widest movement areas in the Dawn of War series, but with the least tactical significance when it comes to positioning.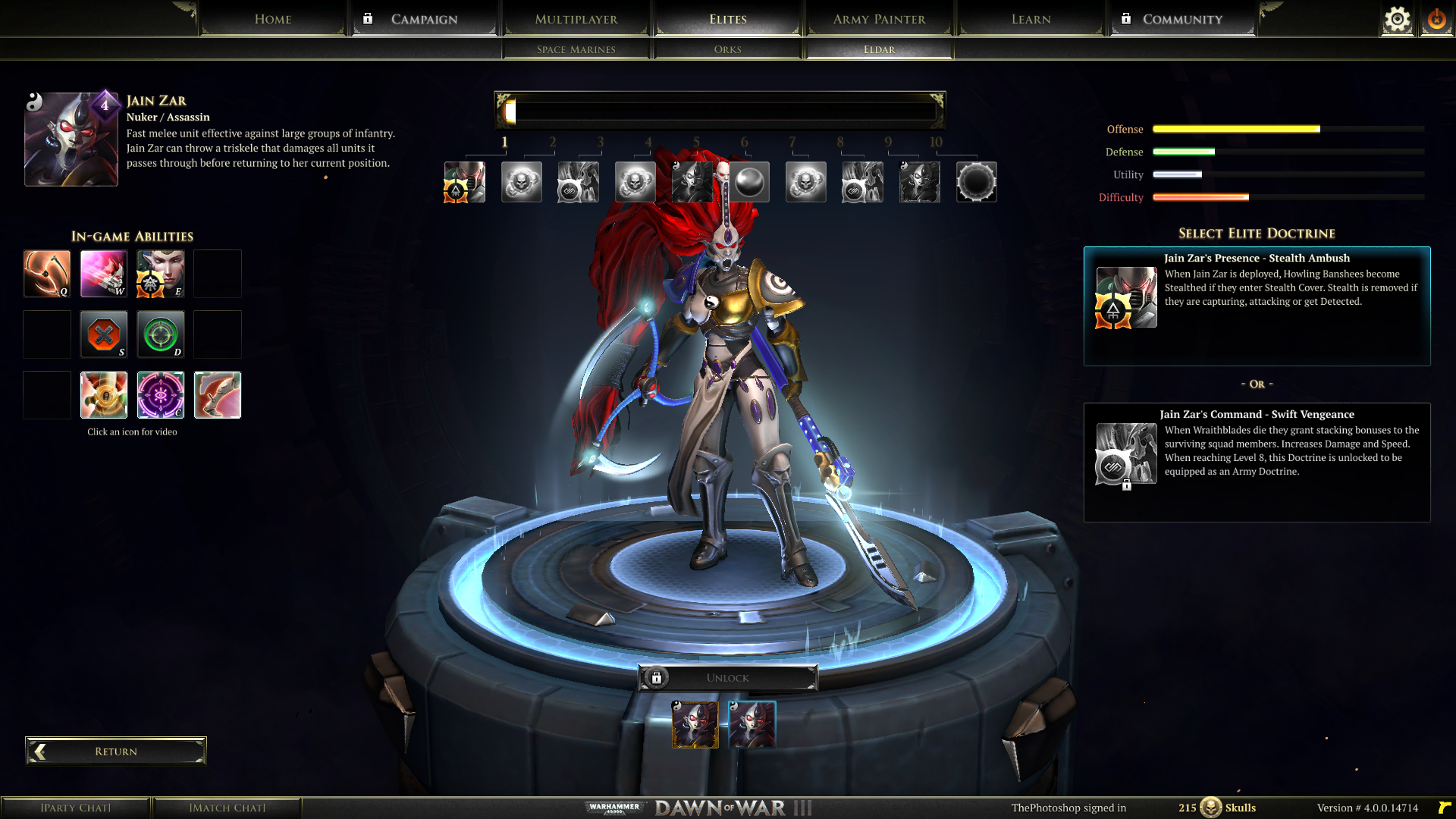 So it's clear that positioning is no longer the focus of Dawn of War III's tactics. Instead, that focus has moved to the interaction of Elite units with powerful abilities set to cooldown timers. These are essentially the equivalent of typical MOBA units, backed up by an army of traditional Dawn of War-series squads. Even in Dawn of War II, you could see this kind of hero-based gameplay seeping in, with customisable Commander units levelling up and having items purchased for them mid-match that would grant them new abilities. The difference in Dawn of War II, compared to this sequel, was that your Commander always began at a base level for each match, and upon levelling up, you had the freedom to choose your items and abilities to respond to your opponent's playstyle.
"You commit to a build beforehand, rather than alter your build as the tactics demand it"
In Dawn of War III, those equivalent items and abilities have become Doctrines, which are selected and set before the start of each match – with more unlocked as you globally level up each Elite unit over many matches, not just in a single match. And that's where Dawn of War III feels the most different to its predecessors – you commit to a build beforehand, rather than alter your build as the tactics demand it.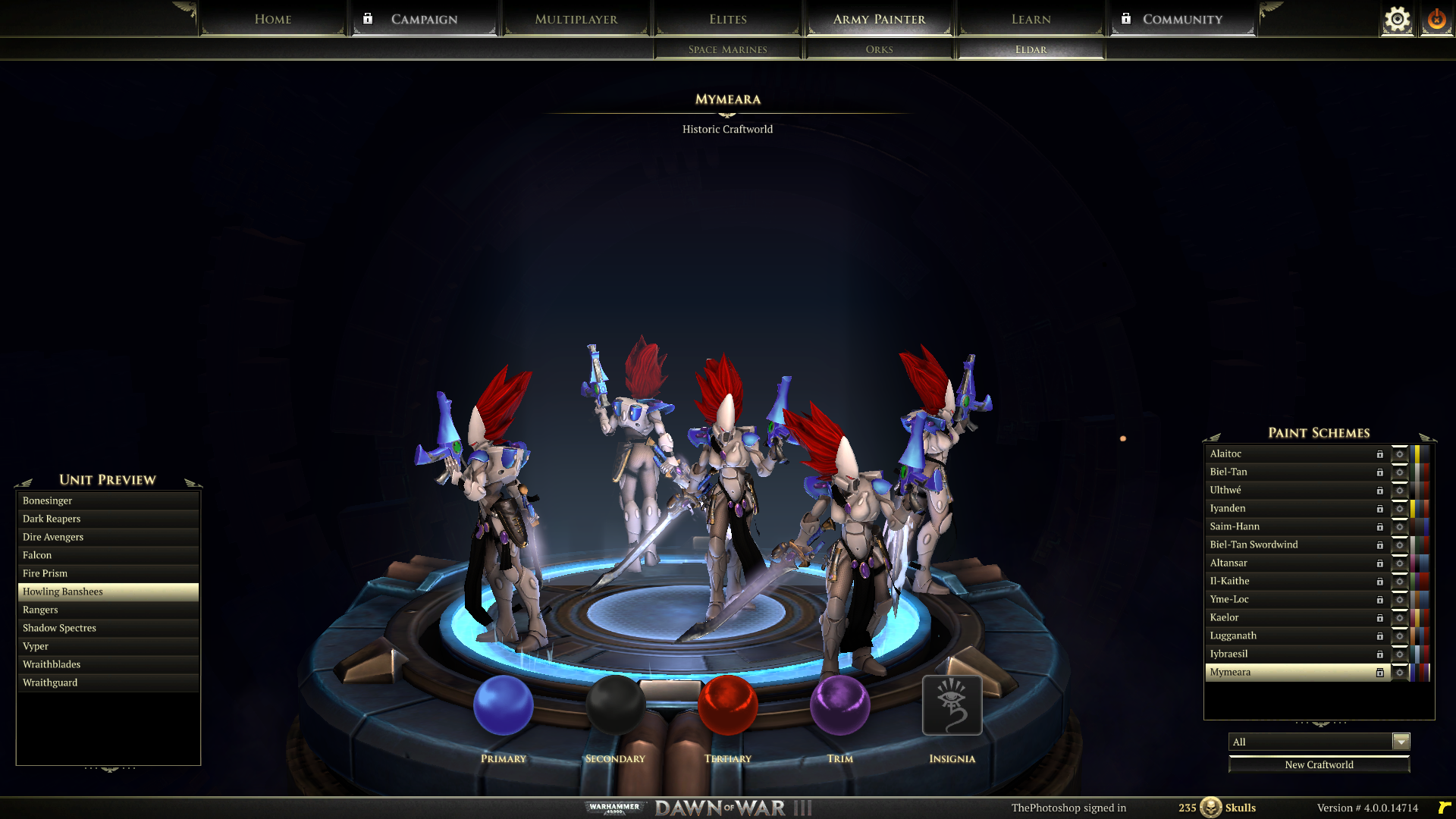 You can see which Elite units and Doctrines your opponents are bringing into a match – if the lobby has chosen to show loadouts – but this isn't a case of "Doctrine versus Doctrine" in the way a MOBA sees a direct "Hero versus Hero" counter and balance. That's because, to Dawn of War III's credit, its Elite units, and your supporting RTS squads, still offer a kind of flexibility that allows you a chance to respond to your opponents tactics. But the importance of the Elite units, and the manner in which they can make or break an engagement, combined with the static nature of cover and concealment points on the map, makes it feel as though your regular units simply cancel each other out, and the tactical core comes down to how you manage your Elite hero's cooldowns. The flow quickly becomes familiar: blob your units up (because there's no point positioning them smartly), wait for your Ultimate ability to recharge (a massive, directed area-of-effect strike like Orbital Bombardment or Eldritch Storm), then attack-move to your enemy's next structure.
Personally, I'm less enamoured with this kind of tactical gameplay than I am of Dawn of War's previous instalments. Dawn of War II's Commanders felt far more like a flavour or augmentation of your army; they would never carry an engagement by themselves, and had to be used in tandem with your regular squads. Those squads ultimately carried the brunt of the push and pull across maps which offered more variation from match to match because of the positional cover system.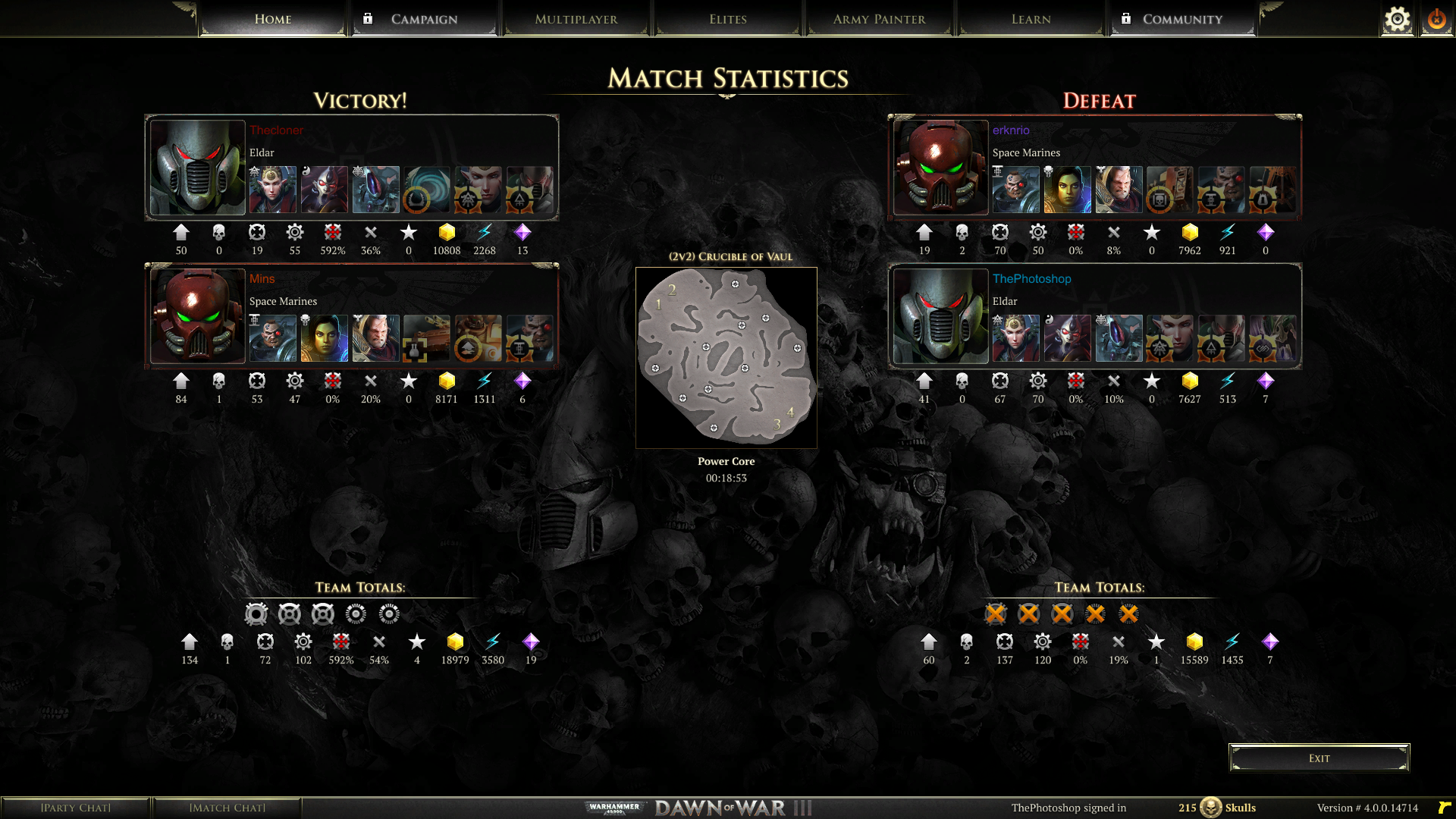 There's also the fact that I have just never taken MOBAs. Pushing to destroy turrets, then generators, then a power core, is far less interesting to me than the series' traditional Command Points game mode, where taking and holding territory put pressure on your opponent to respond. I cannot speak hypothetically about those who have caught the MOBA bug, and how much they might enjoy Dawn of War III, because that person simply isn't me. There's also a chance that, with more matches under my belt, something in Dawn of War III might click for me in a way it did with Dawn of War II – and that's a game that I didn't feel I was "good" at until fifty hours of multiplayer matches were behind me.
With more matches under my belt, something in Dawn of War III might click for me in a way it did with Dawn of War II
Everything that surrounds Dawn of War III's multiplayer gameplay is fantastic. The units are beautifully rendered; the Army Painter is the most complex and detailed the series has seen yet; there's a whole lot to level up and unlock. But I'm not yet sold on the part-MOBA, part-RTS, part-Dawn of War multiplayer cocktail that Dawn of War III is offering.