Thus far, I've spent a lot of time talking about the process of crafting a story, characters and suitable environments, but a lot of care is also being put into Arelite Core's battle system in which players will also spend a significant amount of time. Since I've often found traditional JRPG battle systems tedious, I knew that I wouldn't be satisfied with simply replicating the traditional Fight-Magic-Item system often seen in those games, but I also didn't feel that a more extravagant system like Super Mario RPG would fit with the feel of the game I had. To that end, I worked on blending more modern mechanics in with more traditional aspects, as well as a few novelties.
Stances
Like in most other RPGs, battles begin from the character status screen. Other than changing weapons, armors and garments, players also have access to a stance system which is unique to each character. Stances tie in directly to the character's main actions, strike, parry and blitz and change the properties of these actions.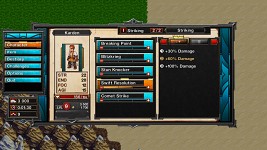 For instance, strikes may deal increased damage or heal the character. They could even change the properties of their attacks like dealing fire damage or even attacking all enemies. Likewise, parrying could increase the blitz meter, receive good status effects or even attack the opponent in some cases. Some characters also have passive abilities such as receiving less damage or making attacking faster in general.
Stances are part of the levelling up process and characters do receive more points as they level up. However, those points are not set and players can change them according to their preferred play style or to complement the stances of new party members.
Blitz
Rather than magic, each character has access to a number of blitz moves which they learn throughout the game and can also be powered up through stances. Blitz moves are performed by building the blitz meter through regular battle by attacking, parrying, receiving damage or using items. Once they've filled up a level, characters can use their special techniques to inflict damage and heal wounds They also play an important role in the game's other two battle mechanics, combos and impact.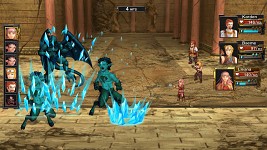 Combos
Combos are one of the main methods of dealing vast amounts of damage. As party members strike a monster, the enemy's combo meter will go up. Then, certain party members have the option of performing a combo slam blitz move, which deals increased damage according to the amount of hits dealt before. There are a number of ways to increase combos, such as stance options and certain blitz moves. However, the combo goes back to zero once the enemy performs his next attack.
Impact
As party members and monsters take damage, their impact meter will build. Once it's full, that character will be stunned as demonstrated with starred above their head. They will then be unable to act for a few rounds. This can turn the tide of battle greatly, especially as players use that opportunity to increase a combo further before unleashing a devastating combo slam. Again, different stances and blitz can deal more impact and thus stun a monster more quickly. Additionally, when a party member parries, he lowers his own impact meter.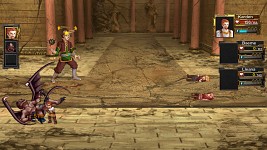 Of course it goes without saying that the game also has all of the regular tropes such as status effects and elemental damage as well as items to raise health and blitz, but a lot of care was put to ensure that every option available the player would be useful. The result is a more dynamic and strategic turn based game which keeps a traditional feel without feeling archaic.