As a player, you act as one of the seven Heralds, each of whom comes from a particular world destroyed by the Shift. The Heralds do not tend to be ordinary characters: they are unique from the perspective of each other as we as compared to common action\RPG heroes. So let's get to know them better.
Dharma

An ancient humanoid creature whose age is estimated in epochs. After centuries spent in prayers, meditations, and rituals, he is no longer a human in the traditional sense. The Core forces him to start the endless quest for the absolution collecting new knowledge and looking for the perfection. Dharma uses extraordinary brain capabilities to manipulate opponents and the environment.
Executor

is a silent and ruthless assassin of unknown origin. According to a popular opinion, there is no face behind his mask: the character is a non-living creature brought to life by the Core. It is an instrument in hands of mysterious masters. Executor is a versatile and agile character able to cope equally well with threats in a melee and at an average distance.
Marduk


is a powerful ancient mystic buried alive centuries ago. The power of the Core brought him back to life, but didn't free him from a magical sarcophagus. Even at the peak of his power, Marduk can leave his imprisonment for just a few seconds, returning back to the coffin right away. In the game, he acts as a mobile sniper that destroys enemies with the help of lasers and prisms.
Tripod


Is an alien dressed in a high tech exoskeleton. He uses the Core as a power source for his technologies. Being an almost helpless fighter, the pilot relies on his suit and a variety of systems available in it. Besides, there is a bunch of drones on his side in each battle.
Goo

is a creature suffered from the collapse of the intercellular connections. A jelly-like substance remains integral just due to the miraculous influence of the Core. Goo is not a good fighter, but it is extremely survivable. Furthermore, it can create allies by separating small pieces of its flesh.
Morry

At first blush, this character looks like an ordinary 10-12 year old girl, but the illusion fades away when Morry gets into trouble: strong emotions or stress summon an aggressive ephemeral essence that protects the girl. The nature of this character is quite simple: two absolutely different creatures from parallel dimensions have been melted into a single organism during the Shift. Morry is a fast but at the same time fragile fighter who brutally destroys enemies.
Tix & Juggernaut



Are the last two members of a tribe lost in a distant jungle.
Having received a kernel by a mere accident, tiny Tix is virtually defenseless. Unlike the other Heralds, he does not know how to fight, but it's not a serious problem because Juggernaut is
always close by. An indestructible golem acts as a bodyguard. You take control over the golem, who is very slow but extremely powerful, invulnerable, and exactly opposite to Tix, who always tries to run in front and get under a bullet.

When it comes to character development, UnDungeon reminds a mix of The Binding of Isaac and Transistor. Exploring the world, characters find various supernatural objects and artifacts.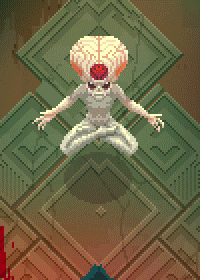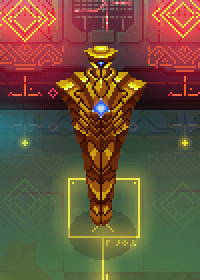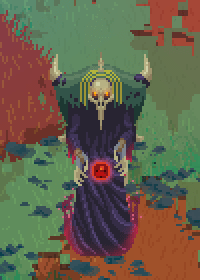 There are two types of objects: passive and active. Passive change various characteristics, add small additional properties, and can be stored and used in an unlimited quantity. As for active objects, they providу new features or essentially change the existing ones. Since such objects are placed in special slots, it is possible to mix available character's abilities with each other forming a huge variety of combinations.
Each Herald has a unique pool of objects which is not available to other characters. Consequently, everyone has an exclusive playstyle and development. Besides, each artifact provides an impact on characters' appearance. And since the order and number of objects are totally random, each new trial is characterized by a unique character's look.