What are the best Total War: Warhammer II mods you can find on the web? Here is a handful of recommendations from a ModDB staff member.
Recommended For Modders
Below literally a couple of somewhat endorsed modding frameworks meant to be used chiefly by modders. Their installation is also required for some of the other mods to work in the first place so they may be just as important for regular mod players.
Community Modding Framework
Crynsos' Community Modding Framework is a central compatibility manager for all script mods that have been registered to prevent any potential conflicts, which means you can write new scripts without having to overwrite the ones authored by Creative Assembly. As a secondary function, this mod also serves as a bugfix for a long standing issue with new characters and their portraits and unit cards not working properly.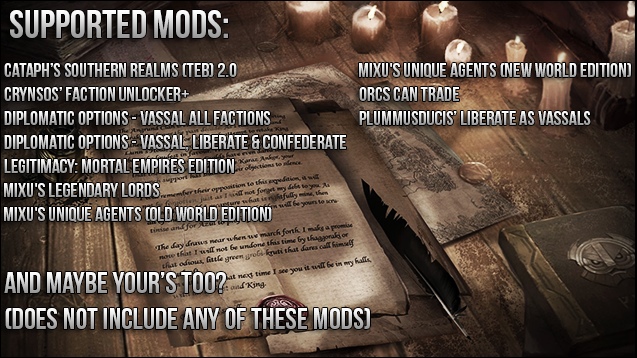 UI Modding Framework
Vanishoxyact's UI Modding Framework adds a whole framework allowing the possibility of creating custom user interfaces within mods. Creating UIs for mods can be notoriously difficult which results in very few if any mods utilizing them. This framework unlocks this possibility by providing an easy mechanism to create them.
Other Utilities
No Fog of War and No Fog of War (Player Turn only): it removes the fog of war so you can see and check starting positions of all factions. It can prove very useful to modders.
Modding Tools: while it is slightly more comprehensible than No Fog of War mod and contains more tools (for example it lets you see normally hidden Skaven settlements), this utility does not work in the Eye of the Vortex campaign.
Pack File Manager 5.0: a .pack file extractor and archive tool. PACK files contain all the data and assets of Total War game. You can edit existing Total War data packs and create new ones using this tool, somewhat replacing BOB the official utility for creating packs.
SaveParser: a savegame editor which makes it possible to edit savegames of most Total War games including Total War: Warhammer II.
Best Total War: Warhammer II Mods
So now for the main selection of top mods for Total War: Warhammer II. First things first. How is each mod rated?
Enjoyment: gameplay, replayability, fun factor, often despite the little flaws.
Completeness: new features and options as well as thoroughness when it comes to overhauls.
Luster: how polished the mod is, for example whether it contains ugly or quality unit cards, building icons and so on.
Overall: not the average rating, but the final verdict, how the mod feels overall.
These ratings are only personal approximations which take unmentioned things into account as well (whether the rated mod in question was lore-friendly was no factor at all) so they probably do not reflect the mods themselves. Nonetheless, you are invited to check and see all of the mods listed below for yourself, as all of them are quite... awesome, and frankly, quite well-made, no matter the rating.
Crynsos' Faction Unlocker+
Faction Unlocker+ makes it possible to play any faction in the Vortex and Mortal Empires campaigns. On one hand, probably the most fun modification of the top Total War: Warhammer II mods, and on the other hand, just about the least polished one of them all. Use of other faction mods to complete this one is highly recommended.
Enjoyment: 11/10 | Completeness: 6/10 | Luster: 3/10 | Overall: 9+/10
Radious (Radious Total War)
Just like Radious Total War Mod for Total War Attila, Radious by Team Radious is a complete game overhaul mod, which offers players big changes in campaign AI, diplomacy, land battles, reworking abilities, spells, magic, changes buildings, re-balances all unit stats and costs, reworks experience system and much more with additions of custom made units for all in game factions. And yes, its good-looking unit cards fit in really well with the game.
Enjoyment: 10/10 | Completeness: 10/10 | Luster: 10/10 | Overall: 10/10
Dryrain's Reskin Overhaul
A graphical mod that changes the looks of many units. It's focusing on realistic and lore friendly vibe. Also it doesn't make much of a difference from the vanilla intention; there are only subtle visual changes that give more variety rather than changing the appearance entirely. This purely cosmetic mod does not affect gameplay in any way.
Enjoyment: 10/10 | Completeness: 10/10 | Luster: 10/10 | Overall: 10/10
Grand Campaign Custom Maps (GCCM)
GCCM brings beautifully crafted custom maps to the campaign, with the goal of increasing visual and gameplay variety. Many of them use custom assets restored and ported over from Total War Warhammer I that were not included in the Warhammer II game. A large mod team, GCCM Team, created this quite huge in assets and yet small in scope (as only maps are affected, not the barely moddable campaign map) mod.
Enjoyment: 10/10 | Completeness: 10/10 | Luster: 10/10 | Overall: 10/10
Cataph's The Southern Realms 2.0
Cataph's The Southern Realms (TEB) 2.0 is an updated version of Cataph's The Southern Realms for the original Warhammer I, which is now braving the waves to rob three new continents of their riches explore the New World and its possibilities. It brings a couple of extremely enjoyable factions to the game.
Enjoyment: 10/10 | Completeness: 9/10 | Luster: 6/10 | Overall: 10/10
Cataph's Kraka Drak: the Norse Dwarfs 2.0
This mod, updated for the Total War Warhammer sequel, makes Kraka Drak (located in the north very near Chaos Wastes) playable. Just like The Southern Realms, it presents another roster expansion, new techs, characters, skills, but with less plumes and more beards. Way more beards. Excessively so, one might say.
Enjoyment: 10/10 | Completeness: 9/10 | Luster: 7/10 | Overall: 10/10
Runners-up
Ultimate Skaven
A total overhaul of the Skaven Faction, developed by Steelb_l_ade. The mission of this mod is to make Ultimate Skaven a truley game-changing mod when playing as or against Skaven. It is designed to work alongside Ultimate Chaos modification.
Enjoyment: 9/10 | Completeness: 8/10 | Luster: 8/10 | Overall: 9/10
Ultimate Chaos
Another total overhaul of Steelb_l_ade's, this time of the Chaos Faction. The mission is to make Ultimate Chaos a DLC level mod in terms of quality. Some nifty sub-mods such as the one addressing the lack of horde dedicated to Grandfather Nurgle are also available, just for the singleplayer or co-op fun.
Enjoyment: 9+/10 | Completeness: 8/10 | Luster: 8/10 | Overall: 9/10
Immersive Battle Banners
For more realistic and immersive banners during the battles and on the campaign map. The author didn't like the toy aspect of vanilla banners, so now they feel more like the true Warhammer and slightly less cartoony and less uniform. Some colors which were too saturated were also modified, and color was used to improve visibility. The campaign banners are now bigger, and you can zoom in to see them. Authored by Den.
Enjoyment: 9/10 | Completeness: 9/10 | Luster: 9+/10 | Overall: 9/10
Custom Lord Creation
This mod of Vanishoxyact's adds a brand new custom UI which allows you to customize lords before recruitment. The custom UI allows you to modify the lords name, type, skills, traits and starting attributes. To create a custom lord, click the "Custom" button in the lord recruitment screen. It makes use of both Community Modding Framework and UI Modding Framework.
Enjoyment: 10/10 | Completeness: 7/10 | Luster: 7/10 | Overall: 9/10
Brutal Battles
A battle spacing overhaul that retains vanilla stats and balance while making clashes more chaotic, fierce, and realistic. Watch infantry push and shove to the front as they hack away at the foe, with the addition of improved unit collisions during charges and tightened unit formations. Units such as spearmen now present a bristling solid wall of steel instead of leaving large gaps in their formation, now providing ample deterrent to any brash cavalry charge. Peek-A-Boo! is the mod developer.
Enjoyment: 10/10 | Completeness: 8/10 | Luster: 9+/10 | Overall: 9/10
Sebidee's Unit Resize
Modifies the size of units in what the author felt was a realistic, lore-friendly and simply good looking way. It affects almost every unit in the game from both Old and New World factions. This mod is visual only and does not affect any unit stats.
Enjoyment: 10/10 | Completeness: 9/10 | Luster: 10/10 | Overall: 9/10
Honorable Mentions
Unit Formations: gives most units the ability to get into formations of your choice and as you would expect, they also get a bit better in combat by doing so.
Darker Grand Campaigns: changes both the Vortex map and the Mortal Empires map to a much darker and grittier Warhammer experience.
No Degradation - Persistent Summons: this simple mod will permanently remove degradation effects on all summoned reinforcements. It also balances out the modded-in change so it doesn't become an unfair advantage.
Rebanner II: reworks existing banners as well as add new ones to make them more interesting to use.
Region Trading: adds a new UI which provides a basic version of region trading. Requires UI Modding Framework.