Dear generals and our friends. We are happy to inform you. Our work on creating new bots is moving forward. Now 8 bots have already been worked out.
To install the map, you need to unpack the archive and copy the folder along the path
C:\Users\user\Documents\Command and Conquer Generals Zero Hour Data\Maps
Designed for modification Generals Project Raptor War Commanders 9.1.19 fix 5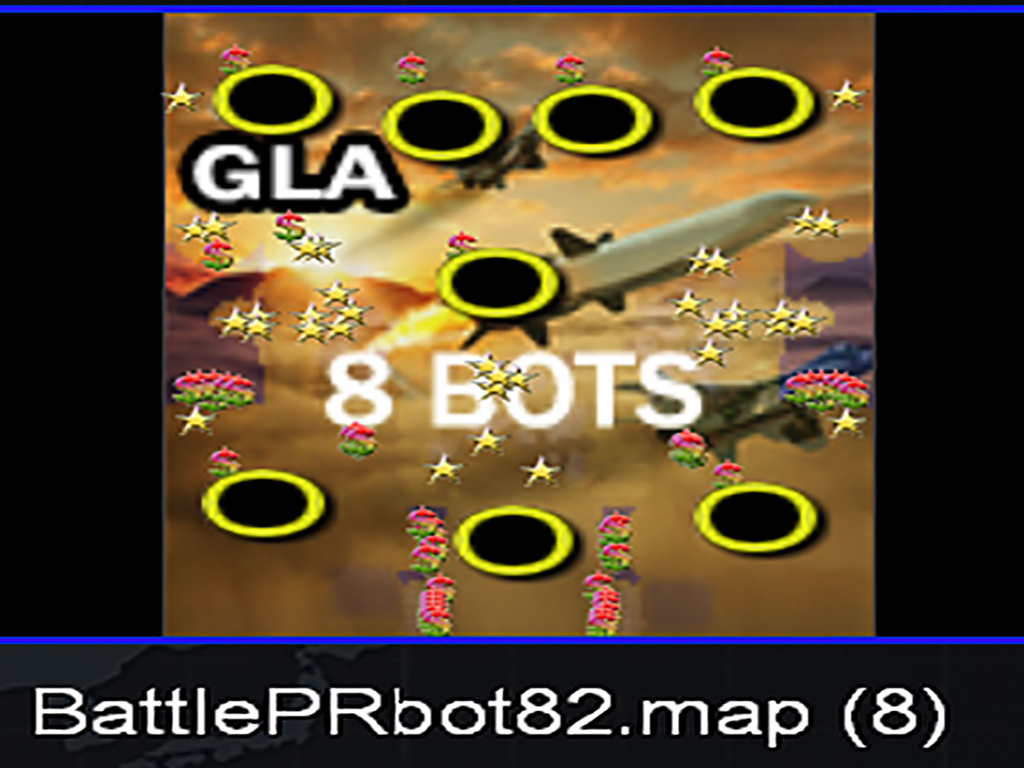 Loaded bots: USA, Laser, Air Force, China, Tank, Nuclear, Infantry, GLA
Place the GLA bot in the upper left corner, then the bot can use the armored Militia tanks! The bot will use them if the player chooses an amount over 10,000$+ at the start. Made to counter big money. These are very, very strong tanks. Two of these tanks can deal with three terminators and a typhoon, as well as drive into the depths of the base through large layers of defense and destroy super weapons.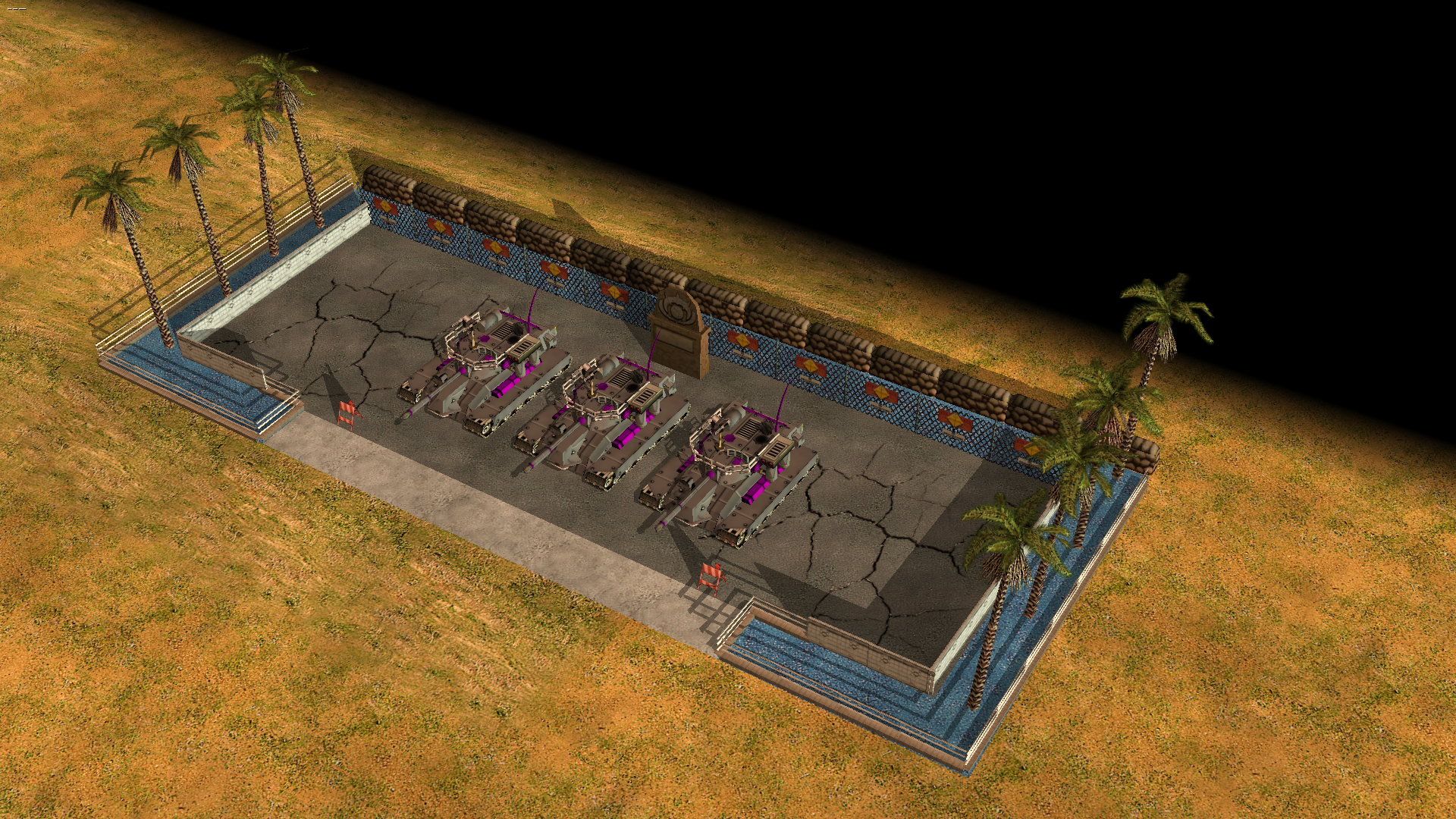 We are loading them gradually as we create but maps for beta testing. Those who wish to try new bots can download the map. But don't forget to choose bots from the list.
We are working on all categories from light, medium and heavy army. Our AI has successful research, so we started from scratch, considering the development of bots from Zero Hour, and came to the conclusion that not entirely rational attack modes were created there, which create an increased load on the game engine. When a lot of bots are put on the map for 8 players.
For this reason, we are loading new bots on the map for 8 players so that you can evaluate the possibility of unloading the engine and raising the FPS. In our mod, you can still work on optimization and performance improvement for a long time, but now we have bots with new modes that do not create interference and problems.
We managed to reduce the load by about -500%. now the game with bots will go better. But you must remember that these bots are still on a small number of maps. When we are completely done with the work, we will start loading them on all the cards. We will also provide you with instructions that will allow you to load our bots on your maps. At the same time, it does not require high knowledge of the Worldbuilder program.
You don't have to mark polygons and draw paths for attacks. Our bots will be able to develop and build themselves, you just need to indicate the starting points on the map. And download the script file that we will give you upon completion of our work.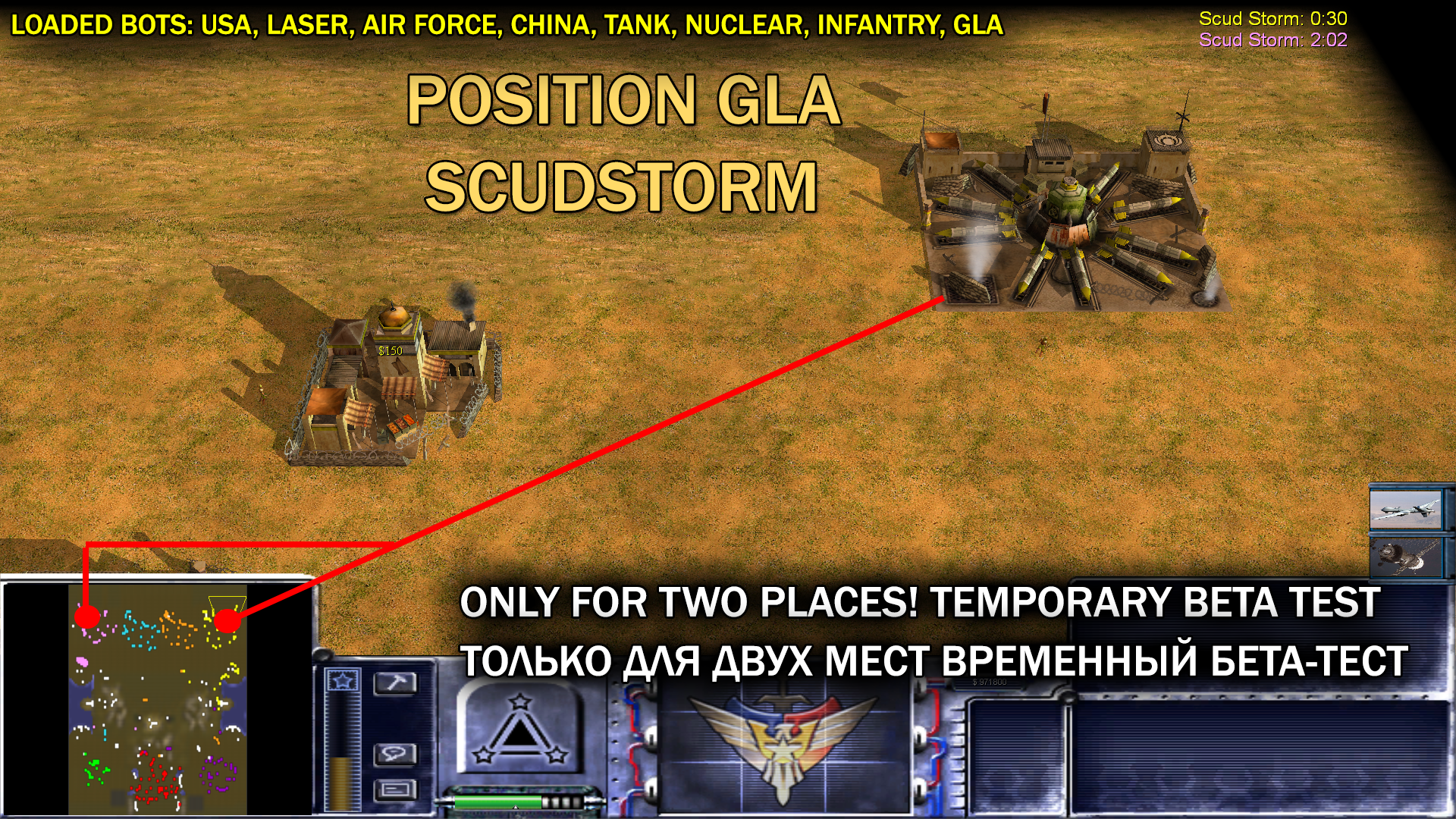 The GLA will operate in all locations, but the Scud storm will only be built in the upper positions on the left and right.
At the first stage, we are working on bots without the use of super weapons, but in the future we will create such a system when we can point and quickly indicate where the bot will be allowed to build super weapons. For demonstration purposes, we have added it for the General's GLA.
Also remember that these bots do not have 5 waves as it was before in Zero Hour, but 10. If the player plays for more than 1 hour, the bots will start hitting the most vulnerable spots of the enemy. Their methods of fighting can change constantly.
We create a template that can be quickly edited and enhanced. All bots are passable, we do not set ultra modes which cannot be passed.
Our recommendation is to take 1 friend with you and go with him in a team on this map with a starting amount of $ 10,000 against 5 bots having installed them on top.