During the weekend of the April 17th to 19th, Arelite Core was on display and its first demo playable during Nadeshicon, a small japanese culture convention held in Quebec. Since this was my first con, not to mention the game's first con, I wanted to take a look back at how it went down, things that went right and places where there could be a bit of improvement.
First, let's just give a quick overview of the con. It was a 3 day event and had little over 1800 attendees, which makes it fairly small when compared to other conventions, and as such everything felt a lot more laid back. Furthermore, this wasn't a gamer centric convention, although I had the fortune to be set up in the gamer room with other console games. In all I estimate that I reached about 80 people during the event, who each who took a promo postcard with the game's details and website info and most of which played the demo.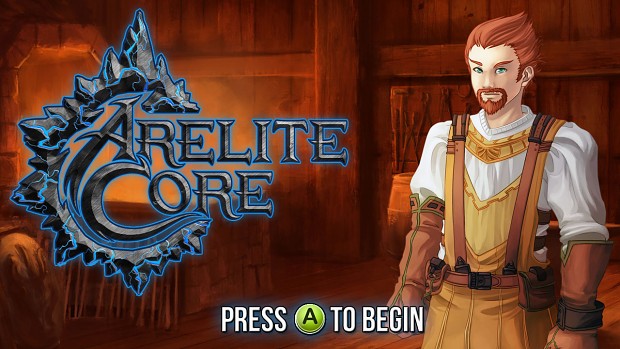 Back in November, I had tried to get into PAX East through the Indie Megabooth program. In anticipation, I had printed wall scrolls for the game and designed some promotional postcards. I ended up not being accepted for PAX East, but it did give me a leg up as I went into this event. I decided to go to Nadeshicon only a few short weeks prior, but my marketing material was ready to be printed and all I needed to do is prepare a polished demo. I sent that demo to friends and contributors who gave me some feedback to improve upon it. Thankfully, most of the time spent on that demo will also go into the final product.
Reception for the game was generally positive, people really gravitated towards my vision of a JRPG. They loved the graphics for the game, especially the animated monsters, but also the other aspects of the game such as the music, sound effects, characters, and of course the gameplay. There were some criticism of the game, but those were few and far between. I did make a few modifications before opening hours on the second and third days to better show off the game within the limited timespan however, small changes to the system to make the demo more appealing as well as fixing a handful of bugs. Also, I had a small intro to the game which I removed because I wanted the players to get into the gameplay immediately, especially since I was on hand to explain the various features. That intro will instead be reused once I have a public demo ready.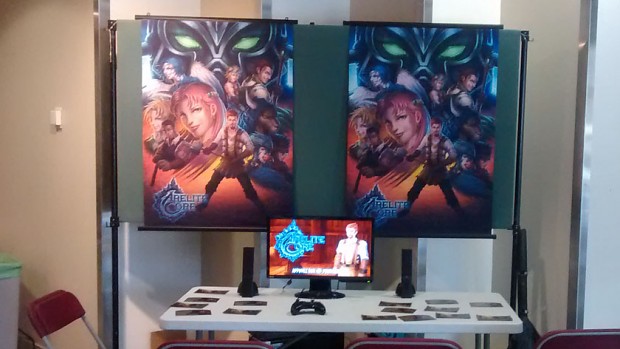 As I've mentioned earlier however, this wasn't a gamer convention and so a lot of the people I met were not core gamers. Many of them mentioned how it's been a while since they've seen a traditional JRPG, even though the indie market is flooded with them. I don't think it's an issue, but it also shows that this audience may not be representative of my potential buyers. I also think they were less critical than other gamers might be since it's a local product and presented outside the context of a gaming convention. One thing I kept hearing however is how impressed that the game was essentially a one person project (I did everything but graphics and music, although I do produce those elements as well).
During the first and second days of the con, I held a contest for a wonderfully illustrated wall scroll of the game, for which about 40-50 participated. In hindsight, this contest was a mistake, it never really created any buzz, nor did it bring that much visibility to the game. I didn't have a banner promoting the contest, because I wanted to target people who were interested in the game, but in the process I didn't generate any new potential players either. Additionally, I should have encouraged people to join the Facebook group more to participate, a tactic I've seen in past contests. In the end, I don't feel I've gained much from this contest.
Looking at my google analytics page three days after the convention, AreliteCore.com barely saw a bump during and after the con, the difference being statistically insignificant. On the other hand, my Steam Greenlight page saw a slight increase, but still negliceable in the grand scope of things. Finally, I've only gained 2 more facebook followers, one of which was the contest winner. In all, I would say that unless the marketing process has legs, I wouldn't call it a success, as I've gained very little exposition and very few potential sales. I doubt that attending Nadeshicon will be profitable financially in the long run.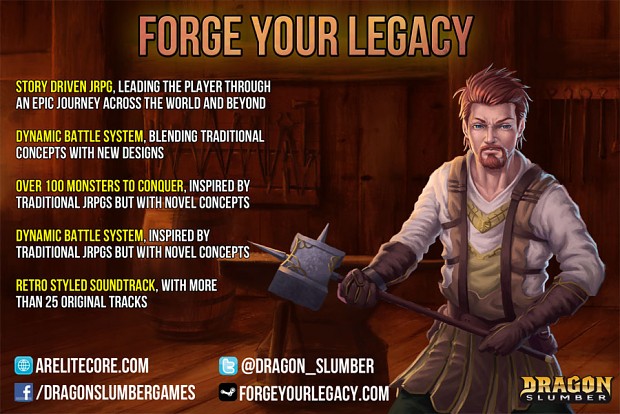 That being said, I still do not regret being there. As I've mentioned, this was my first con, it was very laid back and the audience wasn't quite my target audience, meaning that I personally had more time to observe the process and learn from the experience. I managed to hone my presentation style and to make mistakes without facing too many consequences. I wish I had a vertical banner to attract more attention, I wish I had directed more people to join the facebook group, and I think I needed to not only attract people to my booth more aggressively, but also try to keep them in the loop by encouraging them to join the facebook page more instead of promoting the Steam Greenlight.
In the end, I highly recommend to everyone trying to promote their game to attend some sort of con the same way I did, even if it's not profitable in the short term. It's a learning experience, you get to make mistakes and make sure you avoid them when it'll matter more.
Next con I'll try to get into is the Quebec Comiccon, which will have over ten thousand attendees. Hopefully I'll be able to apply what I've learned here in order to better promote the game.