This time around a lot of wrench work in the engine core parts has been done not translating well into a news post. Nevertheless some parts of it are interesting namely the beam particle simulation, particle lighting and various other improvemnts along the way. I'll keep the talk short and give more time to a video.
So far the particle and ribbon simulation mode has been full working for particle emitters. Beams had been not full implemented so this changed now. Particle emitters with beam simulation mode allow for a lot of possible effects. I'm not going to talk about them but show some examples connected with the changes in the video. In a nutshell you get ribbon like beam rendering with physically simulated particle path. Animated path is topic I'll talk about in another news post. Sheet rendering for ribbons/beams has been improved. It's now enabled by default. Particle light sources have been fixed and improved. Every emissive particle, ribbon or beam casts light automatically with the same complex light shader as all other light sources. Added beam curve for burst beam lifetime control. Also added particle warm-up time to get emitters starting in full beauty on enabling casting. Last but not least fixed a leak problem with particle emitters generated automatically on particle collision.
So here is the video with some examples.
Other stuff is not worth a full section but important nevertheless. SSS is now improved for transparent objects. Allows for properly damaged glass for example as in this test.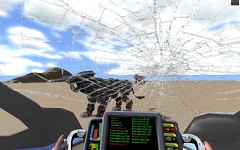 Furthermore upgraded to Bullet Physics 2.82 . In the same time fixed some long standing issues with Bullet Physics. Also reworked the DOF for constraints adding support to implement static and kinematic join friction and breaking force on Bullet. Not working yet since bullet has some own ideas about certain things I need to re-implement first.
On the IGDE editors various cleanups have been applied I came across on my way to make the first release quicker (as it's done already).
Added animation scaling support. It had been broken in the export scripts. Scaling can be applied anywhere in an animator but care should be taken since physics modules might have troubles with strangely scaled colliders. Here an example shot.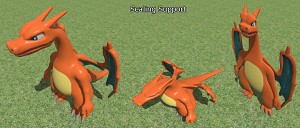 In the OpenGL module I switched code over to use Texture Sampler Objects. This helps with keeping complex rendering maintainable and saved state change calls.
And to wrap it up the curve editor in the particle emitter editor received some additional menu operations to speed up some common tasks.
I've promised some editor usage videos. I'll make them next and present them as an article for those interested in learning about how the editors work as well as those interested in giving early feedback to incorporate until the first release.