Hey guys ! Welcome to The Brotherhoods second update.
This week we have a lot of new stuff to show you guys and we'll start off where we left off last week with the Nod Tiberium Silo. As you can see it's been fully textured. Model by Kane000 and texture was a collaboration between Kane000 and Staude.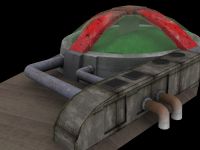 Next up we have a new Nod wallpaper which comes in two variations :P
we also have two signatures based on this new wallpaper. All of them by Proudy !
Furthermore, we have some brand new vehicle models, all looking awesome and all by Hardkorpaul !
The Apache, The Medium tank and The Mammoth Tank !
Well, that's about it for now. We hope you've enjoyed the update and if all goes well, we should be back with a new one next week. Be sure to let us know what you think :)
Staude.
C&C Brotherhood.