Gothic 3 is one of the most addictive Role playing games of the past years. Unfortunately there was no modding tool officially released, but some fans managed to create their own modding programs for Gothic 3 and thanks to them we can change quite a lot of things of the game.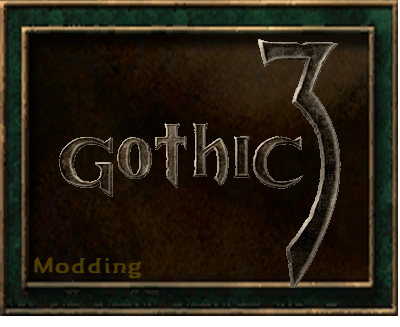 I have created a site where I wrote all the things I knew about Gothic 3 Modding. I wrote many tutorials so I won't post them here separately, but I will post the link to my site and the link to the offline version of my site - where you can find every single one of my tutorials instead.
Learn how to:
* Enable Marvin Mode (console of the game).
* Change skins (armor textures, monster skins etc).
* Change compiledImage.pak textures.
* Change the main menu screen.
* Change the rewards (experience, objects etc) of every quest.
* "Play" with the with the compiledMesh.pak meshes.
* Change every ingame sound.
* Create pak and p0x files.
* Clone Objects using Template.pak files
* Change every ingame text (translate the game to your language etc).
I just hope some of you will find these tutorials helpful.