So, I finally got to go to Chicago last weekend. It was a great trip!
The reason I went in the first place was actually go to an anime convention, but believe you me, it was just plain terrible. There were no interesting panels to speak of, no guests that I actually wanted to chat with (unless you find the inkist for the Powerpuff Girls comics an exciting person), and even the Rave party that was thrown left a lot to be desired. I basically spent both Friday and Saturday night drinking. The unreal part is that my friend, who drank just as much as I did, almost had alcohol poisoning and I had to jump into the ambulance that was taking him to the hospital, all the while conversing with police officers on his condition and trying to pretend like I wasn't drunk (I'm only 19, and the legal drinking age is 21).
So what we did instead on Saturday afternoon was take a trip to the Mitsuwa Marketplace, this giant grocery store/bookstore/bakery/food court of a building that lies smack dab inside the Japanese district. I had a blast! Inside the bookstore, I found literally this tomeof manga (Japanese comics) that only cost me $7. I also picked up the latest issue of Famitsu, which is the most popular gaming magazine in Japan. I actually felt like both were worth every penny! Afterwards, we went to the bakery, picked up some melon bread, and proceeded to the food court. The best part of a Japanese food court is that you get this seemingly huge amount of food for the same price as a value meal at McDonald's -- this is what they consider to be fast food in the land of the rising sun. I got this platter of rice, teriyaki, and a big fat omelette with decoration of ketchup on top for $4! And right next door, I discovered a place where they mix green tea with dairy (milk, ice cream, yogurt, etc.) to make one big shake. It may not sound that great, but once I tasted it, I felt like I was in heaven! If you ever get the chance to go to Chicago, definitely consider stopping at Mitsuwa Marketplace. I'm pretty sure every person we talked to there knew just enough English, so there's no worry about the language barrier or whatever.
After stopping at Frys (basically a Walmart for geeks) and a Japanese Toy Store, we went back to the hotel where the convention was taking place. As I was walking around the Dealer's Room (a section where a bunch of merchants sell their products), and while I was half-drunk, I noticed a table full of swords, and knew instantly that I had to buy one. It was pretty much the sweetest-looking sword I ever found that I could actually take around my school without getting in trouble (aka can't cut someone's head off). I figured I'd need it in case the zombies started to attack, but what did I know? I was fucking drunk and didn't know where my logic went off to.
Here's a picture of me with the sword: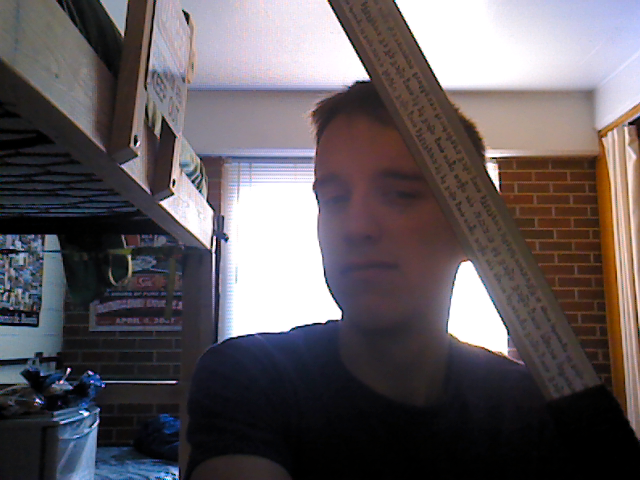 So all in all, it was a hell of a lot of fun for my first time going to Chicago. I've honestly never been outside of the midwest here in the United States. Hopefully I'll be able to go overseas this Summer for a Study Abroad trip, but I can't really see that far into the future. :)