Idea Behind The Game
In this article I explain the idea behind Oblom and the kind of puzzle game it is. Also, I explain strategies that can be used in the game.
Oblom is a 2D puzzle game, developed with the idea of getting the player to think his way of the game. I have had had the need for a good puzzle game for some time now. It's not like I haven't played all the many puzzle games out there, I have. That's why I need a new one, so I came up with the concept and decide to implement it.
Now you are this blob kind of character called Oblom and you
need to go to the exit. There are many boxes blocking your way which you need
to move to get to the end. Sounds simple right! Well, there is a twist. There
are only 3 limited operations with which you can clear the way for Oblom to get
to the exit.
1) You can switch between 2 rows or columns of
boxes
2) You can shift the whole set of boxes in any
direction
3) You can blast away one box
Here is a video illustrating all these operations :

Oblom Tutorial Video - Indie DB
And..., that's it. You have only these operations available to do your task. So, you need to plan out which operations to do and in which sequence. This, in my opinion, creates a very challenging and fun puzzle game. It requires you to develop strategies for playing the game.
Well there is one more thing. You can create a bomb by surrounding a blank spot by boxes like shown below. When this spot is clicked, a bomb is created which will blast anything below it.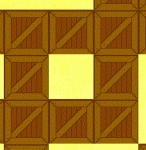 For more details on how to play check the videos and tutorials at the Oblom page.
Strategy for the Game
You only need to clear the central column where Oblom is standing in. So, that makes planning a little easier.
There is an important trick that you should know when you play this game. When you blast a box by clicking on it, not only does that box blast, but, all the boxes adjacent to it also do. This is like your secret weapon that you own. But, the trouble is that this weapon can be used only
once. So, use it when you really need it.
The trick is to keep switching rows and columns so that you finally get only 3 BOXES adjacent to each other in the central column. This way by blasting the middle box, all the boxes in the central column blast and Oblom can go to the exit.
Sometimes, what happens is that there will be some 4-5 boxes in the central column and you find it impossible to reduce it to 3 (without blasting boxes). But, sometime it may so happen that there are only 3 boxes in another column. So, you should shift the whole box map by the arrow key so that
this column now becomes the central column.
If even this is not possible then you really need some planning. You now need to arrange the boxes in such that you create a bomb (as mentioned above). Make sure that you put as many boxes as you can below the empty spot before creating and setting off the bomb, so that many boxes blast. This is
will reduce the number of boxes to a much more manageable number.
Well these are the tips that I find useful when playing Oblom. If you have any more lease feel free to comment below.