Ahh, marketing. The pain point of 90% of the Indie Game Industry.
Did you know that according to the latest statistics, 70% of Indie Games FAIL due to Bad Marketing or having No Marketing Strategy at all?
Having NO or BAD Marketing Strategy or Plan set up from the beginning of your journey is a Massive Risk.
Keep in mind, being a Full-Time Indie Game Developer means being an Entrepreneur too! 🛎️
Indie Games, just like any other business require a good amount of market research, competitor analysis, audience research, market positioning, and some amazing planning! 💯
Digital Marketing is a huge profession including a lot of skills such as content marketing, SEO, Email Marketing, Branding, Social Media Marketing, etc.
All of these skills contribute to making your game popular and successful! BUT, these Hints are a Good Way to start and make your hard work and dedication seen! Follow your Dream, do whatever it takes to succeed. You're a #gamedev. We do what we love! ✊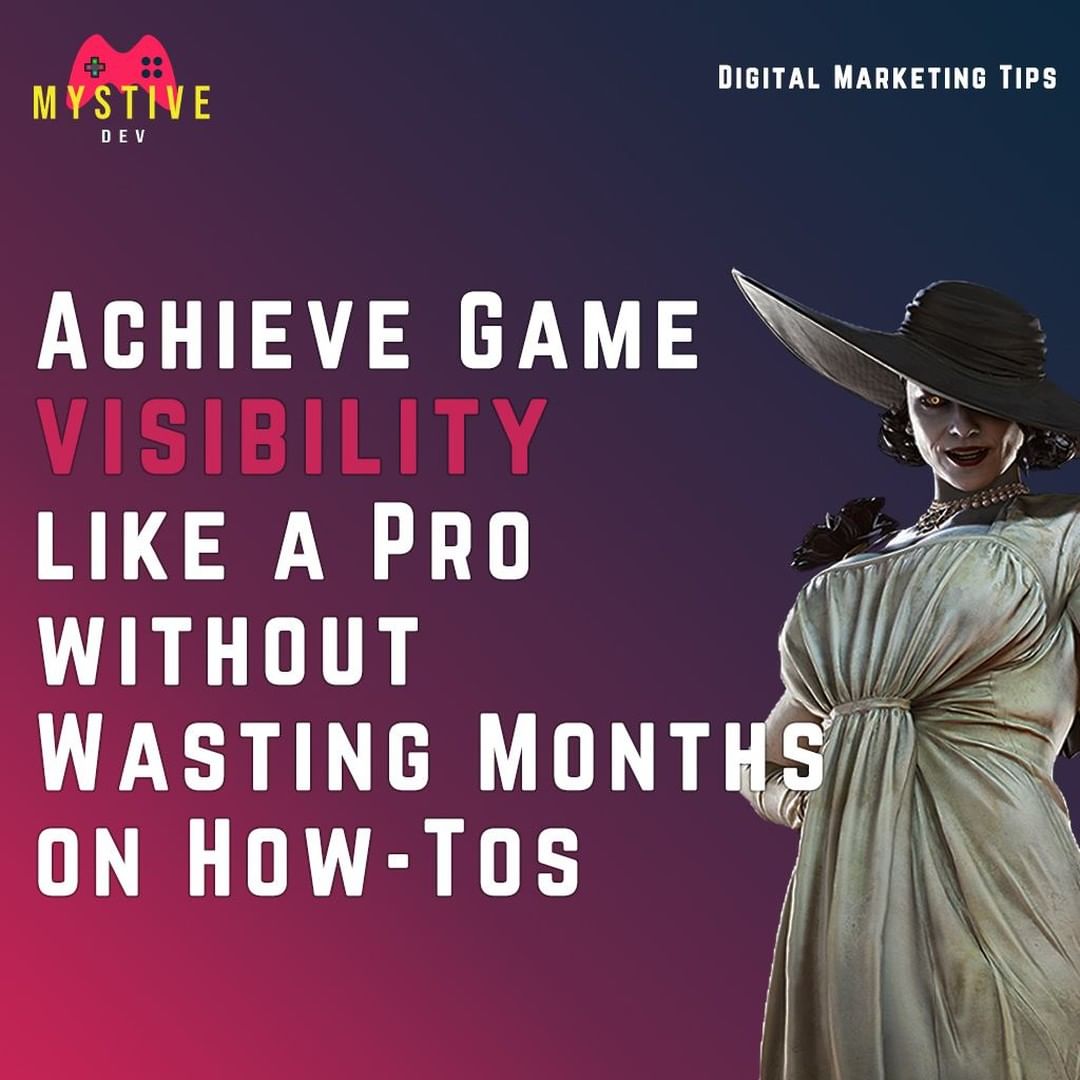 Before we dive into some of the content and tips about game marketing, let me tell you about a discussion I had with a fellow Indie Dev. One thing to realize is that - having the best game in the world with the most unique systems won't sell if you do not have marketing. Thinking that if your game is perfect it will skyrocket by itself is a delusion. Let me explain why:
There are approximately 21 games coming out Every Day on Steam. Imagine how many games that would be in a single month. No matter how good your game is, without a marketing strategy, it will be swallowed by the pile of games coming out every day.
Another Mediocre game (not bad, but a mediocre one) with a good marketing strategy will pop up like a diamond in the sea of upcoming games. Why is that? It is constantly appearing in front of its target audience (the particular players who play that kind of game), it provides the content of value - meaning it gives interesting, entertaining content to its players, it uses Fun, Eye-catchy Ads to target and retargets its players, it nurtures the relationship with the fanbase, etc. So, the question to think about is: Will a game that has appeared one time or rarely popped up and seemed like a show-off like "take a look how good my game is" will succeed? Or the game that constantly cares about its fanbase and reaches out to them on a regular basis? Yep, that's right. That's why Marketing is so important.
#1 Remember
Marketing is not a magic wand. It doesn't occur overnight. It takes a lot of time, persistence, planning, consistency, engaging content, interaction with your audience, and dedication. The Results come in the Long-Term!
Now, let's move on to some hints & tips to boost your game's visibility and exposure!
#2 Do Your Competitors Research
Analyze how your competitors do their marketing. What their content is, what keeps their audiences engaged and coming back to their projects? What are their strong sides and weaknesses and how you can tweak your project to stand out in the crowd?
What do I mean by competitors? It means games that are MOST Similar to your game. Here includes a game of the same genre, a game with similar/same mechanics, art style, etc. And Yes, this includes both Indie Games and Triple AAA.
#3 Know Your Target Audience
There's a very popular saying: "A Game for Everyone is a Game for No-One. Knowing your target audience is a MUST. Do a thorough target audience research and analysis. Read Discussions and Comments on Forums, Groups, Social Platforms, and Reviews. Understand what your target audience wants, what they like, and what they don't. Find their frustrations in the games of your genre. These people will be your main focus and their suggestions, their feedback should be your highest priority.
Here's an example: I love RPGs like Witcher or Skyrim. I love being immersed in a fantasy world with my own avatar. It's even better for me to be in the First Person perspective. And let's say, you're trying to please everyone by adding some cool mechanic where the camera suddenly shifts and your game becomes a mix of RPG and MOBA. I'll immediately shut down that game and send it back to where it came from - since I don't like MOBAs at all. That's why it's very important to know your target audience and reach out to these specific players.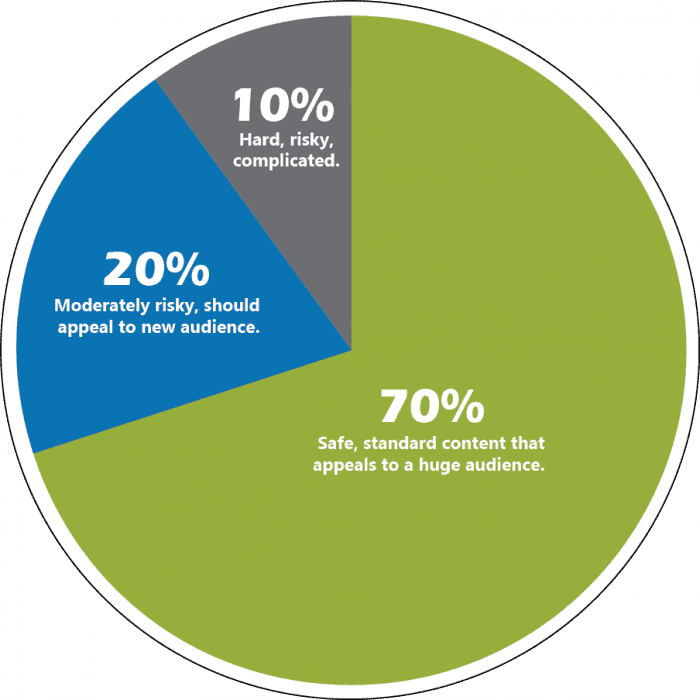 #4 Always Use Relevant Hashtags
Do not overwhelm your posts with hashtags unrelated to your content or add too many hashtags and make it look like a wall of keywords. People need to focus on the content you provide, not to be distracted by the hashtags you place.
Instead, do your research, find the hashtags that correspond to the current content you post.
#5 Study the AIDA Marketing Funnel
AIDA means (Awareness, Interest, Desire, Action). Take your time to research and study what the AIDA Marketing Funnel represents and how it can affect the content you post (A whole Article about AIDA coming up soon!). The content will greatly vary depending on the stage of marketing you are currently in.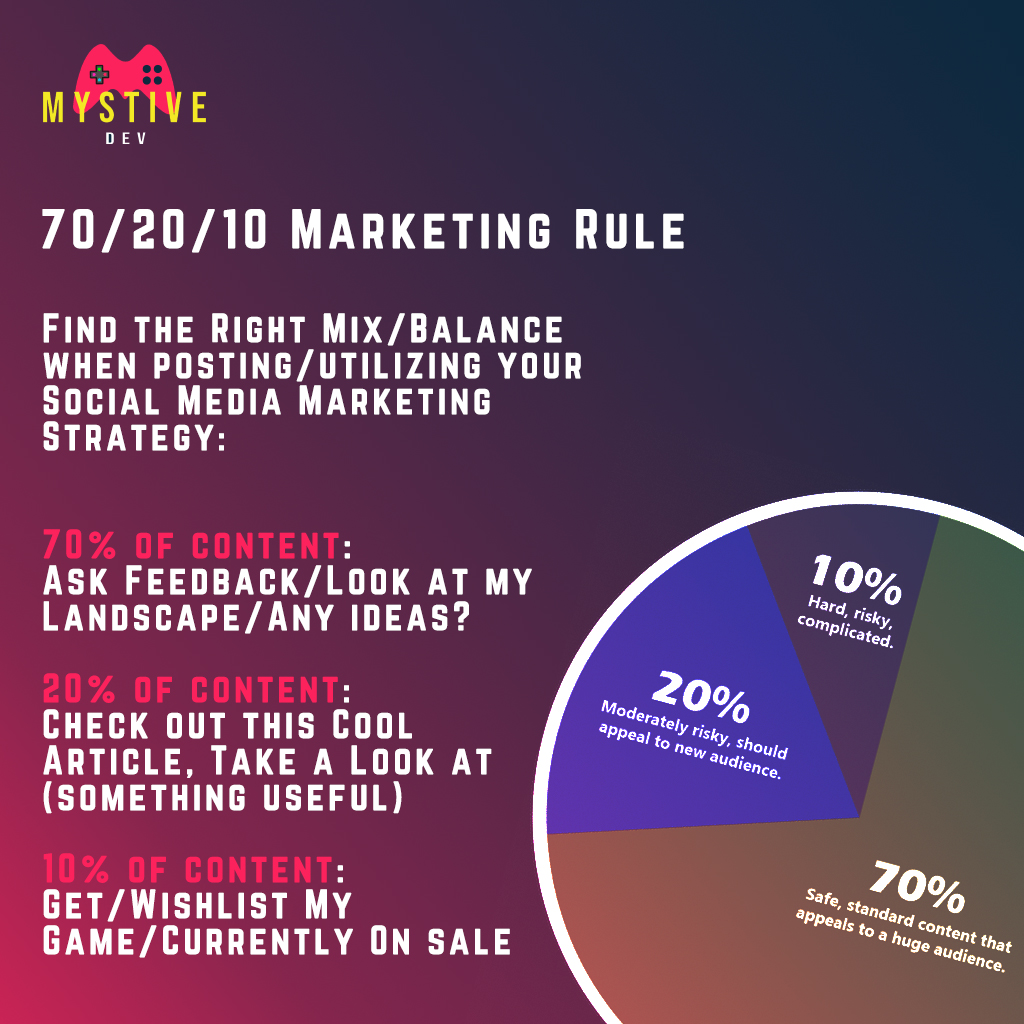 #6 Establish a Social Media Calendar
Plan out what you will post for the next month based on your previous research. Whenever making each piece of content, ask yourself: What kind of value/emotion does this spark in my audience? How does it affect their life? What kind of entertainment and interest does it provide? - Social Media is as the name implies - it's for socializing. Start by sharing the content of interest. The promotion will come running later.
#7 Reach Out to Influencers/Streamers
Remember! Be kind, be friendly. Do not spam their email with "Play my Game". But, instead, find a way to get their attention. Think, what kind of Headline in Email would spark Your Curiosity to open it?
#8 Networking
Make friends with other Game Developers. When posting content, ask for their opinion and feedback. Reach out to them to test your game. Do the same if they ask you to play their project. Share their projects on your Social Platforms. In Simple Words - Make Friends. Establish connections. Create a Network of people.
---
About MystiveDev
MystiveDev is a Game Development (Game Design, Level Design, 2D & 3D Art) and Digital Marketing brand helping Indie Game Developers power up their game journey and release their dream game. Its main purpose is to provide aspiring Game Developers knowledge and educational content of value, contribute to the global Indie Game Community and help more and more developers reach their dream of being full-time indie game developers.
Besides being an Online Game Development & Digital Marketing Academy, MystiveDev brand also provides 3D Modeling & Digital Marketing Services for your dream game. And lastly, it contains its own video games and products.
Feel free to follow me here OR on your Favorite Social Platform for Game Development & Digital Marketing Content of Value 👇
Instagram: Instagram.com
Tik Tok: Tiktok.com
Twitter: Twitter.com
Facebook: Facebook.com