In the end of 2016, Alexei Aro and Javelin studio approached Sergei Dragunov to contribute art for a mobile room escape game. They gave me a total freedom on the style and setting. I've took this opportunity and decided to put all my effort for make a good product with eye-catching style. The objective was to visualize an art with a sense of unfinished sketching style - where pencil lines would give a life in to final digital paintings. S Dragunov brought along the one and only story master Mikhail Nikiforov for the ride, working together to craft a good puzzle game connected to story. Aleksand Kuhhar, who was a director on Spotlight room escape game, was our mentor and advisor for all the puzzles, and storytelling.

Check the game here:
Play.google.com
WORKING BEAUTY
The team paid special attention to the interior environments deep inside the mines. They wanted to make sure all the dust and grunge atmosphere was made in one color palette, with visibility of the pencil that made it feel worn and used. Second issue for me was to generate output image as a digital artwork but with the traditionally created outlines, which gives a life to screen. I decided to split production phases to 4 parts.
1. I made all the things in the raw format with loosely outlines. For making easy any changes what I want in the future. Then I gave all the backgrounds to Mikhail who made all storyline bases on graphics.
2. Using photoshop to add more details and props on those raw sketches I printed it on paper and put it on animation light table. Then I made a cleanup version with pencil. Without eraser, In my opinion all the bugs and corrections give so much appealing for the screen.
3. Scanning cleanup art and colorizing in photoshop, using brushstroke technique. To give a life for screen I prefer to use photo textures on artwork. Then I move a line art layer to the top with multiply option.
4. Adding ambient occlusion map. This part was like a magic trick for me. I put a screen to Modo (3dsoftware) and model all the things in orthographic view, based on a sketching artwork, with all the broken perspectives.
5. Render final 3d geometry with a different light setup. Main goal here to have soft shadows for giving enough depth information for an output image. Then I drop output image as a multiply and overly with different settings.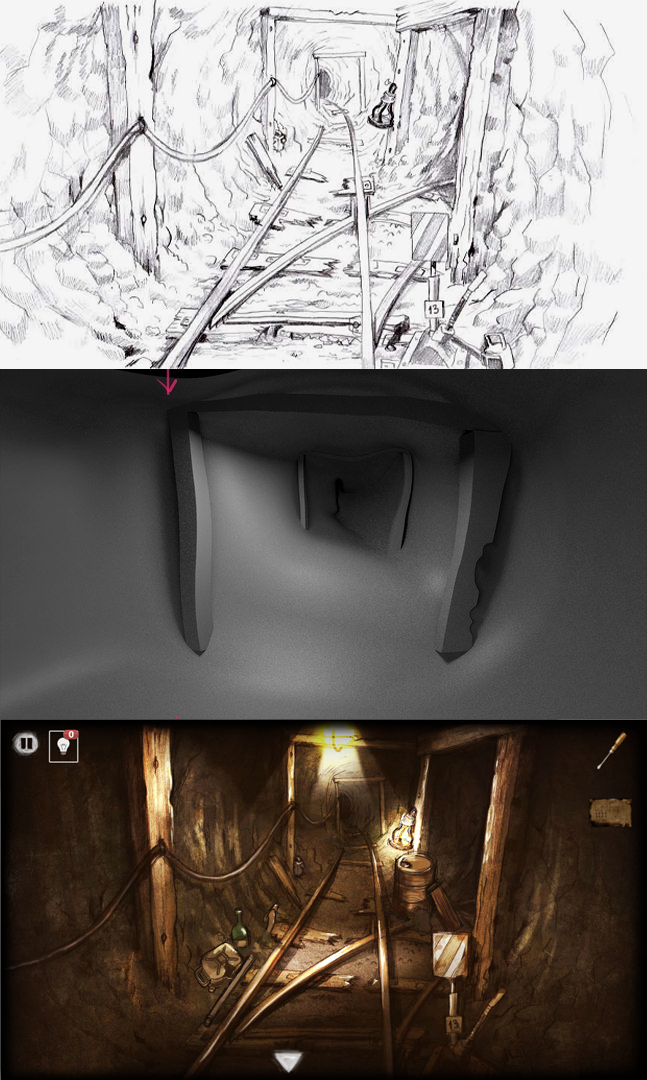 Engine
The most important component of our game was the engine, which was carefully provided by Escape Factory. Anton Nefjodov was the main guy behind that.
SOUND DESIGN
Visualizing the game at such a traditionally created piece of art. The sound design team with Aleksandr Gurjev and Vitali focused on creating the sound based on the real objects and movements around us.
Credits
Director: Sergei Dragunov
Production Company: Fat Snail studio
Storyline: Mikhail Nikiforov
Lead Compositor: Aleksandr Guriev
Outsource Designers: Nika Tomenko, Vitali Balahnichev
Lead 3D Artist: Sergei Dragunov