Zombies? Who doesn't love Zombies? We sure do! That's why we included them into Fortix 2, but didn't tell you about it…until now! Nemesys Games is officially announcing Zombie Mode Unleashed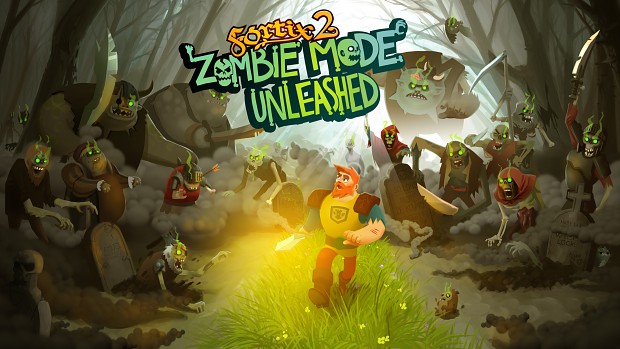 The above art work can be downloaded from here and here in HD.
How is it done? Diligently harassing the semi musical bird on the title screen with your mouse will give you a nice treat. A soothing stroll around the Fortix world, for eternity! The zombies might be slow, but they do multiply fast and will catch up with you.
After tiring out the bird once, there will be the lazy option of switching between game modes with a button on the bottom right of the screen.
We have uploaded the demo of Fortix 2 here on IndieDB. Unfortunately, Zombie mode is not accessible in it so, if you want to take a crack it, grab the full version!
Fortix 2 is also being released on Desura today! To celebrate our further expansion into the digital distribution market, we are having 2 game key giveaway contests at once. The first is on our Facebook page, and the other is here, on IndieDB. For the former, all you have to do is go to the Facebook page and "like" Nemesys games, at the end of this week we will give away, at random, a key for every 100 likes we receive.
Along with the Desura release is an update to the game, which adds the original 15 levels from the first Fortix! To access them, you must first conquer the first area, a.k.a. Greemland.
[ppbranchg14811button]
As for the Indie DB giveaway, all you have to do is leave a comment for this news post stating your favorite gaming platform and genre. Again, at the end of the week we will giveaway one key for everyone 50 comments that are posted to this news bit. Oh and if you want the original, it is available for the CRAZY low price of [ppbranchg14813smartprice]!
-Nemesys Team