Hello there everyone! First news about Midage : Gmod :)
Right now I'm working on Skills system and as first skill, because is the easier, Woodcutting.
Woodcutting like the name says it's about cutting wood, in this case: Trees.
Everyone start with Woodcutting Level 1, as you raise your level you cut trees faster and gain access to cut other types of trees. As level 1-15 you can only cut Normal trees, after Level 15 you can cut Oak trees.
Every time you cut a tree you gain XP, at a certain XP you level up. It's quite simple to cut a tree, just get your axe equipped and start hitting the tree. Right now I'm using HL2:EP2 models but they look like Pines instead of "normal" trees. If you're interested in seeing this mod going forward and you're a modeller post some work on forums :)
Cutting a tree: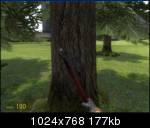 After a tree cut: