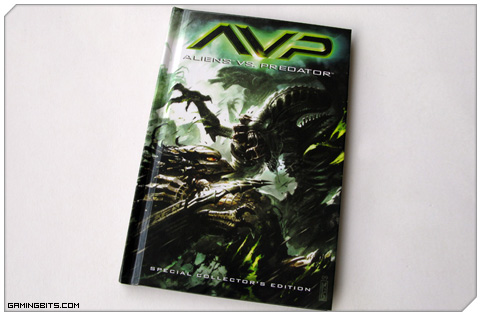 SEGA's upcoming release of Aliens vs. Predator is getting a special edition package. The Aliens vs. Predator Hunter Edition will be available for the Xbox 360 and PlayStation 3, in both the UK and North America. The Hunter Edition is some great fan service, which SEGA has wrapped up in a package that includes:
- Aliens vs. Predator game disc
- Access to 4 multiplayer maps, before they are released to the public
- Fully articulated Facehugger model
- Dark Horse Comics graphic novel (US only)
- Weyland-Yutani patch
- 3D lenticular postcard
- Limited Edition packaging
As an even better bonus for Aliens vs. Predator fans in North America, included is the comic that inspired the films and this new game from SEGA, Dark Horse Comics' Aliens vs. Predator graphic novel.
Get a peek at the Aliens vs. Predator Dark Horse graphic novel below.
The 43-page graphic novel from Dark Horse Comics, about the size of a standard Xbox 360 game box, is a hardcover, full color Special Collector's Edition. It includes a part of the larger Aliens vs. Predator Omnibus Volume 1. Dark Horse Comics has a complete section on AVP comics here.
If you don't want to miss out on the Aliens vs. Predator Hunter Edition, make sure you secure your pre-order soon (Xbox 360 here or PlayStation 3 here). See an image of what is included in the Aliens Vs. Predator Hunter Edition.