The world of I Wanna Be The Fangame is profoundly unfair, unforgiving and unpredictable. By it's very nature, you are supposed to feel rediclously weak. To put it simply: Everything is out to get you, Everything hates you, Nothing is safe. The world will kill you. LOTS. We have something of a slogan for this game:
"IWBTFG" wrote: If it looks like a trap, It's probobally a trap. If it doesnt look like a trap, It's definitely a trap.
So how can a game so brutally unforgiving and cruel actually be fun?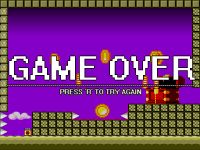 The question's struck me a few times as I've been designing level for this game. I'll set up an elaborate and terrible trap, and I'll KNOW that people are going to die on it lots of times, and I'll wonder why they keep playing it. It puzzled me for a while before I even realized that I was doing the exact same thing I was pondering myself.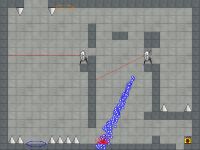 Somewhat one-sided
The answer that I found comes in two main parts:
1: The rediculousness of it all.
The entire game is completley outrageous. Everything is 100 times the size of you, and you're in a world in which a lifespan of over 3 seconds in admirable. You walk across the screen and what you thought was a background prop falls into the foreground and crushes you. You grin.
Why? Because it's such a rediculous scenario that it's funny. You brush up against a tree stump and it blows up to the size of the screen, killing you. You explode into a big violent splatter of red pixels, and it's funny. Later on you're inside a Pokemon battle screen. Rattata uses Quick Attack! You die.
The fact that the game can parody and create such rediculous scenarios makes it funny and interesting enough to keep players hooked enough just long enough for...
2: The satisfaction of beating it.
When you're at as big of a disadvantage as you are with IWBTG/IWBTFG, and the world's against you, it makes it all the more rewarding to finally beat it. Having such frequent save points (Usually once per screen or so) it delivers the game in such small chunks that it's actually kind of plausible, and even though you might die 100 times (or more) in the same place, It's not such a big deal, because each attempt only takes a few seconds, generally, and the satisfaction of beating even a small chunk of something so challenging is great enough that people will plough on for it.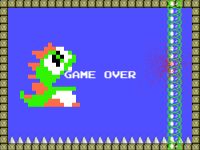 You just made my list, Bubble Bobble
Somehow the combination of these two things, along with the clever game parodys and tricky puzzles can make a game like this addictive. It certinally did for IWBTG, and we've had great responses about our one aswell. It's the sort of game that you might watch someone play for a few minutes and say "Why would you do that to yourself?", but when you try it yourself, you might not be able to stop.
In this way It'll always be a Love/hate relationship with a game like this. You hate it for it's difficulty and it's crueltey, but you'll love it's references, humor and the satisfaction you get from beating it.
The best way to show it's appeal is to play it, so give it a shot! You might find that after the first few screens, you love it.