There's been plenty of speculation and dozens of guesses in the last few weeks, but I've not seen anyone actually work out what we've been hiding. That means there's probably going to be a whole lot of people right now who are about to be very disappointed that they didn't get what they were hoping for... I guess you'll have to settle for a consolation prize instead. Or perhaps something even better? Say, something I've given large chunks of my sanity for these last few months?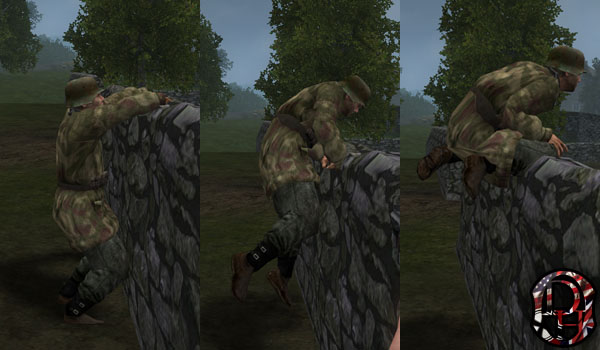 Yes, that really is what you think it is. For over 5 years, mantling has sat at or at the least, very near the top of the all time RO most wanted features list. Well not any more.
It's very straightforward to do. Simply walk up to an object at or below shoulder height and come to a halt. Make sure you're not reloading, changing weapons, shooting, or anything else that's occupying your hands (and you must also not be crouched or prone). When you see this symbol in the lower-middle of your screen, press your jump key and away you go.

What's that? You didn't want to climb that bit? An enemy machine gun just opened up out of nowhere? A grenade landed right where you're about to climb to? No worries! Just press your jump key again and you'll stop climbing and shove yourself backwards off the wall, free once again to take cover, return fire, or run and hide like a little girl!
It's important to note that while you're mantling, you cannot look around, you cannot shoot or change weapons and you use a constant trickle of stamina (much like sprinting). A small price to pay however, to avoid having to run 50 metres just to get around the end of a pesky, yet mysteriously impassable, chest-high wall. Especially if there's a tank coming up behind you...