First and foremost, there hasn't been many updates on news simply because I've been waiting on a new computer. Developing on a mac-mini is starting to take its toll, specially with the ambitious project with the procedural world generation. Unfortunately, while all my parts came in a few days ago for my PC, my motherboard was shipped with a bad socket pin (a missing one in fact! So bending it back was out of the question). A new motherboard is already being sent and hopefully I can get my dream-machine started soon.
Secondly, I'd like to welcome Holliwould to the team. A talented musician and composer, he will be handling most of the sound-design, music, etc. He's also versatile with code and will be making things much easier on me.
Lastly, I've taken the time to upload 6 new screenshots with the latest development of the procedural world generator. Sadly not as much has been done as I would have liked, but getting the city and town placement system down has given me more momentum. Expect more updates in the following days.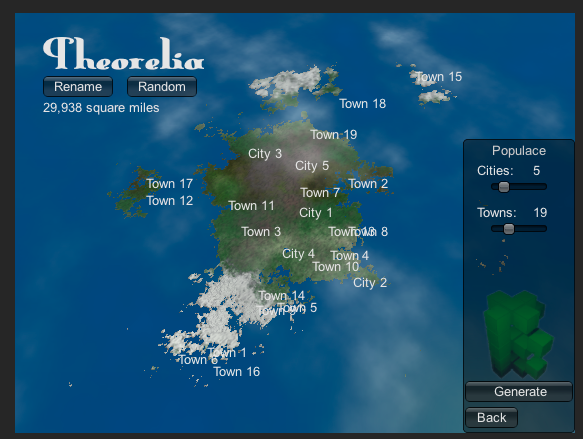 Things I'm working on:
1. Name generator for the cities and towns. I want to add a little bit of logic, add "harbour" to the end of a town name for being near the coast, perhaps "oasis" for desert themed towns, etc.
2. Randomly generated city/town parameters. I'd like to give each generated town and city a bit of personality by adding a population count, even go as far as demographics, cultural diets, politics, etc. That will take a lot of work so initially I may not do all that, but perhaps start on the basics and do more later.