Incertitude is a puzzle platformer I created where your main objective is to move the character around (Gilbert) throughout each of the levels trying to get to the blue END block. There are certain easy obstacles you will have to overcome in the first few levels, but as you progress, you will run into more hindrances that will stand in your way, and the puzzles will get harder. The only weapon you have to aid you is the GX-ball. You're able to jump and as you're in the air, you can shoot a GX-ball downwards to destroy (or even create) certain things.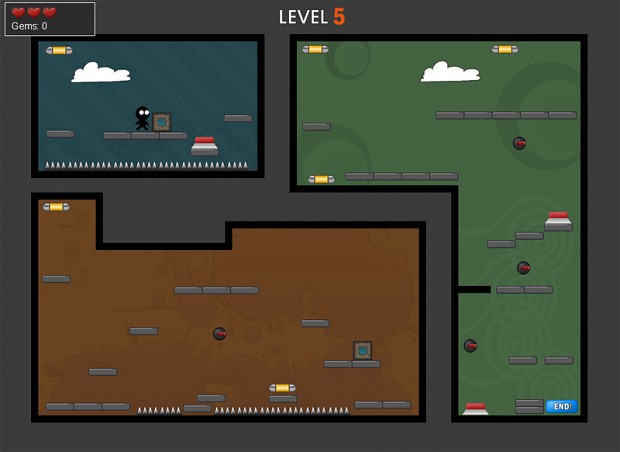 The key game play is listed below:
You get

5 lives each level;

the lives are displayed in your HUD.
Try and

collect as many gems as you can

because it'll help you overcome certain obstacles later in the levels.
When you lose all 5 lives, you'll be jumped back one level and you'll also lose 2 of your gems.
The

left & right

arrow keys

will move Gilbert left and right.
The

up arrow ke

y will make him jump.
When jumping in the air,

pressing space

will shoot a GX-ball downwards.
As you get farther in the game, more buttons and actions will become available to you, and theyll also be explained to you. So play hard and be careful, there's a reason the game is called Incertitude.
So far I have 7 levels completed and the game is 95% bug free, so i'll be making more levels and adding new gameplay elements in the next few days and ill keep everyone updated with news, images, and videos.

Upcoming:
I'll be shortly uploading a small trailer of certain levels being played so you guys can have a better look at the game and how it works.
After I'm done with a good amount of levels and everything is 98% bug free, I'll upload a beta version of the game. Then I'll start working on the multiplayer, but that's for later on.
Stay tuned for more. - Daniel.