Well hello there again.
Before I get started on the actual post, please, I urge you to go to our newly designed website ( Solar-fissure.com ) and read the news post entitled Deja Vu. It will explain everything as to where we have been and what we are doing. This mod desperately needs a large and solid staff, and we are accepting for all areas of mod development. If you know anyone, refer them. If you yourself are looking for a project to work on, apply in the forum. We really need the help.
We have several things to show off today (and hopefully this post will be updated a bit later with even more) and I'm happy to present them. We have a couple revamped models, with new ones and one new texture. Sirnaut is currently hard at work texturing the new HammerHead model, and hopefully we'll have someone to post on that soon. We also have a couple in game screenshots, that although I feel aren't really up to par to actually throw out there, it does prove that we are working behind the scenes and getting our content in game. Currently we have two player models, one weapon, and one vehicle in game (Although Havoc89 has been working on our HammerHead to get that in game). I am not posting the player models in game, simply because the material settings on them are not correct, and they just don't look amazing. Trust me though, they are in game and really fun to run around as, but I'd like to tweak and work with them a bit more before showing. Anyway, onto the art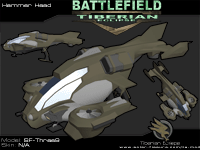 GDI's HammerHead (successor to the Orca Fighter) has been redone and spiffed up a bit. More detail and definitely more realistic landing gears. Will probably end up being a 1 seater craft, with a fixed vulcan chain gun on the nose and 2 heat seaking missle pods.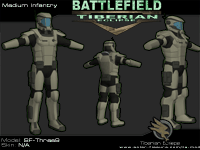 Although I liked my previous GDI soldier model, I felt I could take inspiration from the cancelled Tiberium title and other influences, and make a more solid looking soldier that will be setup slightly easier for different versions (disk thrower, jump jet, medic, etc.,...). The model is not complete, but I wanted to see what others thought about this new design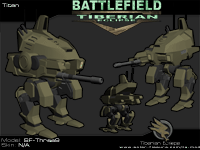 And here is GDI's iconic unit, the Titan. Although this was made for intents of being used in 2142, I feel it's a pretty solid design. Now that we are on a better handled engine, I might go back and detail it up a lot more and throw in a bit more to make it more powerful looking. I had a lot of problems (and went through several versions) deciding on how the legs should work, and I think I've gotten a design that still makes it look like GDI's Titan. I fought to keep the 2 sectioned leg design, but it would be extremely hard to make that design and it not look awkward or be stable.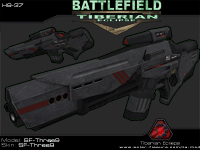 Although the name and purpose of the rifle may change, this is going to be one of Nod's rifles. I'm thinking a standard issue heavy assault rifle type setup. The texture is still going through final touches but I'm satisfied with the results.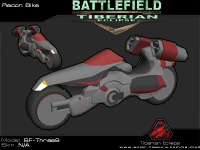 Due to the fact that several people commented here and there in basic "disgust" and disapproval of the original design of the Recon Bike, I've decided to let this unit follow the path of the HammerHead and be my own design. It will still function the same, however, I'm tossing around the idea of making it a hover vehicle. I'm really not sure if Nod having a hover vehicle would break trends (seeing as GDI is known for that), so let me know what you think; if that's a good idea or just leave hover-style vehicles to GDI
That's it for now, but I'm going to try and work hard today to finish GDI's Wolverine and Orca Bomber. Expect posts on those soon if not today. Do not give up on this mod, it isn't too late to see what this mod could become.