Beta version of the game is on the way in the meantime let's talk about basic set of weapons that you will find in the game.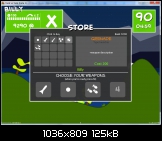 In Tank vs Tank every player have some amount of money which can be spend on weapons/boosts/defense (at the beginning of each turn). To get more money you'll need do some damages to your enemies (well it's depends of game mode that you'll chose but it's another story).
Bullet
Rocket
Grenade
Triple-Rocket
Frag-Grenade
Mines
Bounce-Grenade
Frag-Rocket
AirStrike-Bullet
Sand-Bomb
Bomber-Rocket
Portal-Bomb
As you can see most of them are pretty common so if you have better idea for a weapon let me know. Game itself will support modding so you'll be able to design you own weapon-set and play it with friends on-line.
PS. Bomer-Rocket seems to be little over-powered don't you think? :)