But before starting talking about the game, I want to introduce the team first. We're three French guys.
Greg (@HDreadyGraphic) is one of the two artists. He makes nice old school graphics but he wrote much of the script too. When he doesn't create cool sprites, he help the programmer (me) to add the content into the game.
Max (@Ckiop83) is the other artist. Like Greg, his works is awesome, he is capable to create very nice graphics, cinematics and a ton of content. Like Greg, he has always a lot of good ideas.
Yann (@cyannick) I'm the programmer so I work on the engine, I speak in the social networks and.. you know.. I do a lot of other tasks ;)
The game
You are Anne Jezequel, a french thriller novel writer during the 60's. Your uncle just died and you inherited from his house in Brittany (France). You decide to leave Paris and take some rest and inspiration in this house for some time. But strange events will append…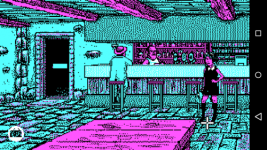 It is a fantastic and horrific story, inspired by many games, films and books (Maniac Mansions, Monkey Islands, Phantasmagoria, Gabriel Knight, Bioshock, The road, Lovecraft, Iron Sky, The Hills Have Eyes, Shetan…).
Our choices
The game use only 4 colors. To be more precise, i've used the CGA palette 1 (High contrast). The engine is built on the top of the web standard, it's written in JavaScript and use a 2D canvas. Thanks to that, it works on all browsers, including mobiles, consoles and of course, desktops!
What next?
We've finished the first part of the game, the Prologue. Now we need to work on new tools that will help us to add content more easily and quickly. As I said, we've planned to add four chapters to the game. An Android port is coming soon too!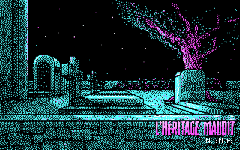 I want to play!
You can play this game now, directly in your browser or using an application on some mobile devices.
We hope you'll liked the game,
The Nuit Noire Team