Hey everyone,
After over two months of work we are excited to have released the biggest update of WarClicks to date! It's been a long journey already and with this update a lot of things that were part of our vision are now finally part of the game! We've also touched on some things/mechanics we haven't seen in other games before and hope it inspires others to try out new things in your own games.
Main changes via the update:
In-depth connection between the idle BootCamp world and active world WarZone -> we've modified how prestiging(deploy) works in BootCamp to not only give some %bonus on production, but act as part of the game balance/world. Now when deploying units trained in BootCamp, it's not just an "upgrade that resets" - The units will be sent over to WarZone, and become your support units which affect WarZone in several ways: they can be upgraded and increase your "damage per click", become your limited support power to, and lastly, they also become a "currency" of sorts – meaning that when you lose or choose to lose support units as part of your strategy/to overcome obstacles, it also affects your damage per click and support power. Plus it just adds a great feeling that things are connected, and blends well with the war theme. Come on, having units in a war and not being able to lose them?...
Timed "Boss battles" added, but as we have an energy system we took a different twist here when it comes to farming. Unlimited farming is not possible, but here's where support units come into play. When you can't beat a boss, will you try to fall back and use limited farming to grow stronger, or instead rather sacrifice a small part of your support units to finish the boss immediately? It introduces an interesting strategic decision to the game.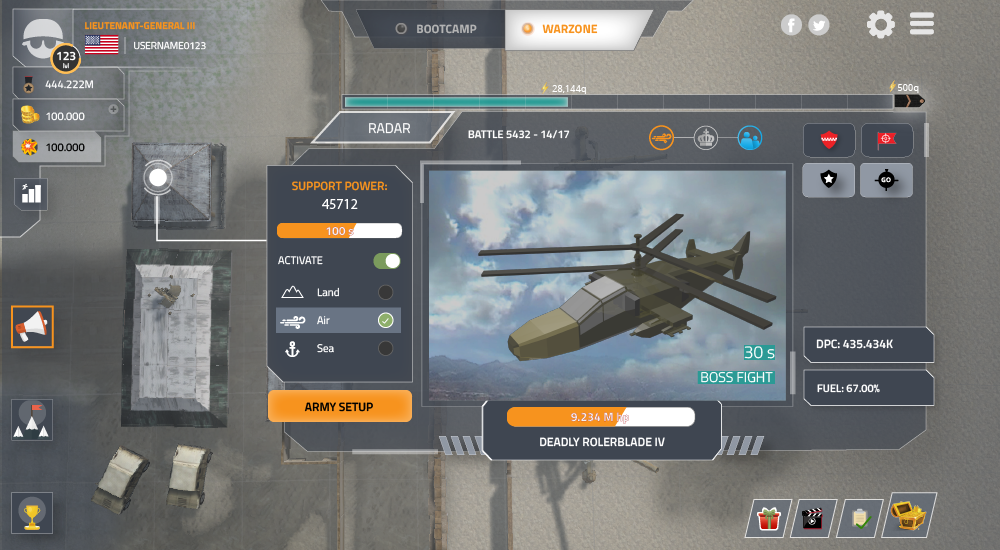 Simulations of PvP battles – Support units also come into play in PvP battles, where you're pitted against several players and have to choose to fight one of them. Once you make your choice you will watch the battle simulation unfold. Win or Lose you might suffer some support unit losses, gain PvP points via which you can buy extra upgrades (currently they only affect PvP fights, but they will be extended to affect other parts of the game), as well as gain huge boosts of score when winning. Plus they serve as a fun way to just chill and relax for a bit during all that clicking, as you just watch the action unfold!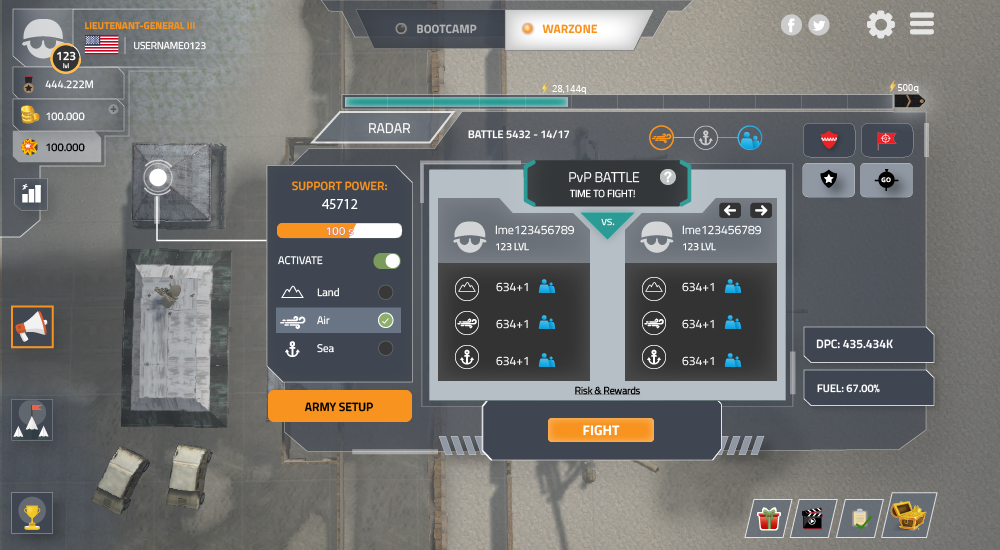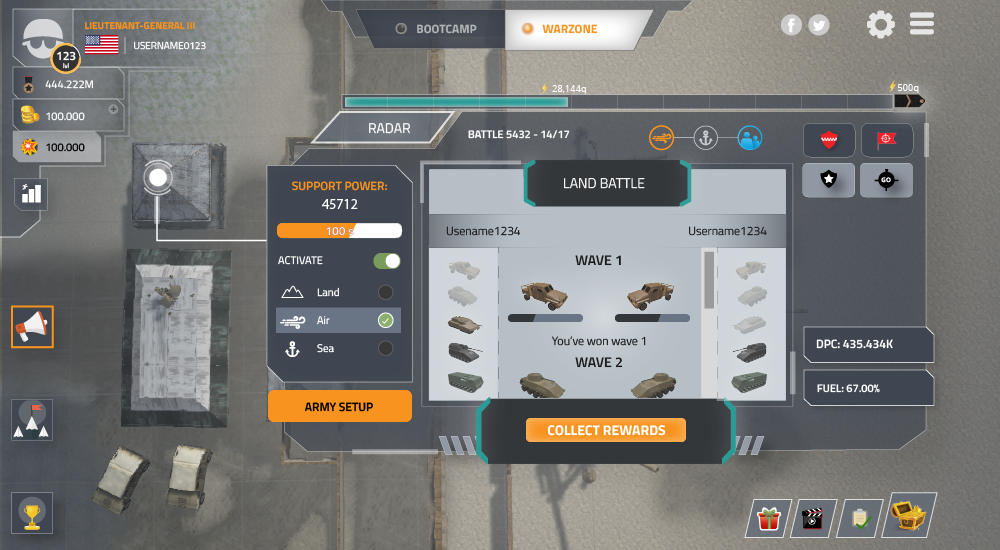 A "second prestige"/Army privatization - has been added to BootCamp, that not only expands and hastens the late game progress, but again acts as an important part of BootCamp-WarZone connection. With time/progression the time between deploys increases, meaning that eventually you wouldn't be able to keep fueling/increasing your support units. Army privatization fills that gap perfectly, as due to the progress reset it makes deploying regular again, and acts as a mass reinforcement to WarZone and not just a "lets speed up that idling!"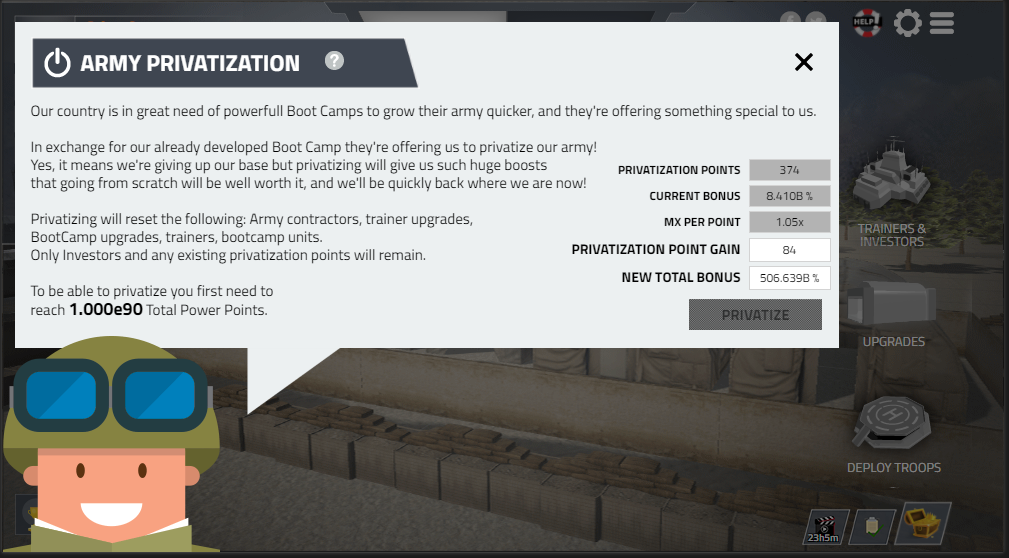 Besides the massive mechanical and graphical changes, we also improved the overall performance of the game, making it run much smoother on most devices – it's actually even playable on mobile now -> not ideal yet, but we'll now be able to do relatively minor changes and adapt it for mobile much much better. Finally!
We've made a bunch of other smaller changes and improvements, to just make the game overall feel much better! There might still be some minor bugs left, that we are on the lookout and trying to clean them up. In the following weeks several parts of the game will also be getting attention, which we had to neglect during our focus on the rework – additional improvements to Country invasion, late game progression, additional optimizations, mobile adaptation, expanding PvP point upgrades to affect more than just PvP, connection of Second prestige with CI... One of our major updates that will be added soon, is also a way to improve all that clicking tension, so we want to integrate a system/mechanic that will allow players to "bypass" that, and not have it be a case of "too much clicking" vs using an autoclicker. It's one of our priorities that we want to have finished ASAP!
Furthermore, we want to tackle something with a future update that we're yet to see handled well in other incremental games – a potentially way to balance new players vs old in a way that, well... would work well despite many core issues that are presented due to the way incrementals work. There was an interesting post on that topic here recently - so hopefully we can figure out something workable fitting our game, and share some thoughts/results on that as it's a really interesting challenge that I hope will lead more of us to experimenting!
Note: If you've played the game before, you will notice that your BootCamp progress was NOT reset. But WarZone had to be due to technical and balance reasons. However, we've refunded any gold spent WarZone-related items back to your account. On top of that, if you were a part of past competitions you've also gained limited-time boosts, that should help you progress through the early game much quicker!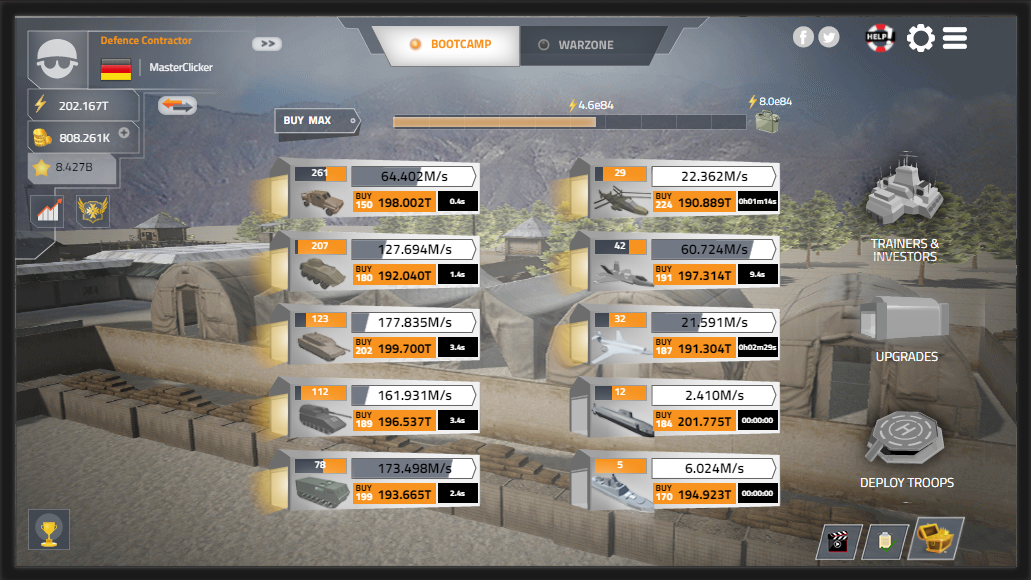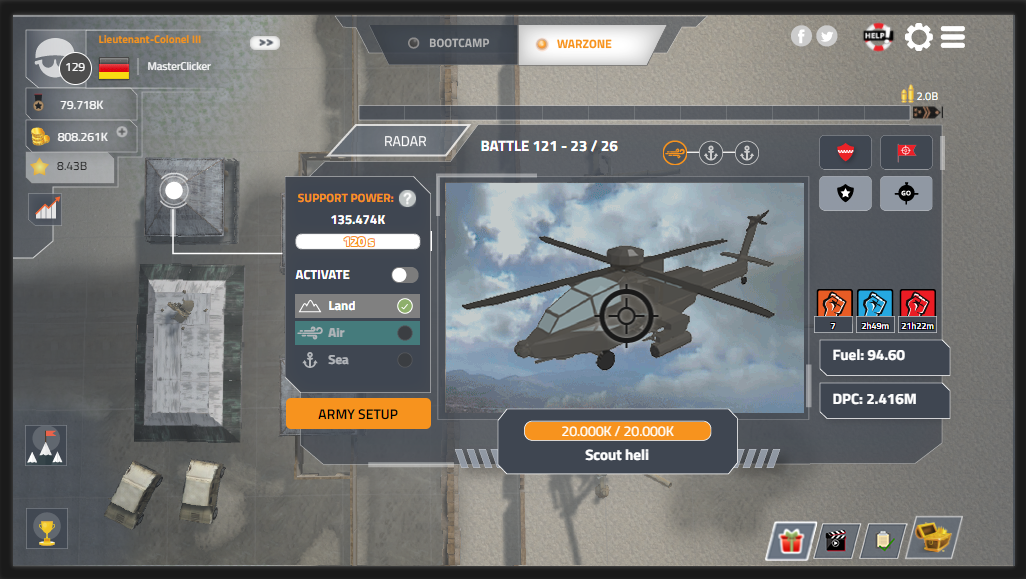 You can play the game at Warclicks.com