---
Welcome fellow IndieDB users and lurkers, we want to thank you guys for your support over the past several months! We are proud to announce that we have reached over 8,000 user hours, and we hope to see this number continue to grow! To help us celebrate this Winter season, we are holding a Winter Wanderlust sale, where everything is 50% off!
This sale will last from December 1st - December 25th!
But that isn't all, we have a special treat for all of you guys here at IndieDB! We are going to be giving away SEVERAL free copies of the game! How does one receive a free game key you might ask? Well it is quite simple really, anyone who posts a comment in this news post or on our main game page has a chance to win a key daily (giveaway lasts until December 25th)! We will be selecting users at random who leave a comment and send them a message here on IndieDB with a key that they can redeem in game! (one per person!)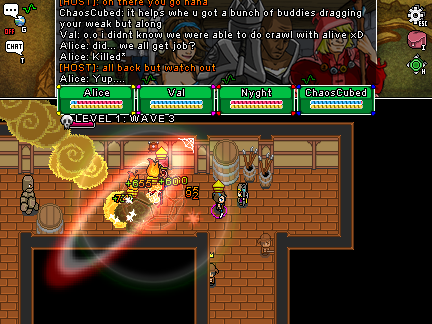 Play along side your friends!
We have put a lot of hard work into Wanderlust and it pleases us everyday to see players playing our game and knowing that we were able to create a game that others can enjoy! So with that said, we want to say Thank You!
We have made it our goal to work with the community to add/change features based on user feedback to make the overall experience more satisfying. These have ranged from simple control options for left handed players to male/female versions of the main characters! The entire game has been tweaked to create a more balanced and enjoyable game!
If anyone would like to participate in the sale, head on over to the sale page here.
The prices during this sale are as follows:
1 pack = $5.00
2 pack = $9.00
3 pack = $12.50
4 pack = $15.00
We have a beefy list of features including player high score tables, player renown, player profiles, crawl jackpot, detailed character portraits, 54 unique skills, and much much more! When we say this game is loaded with content, we aren't kidding!
Thanks again, and we hope you guys enjoy your time with Wanderlust: Rebirth. We can't wait to see you guys in game!
If you guys enjoy the game, we would really appreciate it if you voted for us by clicking the big button at the top of the Wanderlust game page (or click the image below) to help us get nominated for Indie Game of the Year 2011.