It's been quite an amazing week here at Mode 7. First, we were voted in to ModDB's Top 100 Games of the Year by YOU! I've said thanks before but I'll say it again using SNOW...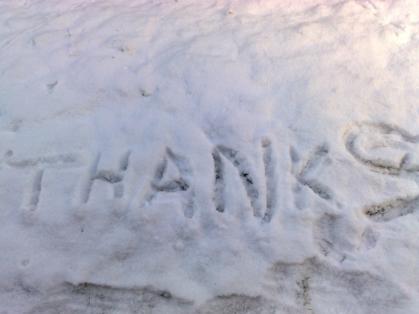 I said that when we reached 200 followers, I'd give away the first piece of music from the Frozen Synapse soundtrack as a free download - so here it is:
Download "Schism (ModDB Promo Mix)"
That's not a100% complete and mastered version, but I hope you like it nonetheless. I'm still working on the next piece for the game, so I will post more info about that as soon as I have it.
AND NOW THE BIT ABOUT VOTING FOR US!
Now that we've been nominated, we need more votes to actually win an award. If you would do us the immense kindness of voting again (or indeed for the first time) we will love you forever.
Here's how to do it:

1.) Sign in to your account
2.) Go to this page here
3.) Click on the immense button that says "Top 100 of 2009 - Vote Now!"
Please do that right now if you can - if you're not convinced then please read on! In true slimy politician style, here are some reasons why we believe you should vote for us...

1.) We are throwing everything we have at making this game something that you guys will want to play.
This game is for you guys: people who care about games enough to follow and support small underground titles in development. We're not about making small, high-concept artsy indie games (although those have their place): we believe in the indie ideal of creating real, full-scale games that gamers can really sink their teeth into.
We're not about making shedloads of cash - we both can (and often have to) do other work which pays more money than making games: we make games because we love to do it, and we think we have something good to offer. We want this game to prove that we should have a place in the indie game making pantheon, and make enough money so that we can devote all of our time and energy to creating amazing games.
All of the team has gone beyond the call of duty so far - I know that's true of many games, but I thought I'd mention it anyway.
2.) We don't have a lot of money to spend on marketing
We would love to spend every penny we have on making our game great, but the sad reality of indie games these days is that you have to spend money on advertising. Advertising is by far the best way of generating interest in your game - it seems cynical, but there is very hardcore data out there to prove it. The games that are a hit just through "buzz" and PR alone are few and far between: for every World of Goo there are 10 or 20 just as worthy titles that you've never heard of.
We'd LOVE so much to be a game which is driven by popular goodwill, though! That would mean that not only would we attract the kind of audience we'd like to have, we could invest more of our money in improving the game's gameplay, art and sound, rather than on BORING adverts.
We can't afford huge preview trailers and big spreads in magazines, so in this early stage, building buzz is absolutely vital. And that's where you can help - if you vote for us, we'll get more fans, the community will be bigger and the game will be BETTER when its launched.

3.) Poncho Pilot says you should
One of our fans (Jimi Cullen aka Poncho Pilot) is so ADAMANT that you should vote for us that he recorded an ENTIRE RAP SONG (including guest vocals in the chorus) to convince you. Here it is! Um...and here is a picture of Poncho Pilot. Yes.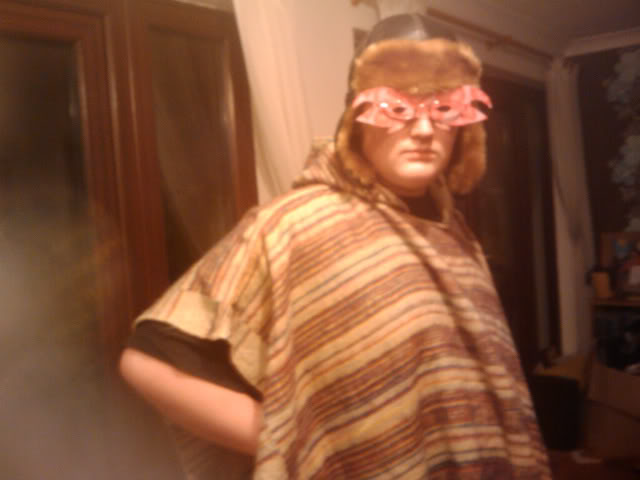 Our strategy game inspires people to wear pink masks, wear unusual clothing and write rap songs - who else can say that?

4.) FINALLY an awards system that matches up with what we're about as a company
Bit controversial this... We can't enter the IGF because it's a festival to determine how accessible and well-presented your game is. Games win on accessibility and presentation, not on gameplay - there is simply not enough time for the judges to get deeply involved with any of the games which are submitted. That's fine, in many ways I have no problem with that, but there was literally a 0% chance we would have even been nominated this year.
Our game is about deep gameplay, and it's half-finished, so the presentation (which is, AND SHOULD ALWAYS BE, the last thing to get done) isn't there yet. We will be working very, very, very hard on accessibility, but we don't think it's the be-all and end-all of game design.
These ModDB awards are about what people want to see from a game in progress. We love ModDB - we've had the best support on here - and we think our game is a perfect fit for it.
Finally, I promise you these things:
1.) A current pure gameplay video which shows you EXACTLY the state of the current game
I wasn't going to release such a video just yet, but I think you guys deserve to know what's going on, so that will be up soon. We're working towards a trailer in March (a lot of new art is happening) but we trust you to see past the art flaws and appreciate what we're trying to do with the game.
2.) New music to listen to
I will try very hard to get a new track finished soon and get it up on ehre.

3.) More free stuff
I'm thinking of putting up a big collection of music (some old some new) for free on here that anyone can download. This will happen when we reach (drumroll) 400 FOLLOWERS. Keep telling people about the game and stay tuned for this one.

4.) Some kind of beta key competition
I will, at some point in the future, let a big load more people from here into the beta and we'll figure out the best way of doing that.
That's my election promises, and unlike British politicians, I plan on keeping them!
Remember to go here, sign into your account and press the big button if you'd like to support real indie gaming!
Rant. Over.
And now some more info on what's been happening with the game. Concept artist Johan has nearly finished his work on concepting a new background for us - I'm pretty excited about this - I think it has a lot of scope for us to play with...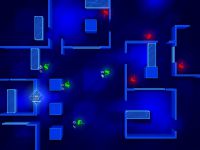 Also, in the spirit of giving stuff away - we can now reveal some of the new parts of the game we've been working on. Here's Ian, our lead designer, to explain things... "Let me start off by giving you some background. During the August beta test, I noticed the following things:
1. People really, really liked Frozen Synapse
2. People drifted away after a week or so
I thought about this, and I worried about this, for a long time. After a huge amount of thought, I decided that there were three issues. First, the process of starting a game was far too convoluted. Here's what it looked like:
a. Decide you want to play Synapse
b. Start and log into Synapse
c. Try and find someone to play with – this usually involved going into the chatroom and asking someone for a game
d. Decide what game mode you want to play
That process just will not work. Most importantly, having to interact with someone before you start playing is a complete and utter no-no. Human interaction of that kind is just plain stressful. Not hugely stressful, but stressful. The system should pair you up unless you specifically want to play with someone.
We had the quick match system, but it never worked very well – if it couldn't find you an opponent immediately, it would put you in a game with no opponent so you could do your first turn, whilst it tried to find you one. This sounded like a good idea to start with, but in the end people just didn't trust that they were going to get an opponent, so didn't use QuickMatch.
I've completely got rid of Quick Match, and replaced it with a simple "Traffic lights" status system. There's a new Status Bar at the bottom of the screen at all times now, and by clicking part of it you change your status:



(This is all work in progress graphics and will be less ugly later)
When you first open Synapse, you'll probably want a game, so you'll click through to green. The system will try and find anyone else on green and match you. It'll wait twenty seconds just to make sure someone else doesn't come online wanting to play or finish a game. If it doesn't find another green in twenty seconds it'll automatically give you an orange player – orange are people who are happy to play two games at once, or are just sitting with Synapse open happy to play a game if someone comes along. If there are no oranges it'll send a final pleading request to any reds (which will be easy to ignore if the red really doesn't want to be disturbed). If none of those things work, the GMs and admins will be mailed. But I sincerely hope that one of those things will have worked.
Anyway. This may seem like a minor thing, but getting this right is absolutely crucial to our success. Getting a game of Synapse needs to be the most simple thing you can imagine.
And now onto problems 2 and 3.
Leaderboards were not doing enough to entice people to play competitively. We need a much bigger carrot, it looks like to me. Also, because Synapse has always been very focussed on the one game mode (Secure during the August beta, Disputed since then), playing more than a couple of matches in a row has been a bit dull – it's not that fun to play the same rules over and over again.
My solution to this is much bigger thing. In fact, I probably should have talked about it first. Oh well, I hope you're still reading.
I introduce to you: The Campaign.
You have a base. Everyone has a base. Rather than individual synapse matches being detached, individual things, now every game you play is connected and matters. Every victory you score gives you extra resources to put into your base. Your base defines what your attack squad is (you start out with a lowly two machine gunners, and it'll be a while before you can afford the really powerful units), and various other things.
So far, so XCom. But on top of this, each part of your base is a proper Synapse map, and you have to organise your defensive troops in it. Many mission types happen inside your or other people's bases, such as:
Hostage rescue
Assasination
Escape
Corruption
Infiltration
And how you've set up your defenses, and which parts of your land you've decided to occupy, will have a big impact on how those missions go.
The design for Campaign is still in the fairly early stages, and a lot of things will be added and changed while we test it."
I hope you're as excited about Campaign as we are - it's going to bring a whole new dimension to the game, and very few games in our genre have attempted something like that. There's a huge load of work to do on it (we still need to test the latest version properly and ALL the art for it still needs to be done), but I think it's the thing that could make the game.
Wow - mega update there, but I thought you guys deserved a big load more info. Thanks - we'll keep working hard on this game.
Oh, if you're wondering (I know I was!) here are the lyrics to Jimi's rap song:
Hello people I'm here to tell you
Who to vote for but wait and then to
Let you know just what you must do
This games the best, you know it computes
When other games see frozen synapse
They all say "oh, your highness"
You know what I say is righteous
and they call me Poncho Pilot
You know what you have to do
Vote frozen synapse right now, dude
Best upcoming game, you know it's true
If you disagree then you're a noob
On ModDB it's the best game
In terms of fun none are the same
Frozen Synapse deserves the fame
So why not vote for it today
You've already voted for Pedro
Now it is time to vote for Mode
Seven who are developing Fro
zen Synapse as I'm sure you know
Vote frozen synapse, listen near
For ModDB indie game of the year
Into rival games it does strike fear
because they can't match this game right here
CHORUS
You have to vote on ModDB
This is gaming democracy
Frozen Synapse, the game for me
(this is gaming democracy)
If you don't vote for this one
You'll be laughed at all day long
This game will be the most fun
(You'll be laughed at all day long)
If you wanna vote I'll tell you how
Log onto ModDB right now
If not registered then do that so
we can move on, ok let's go
Now please please point your browser at
moddb.com slash games now slash
frozen hyphen synapse, and that's
the address you need to be at fast
Now that we have got so far
Click on the button, it's not hard
It says "Top 100 vote now"
And the correct page you have found
Now you are on the right page
scroll to the upcoming indie games
click indie games and in the list
click vote for frozen synapses
CHORUS
This game is the ulimate
tactical game with a strike squad
you can direct their every move
while the enemy plots against you
It is bite sized and hardcore
strategy, touch of laser squad
bit of X-com, do you get it?
striking sci-fi aesthetic
If you want to hear more Poncho
Pilot go to Mode 7's blog yo
That is where you'll find their podcast
If I were you I'd travel there fast
They discuss the games industry
And sometimes they play songs by me
Visiting the Village it is called
Now go vote then have a listen y'all!