My game SpaceJammers is on Steam Greenlight as of August 1st! Help me out by voting yes! If you like what you see, leave a comment.
SpaceJammers is a 1-4 multiplayer, Bullet Hell/Top Down Shooter/SHMUP rogue-like. Up to four players can play together on one screen, dodging bullets in slow motion in randomly generated levels. You play as an alien rock band of space pirate kittens who fly around the galaxy in custom starfighters, shooting down and boarding space ships in order to grab loot to fund your musical tour!
Features:
Top Down Shooting and SHMUP play styles
Drop-in, Drop-out local/online multiplayer
Bullet Time
Random Level Generation
Procedurally generated bosses
Tons of items and skills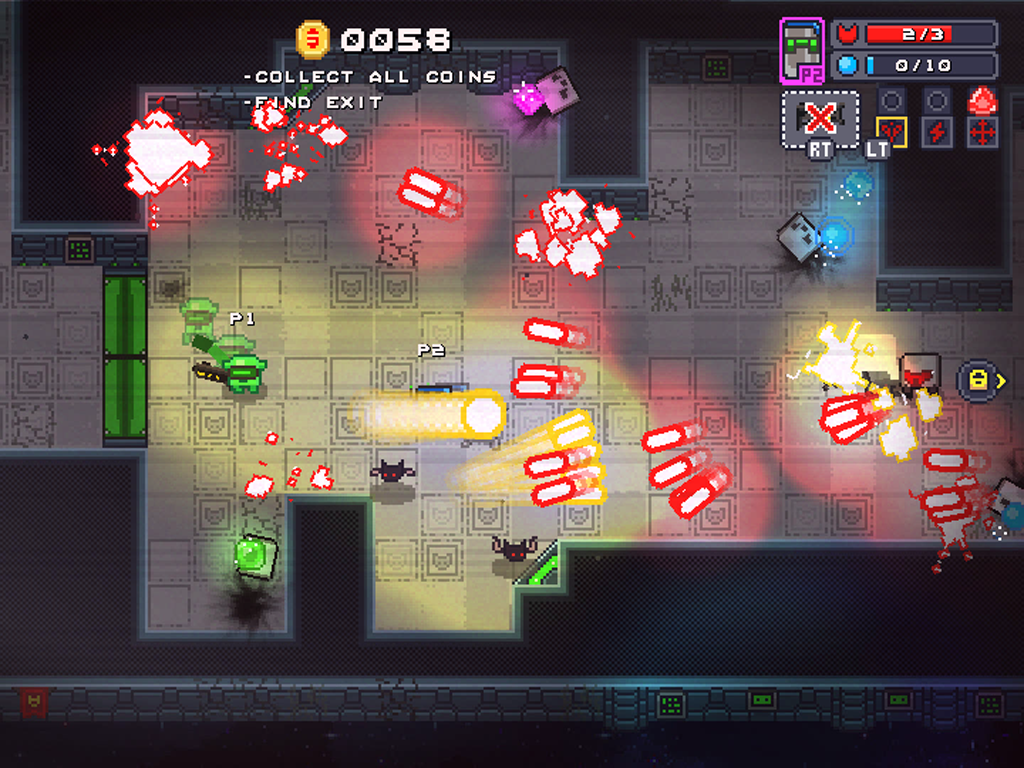 About Current Stage of Development
This is game is currently in the Pre-Alpha stage. Lot's of things have yet to be implemented, and lots of mechanics are still being thought up and being added weekly. Because all the game's mechanics have yet to be implemented, it is local co-op for now. Online functionality will be added for the release.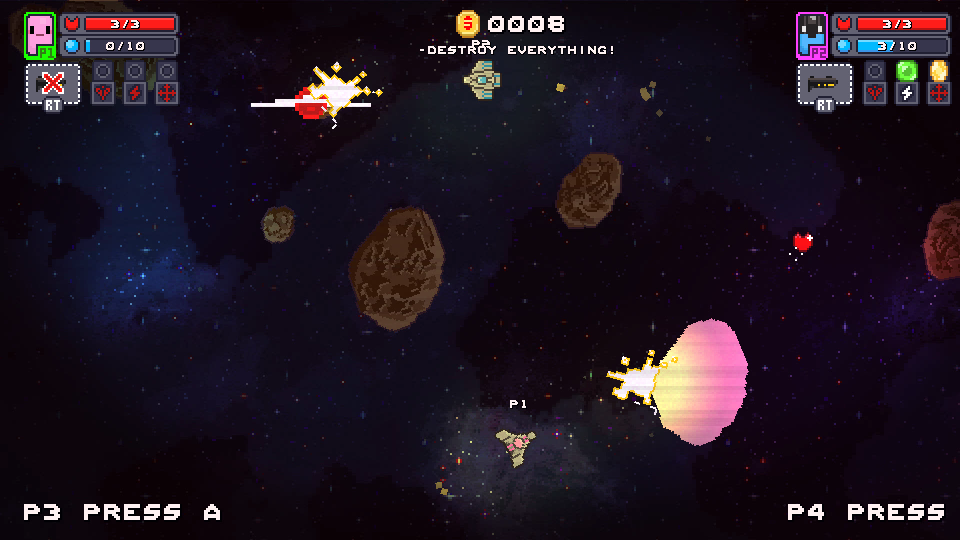 Controls
Currently, mouse/keyboard and XBox 360 (xinput) controllers are supported. Playstation and bluetooth and other Direct Input controller support is coming in later updates.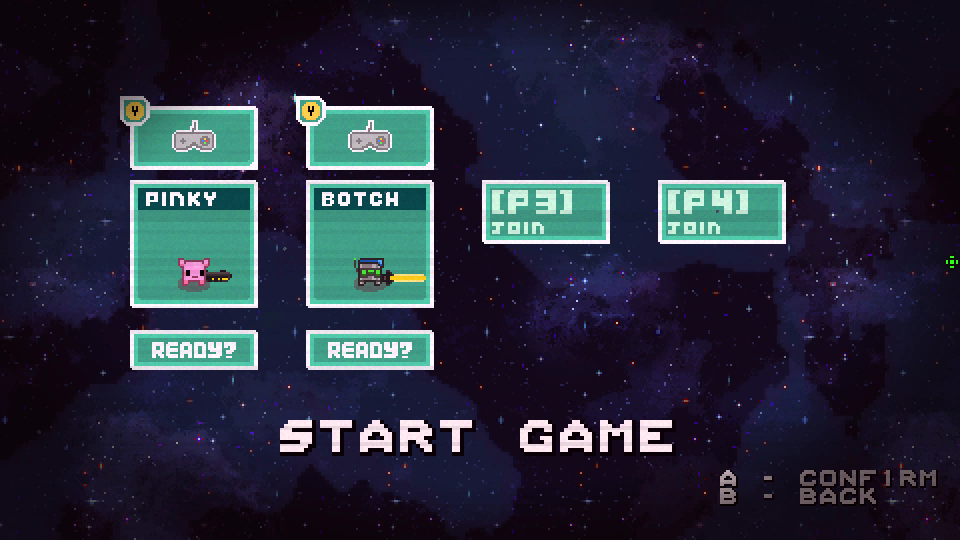 Why did I make this game?
SpaceJammers was created to fill a gap that I feel exists within the top-down rogue-like genre. While I enjoyed "The Binding of Isaac" and similar games, I wanted to be able to play these cooperatively with friends. I also wanted a game with a more visceral feel as well as arcade elements from games I played in the 90's. However, I didn't want a game like Diablo which had involved inventory management and large maps. Team members often end up either waiting around for someone to sell their loot or just plain losing sight of one another in such a vast landscape; I want to keep the experience as clean and tight as possible, so no one is ever waiting around. The whole team should always be moving through the game at the same pace, regardless of experience level or skill.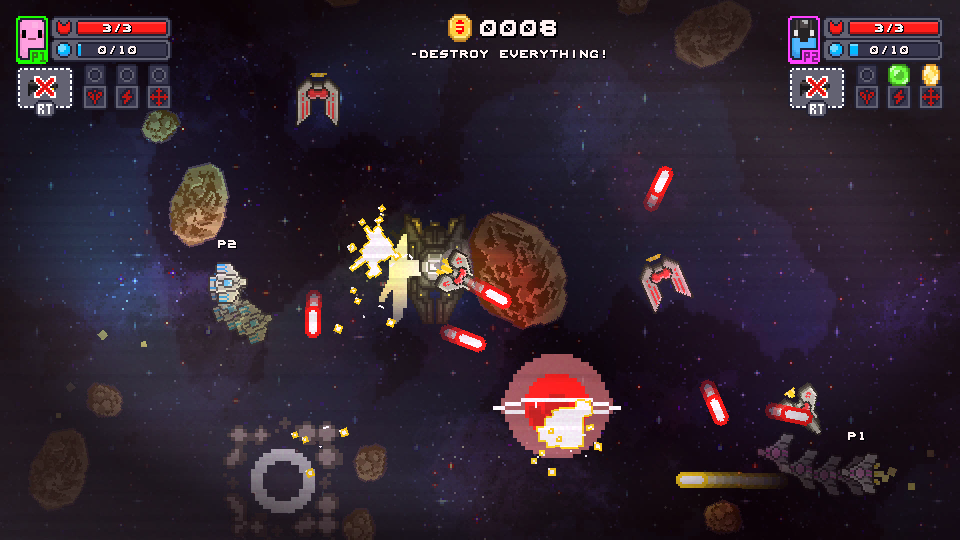 Steam Greenlight Links
Browser link: Steamcommunity.com

Steam App link: Spreadshotstudios.com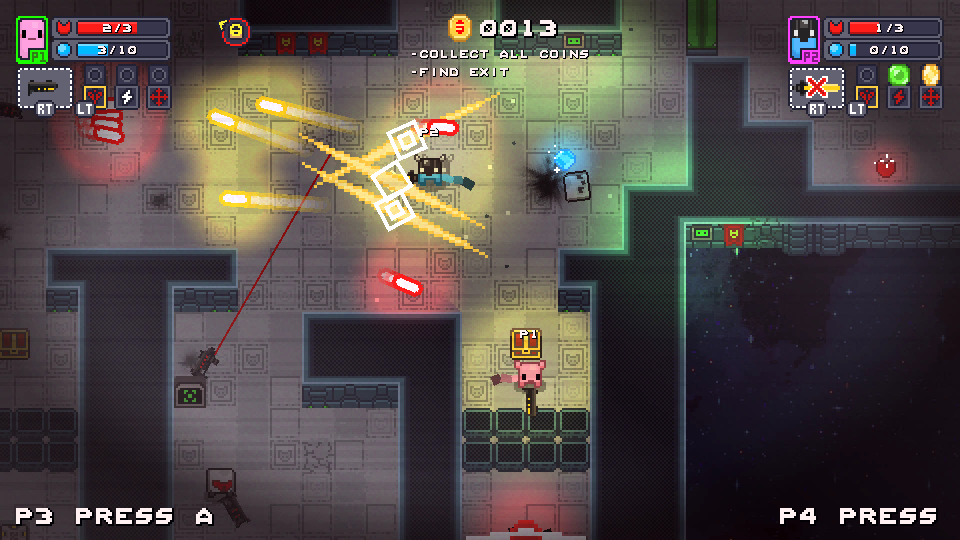 Download SpaceJammers Pre-Alpha Demo