Due to time restrictions, I decided to take a new approach towards completing VIRGA for the Android. Although the story and game aesthetics have changed, the artwork and functionality still holds true to the original concept. Here's the change-log for those who are interested: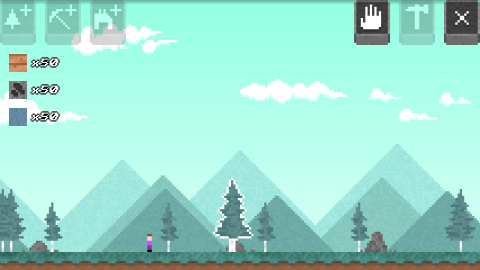 Removed the population system. The game now focuses on 1 player/survivor.
Removed the cabin system. No population means no need for cabins.
Removed the old GUI (Graphic User Interface).
Added an arrow to indicate where the player is going
Added new responsive GUI.
Added a player class. This is the replacement for the population.
Added building upgrades (wood -> metal)
Added Wooden Factories.
Added Metal Factories.
Added Metal Mines.
Added Resource Counter.
Improved Android input recognition.
Improved fps stability for faster Android devices.
---
There were many more fixes and introductions to new features, but these were definitely the most important to mention. I'd like to visually show you the new features: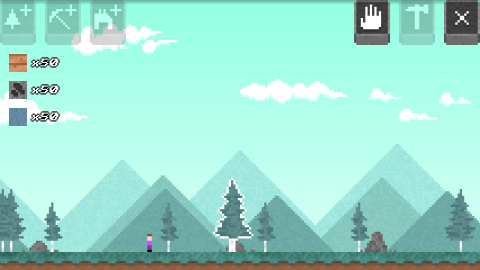 As you can see, the GUI looks much nicer. Buttons are easier to learn and give players the feeling of control. In addition, buttons will hide themselves when an option is not available or when resources are out.

This next image demonstrates the new commanding system for your survivor. Simply touch the screen to give him an order, and a white arrow will indicate your action: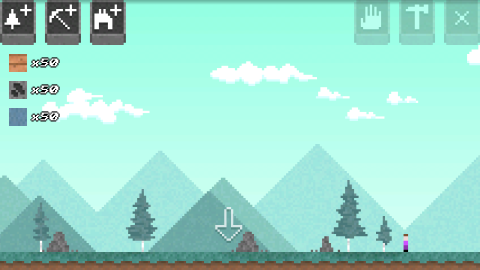 This will inform players that your survivor is ready to help build anything you desire.
I added 2 new buildings; each with 1 upgrade option. Take a look at the new Mine and Factory facilities you can create:
Mine Shaft: Build these so that you can farm more rocks faster. These will increase your productivity greatly.

Metal Factory: Convert your hard-earned rocks and smith them into metal. Use your new metal to upgrade your current buildings. Upgraded buildings produce resources much faster!

---
Things are starting to come together. I hope to have this game ready for users to play for FREE by the end of September. Be on the look out for new updates!
Thanks for reading and I hope you have a great day!