I recently checked the stats and have to say that the fourth Version isn't started very well. Under 30 Downloads and just 8 filled out surveys
Okay, I broke a new visitor record with 227 of you on my site (ehehe) but anyway, a bit more Feedback would be great, maybe a comment, maybe a new follower on twitter or sth. in my Facebook group.
I would be very grateful for sth. like a community, I don't know what I can do else. Any ideas?
THANKS for 2000 visitors, you are great :)
But a huge thanks for the visitors and downloads, I don't want to complain about it, I mean, we even were in the Popular Games field at the right, see here: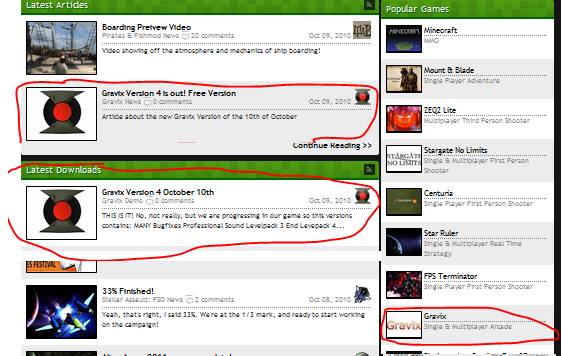 Anyway, I realised (for all americans: realized) that the Levelpack 5 isn't good or fun to play and even the controls are shitty. So, because I love to make things good: A patch is coming out next week to replace the full Levelpack 5 and fix some bugs. Yes, the FULL Levelpack 5, here is sneak peak of what I will look like, I want to give you another gaming experience than before so I am going to replace the ugly 3rd person space adventure with a funny mingaming experience like in an old classic game. Okay, everybody understood it? (: Just install it over the old game and you will be able to have fun in a new dimension...Yes, red/blue 3D is also going to be patched, have fun with it.