Version 1.0.1 Released!
I'd say the nicest improvement made was a reduction in the download size, and a "LITE" edition for those of you who'd like to get the game quick.
Lava has also now been added as a part of the newly included "Classic Infiniminer 2009" theme. Although the lava currently evaporates like water, it's still fun to see what fluid Lava would have looked like in Infiniminer! Watching the Lava 'tiles' flip across a stream is also quite entertaining...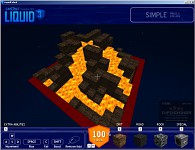 Custom soundtracks can also now be made by adding .mp3's to the Root/Music folder, or the appropriate theme folders in Content/theme. Because the music can sometimes be much louder than expected, a separate volume for music has been added using the Page Up / Page Down buttons
Poly Issue For Some Users?
If anyone else is experiencing a texture distortion like the following, could you please send an e-mail to support@zanmgt.com or send us a PM with your computer's specifications? We're looking specifically to see if this only occurs with ATI video cards. Thanks!
UPDATE 1:
This appears to be an issue with the shader code not behaving properly with ATI video cards. We think we've tracked down the problem and should have this resolved in version 1.0.2