Pursuit of Power 2 was updated to version 2.1.1.3 on October 12, 2017. You can learn more about the game on Kickstarter.
Normal rifts respawn as epic rifts during next chaos level
New rifts no longer spawn until next chaos level (stops invaders for that targeted fortress when its associated rift is destroyed)
Toxic Slime spawns from epic rift (placeholder artwork)
Fixed a few bugs for loading game when a rift has been destroyed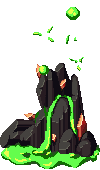 The first epic rift is now in game and it spawns the Toxic Slime. It has a Toxic Affliction ability that causes maximum debuffs for all troops in the area. If any troops are debuffed, the damage is doubled when hit by the Toxic Slime. Also, it explodes when it dies, causing massive damage around it.
Shadow Knights can use the leader ability Blessing of Hate to convert each debuff to rage, which multiples the damage done by their troops. In addition, Despair can be cast on the Toxic Slime before it explodes in order to prevent that massive damage.
If the Toxic Slime is able to hit the portal, it will disrupt the progress timers for the fortress. That will make it much more vulnerable to being destroyed since the fortifications won't be able to rebuild when destroyed. All epic creatures will most likely have that disrupt ability.
Eventually, there will be multiple epic rifts with unique mechanics. Right now they just hit for double the damage of normal rifts and spawn epic creatures. I'm also going to focus on interesting ways for players to counter the challenges of those epic rifts and creatures.
In addition, I plan to create some more fun mechanics involving the zealot lines. Those new features will probably be tied to fortress upgrades and they will help players conquer opposing fortresses. I'm especially looking forward to adding the flying dragons that will travel along the zealot paths, wreaking havoc below.
Finally, in the near future I will explain in detail what I envision for the game when it is complete. That includes the talking Avatar, player abilities, tactical decisions, pace of the game, campaign, and much more. I hope some of those ideas will interest you!
Please let me know what you think about the Demo! I want to hear your feedback so I can improve the game. Thanks for your help :)