The Magentas

This cutting edge technology troop carrier is so high tech, it doesn' have to explode whenever it's unloading soldiers. Though move slower than the usual troop carrier, it can carry as much troops as it needs! Often, it carries so much soldiers they seem unlimited! though actually nobody really know what's inside it. maybe a wormhole? or a cloning factory? everybody can only guess.......
The Needle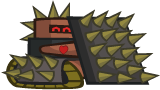 Spiky as the name suggest. this enormous bot got whatever it needs to be loved by the invaders. This bot will stop at nothing! everything on its path can be decimated easily! what's more terrifying is those friendly eyes of it..... the Needle will crush the defenses on its path easily while looking at you cheerfully, and that is something.....
The Pro


This hulking invader seems to have a kicking complex. no day it will spent without kicking something around. This invader unit is the captain of invaders bruteserker space-football team . More skillful than your average bruteserker, its able to kick many invaders around it as much as it can! you better kill it fast before all of the invaders reach their destination!
The Bagindas


The supreme commander of the invader forces! It's actually pretty pissed seeing all of those failed campaign on Mavas. so he took up arms (and megaphone) then into the fray of battlefield! If the usual commander is annoying enough, the Bagindas is even more terrifying. It master degree in hypnosis, and actually pretty pissed, so every invaders will listen to it!