GRAND ARMY PR-TRANSMISSION 08-0024B
Encryption Code: Hotel
Public Key: file /hotel-eight-two-four/
From: >>/PACKET INTERRUPTION – ERROR CODE 5929 */ …Attempting Recovery… …Attempting Recovery… / 88% PACKET CORRUPTION – RECOVERY UNSUCCESSFUL - DISPLAYING
* /C!#4x---^&-$x%^^p3@
Head2!#SWa#++-DL*SLAj3r
48hr0x0ABFFFFF [ERR 71104]
To: >> HNE
Subject: STATUS REPORT
Classification: None
/start file/
Let me start off by saying that we haven't shut down (despite the utter lack of updates, images, pragmatic dogma, and other such things you would expect from us on a regular basis if we were active). Now, on to business.
Personnel Roster:
Since our last update here (which was never, so I've got a lot of catching-up to do) our personnel roster has changed a bit.
/start attach/
Team leaders:
Hockey
Ulmont
Story Development:
Commander Dimal
Ulmont
Skinners:
Balkoth
Demongo
Frazscotland
Gamma097
Hockey
Jai'galaar Bralor
N-5/Prudii
Mandalorian Mercenary
Mappers:
Hockey
Ulmont
Media/Public Relations:
RC #38
Jai'galaar Bralor
N-5/Prudii
Music/Sound Design:
Ulmont
Balkoth
Supporting Members:
Beanlord56
Hooper
K1lingdr3ad
Rinku
80Vogliadiscoparty
JKM29
Te Darasuum Mandalor
Mandalore the Shadow
Jaicer
Voice Actors:
Jai: Mandalorian Mercenary
Razor: Hooper
Flare: Jaicer
Ven'vul: Balkoth
Advisor: Hockey
Gunship Pilot: Ulmont
Clone Troopers: JKM29
Battle Droids: JKM29
Multiplayer Voices: Hockey
/end attach/
If you're a part of the team, and aren't on that list, or are slated under the wrong category, let me know. I'll fix it.
Progress
You know our motto - We Deliver!
So, I'm now gonna dollop out some sweet old (I say old, 'cause this was all in an update at LFN a couple months ago) skins, features, and more. And yes, it comes with gravy. First up are the skins, and we've got 'em. Keep in mind, that these are only a small sampling of what we've already done.




And now for something a little more cinematic...
Now, perhaps you're thinking, "Commandos and the 212th?! I thought this was an ARC trooper mod." Well, it is. And it will be featuring something that the first game lacked: Front-lines action. Which means you'll get to see your standard troopers in their bland white armor, green colored sergeants, and, later on, Phase II armor decorated with the markings of different units, like the 212. Speaking of the 212th...
To help put that into perspective for you, meet a squad: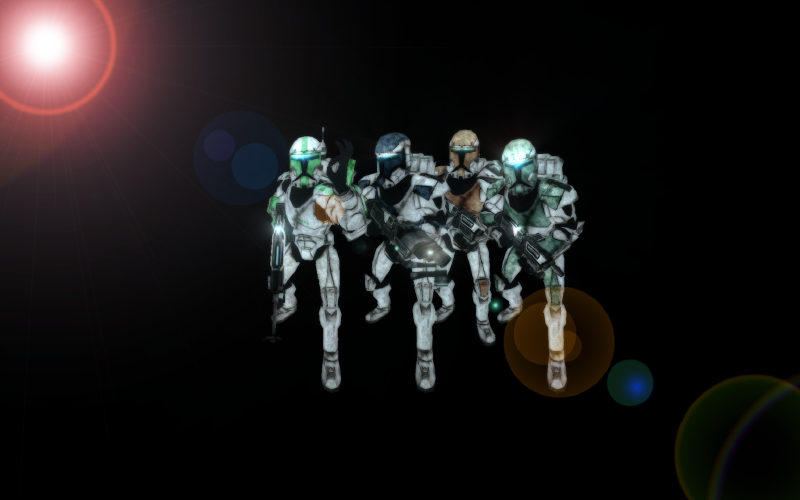 Nope, they're not main characters, and they don't make a huge appearance, they're just one of many, many, many 'semi-ambient' AI. You'll see 'em in the background in a level or two preforming tasks like... helping you out and... being incapacitated.
That's it for skins, after all, you'll want to discover some of it for yourself when you play the game. Now onto features. At present, we're planning to have full multilayer support. Meaning you can play online with your chums, pals, amigos, friends, etc. Also, of course we've got new weapons.
Things you can expect:
Verpine Sniper Rifle
Grenade Launcher
DC15
And a pistol so awesome that it's almost on par with the M6D from Halo: CE in terms of sheer destructiveness.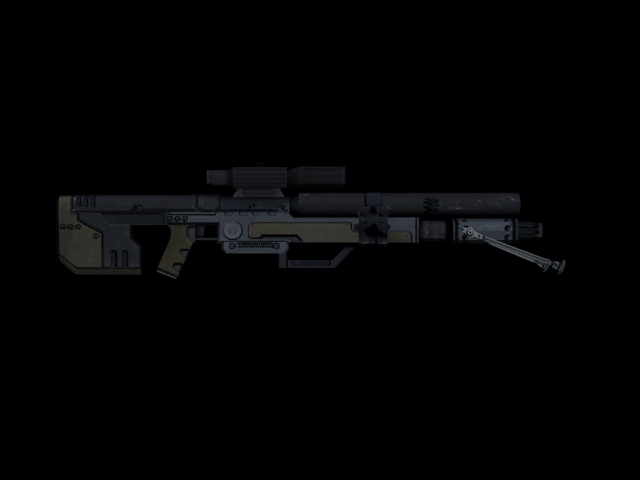 The Verpine
Music of the Mod
First off, this mod will have its own Sound Track, and we're currently working on a Music demo for you. Sadly, we're currently experiencing technical difficulties (can't upload or something like that) so you won't get to listen to its savory sweetness today. Balkoth's got a team working on it, or so I'm told, and I haven't finished any of mine yet. Oh, and don't expect sheet music from me. I never bother to write it down.
Box Art, and the Title Screen
A while back, I did some work on 'Box Art' for the mod. Here's the result:

Yeah, I know; not exactly the best piece of work I've ever created, but still - not to shabby. But hey, we're in the business of making the good into the unfrigginbelievable, so I spent around ten plus hours in Photoshop and After Effects to produce this - the new title screen for the mod:
Click it to make it HUGE
And on a less gigantic note, here's a scene from the prologue which I 'modified' (yeah, lens flare; hey, it works, doesn't it?).
Click Me
That's it for today folks, and keep in mind, we're still looking for more people, so if you've got RC, UnrealED, and a decent level of talent, we'll take you. (If you're applying, you MUST register with LFN). We'll probably have an update next week, so stay tuned. Cheers!
-Ulmont
/end file/