We regret to inform you...
I'm afraid that we might not be able to make the January release of the Beta. Real life seems to be plotting against our fake life tofu substitute and the tofu-life has gone underground to escape certain death. In short, Hockey is dealing with Midterms and (of course) hockey games & practice. That's bad for us because his computer is the master-build comp & he's our main mapper.
HockeyGoalie35 wrote: im thinkin.......early march.....heres why:
1. i have hockey 7 days a week.
2. im overwelmed with school work, this is exam week

so the maps are done mechanic-wise... Ulmont, if i send you the maps, could you put some in some props, and the raindrop splatters on the ground etc?
So expect the Beta late January or Early/Mid march.
Forth Floor: Tools, Guns, Keys to Super-weapons...
It's not all bad news though - we've been working on a new armory-based weapon selection system that allows players to select weapons before a mission. We're still working on how to implement it, but you should expect to be able to swap weapons and listen to some in-squad banter. We might even thrown in a firing range where you can practice your skills. That said, what's an armory without some fancy new weapons?
Introducing the Tenloss Syndicate DX-8 Disruptor Pistol: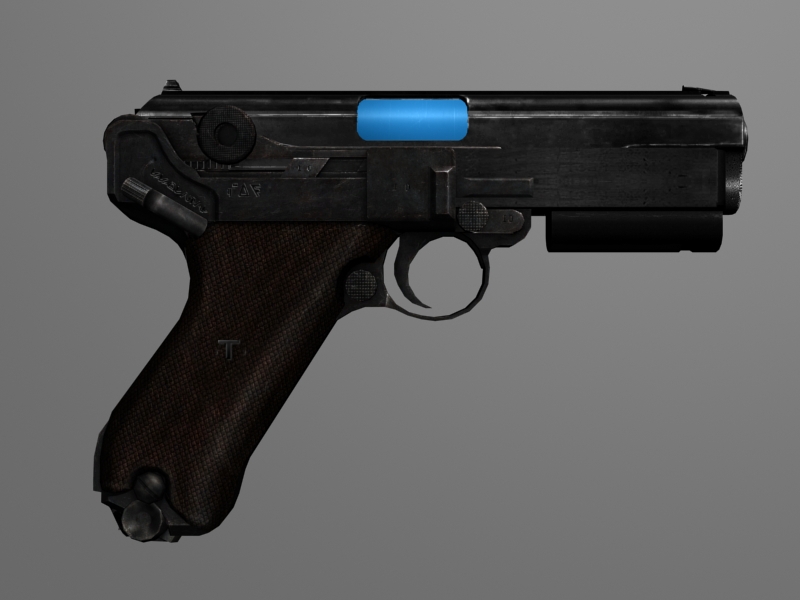 This disruptor packs a helluva punch. It's also highly illegal in the Republic, and the weapon of choice among CIS Officers.
Manufactured by the Tenloss Syndicate, the DX-8 is only capable of discharging eight times before the power-pack must be swapped out. This, however is offset by its range and damage. Though less powerful than the DX-2, it is accurate up to 16 Meters, with a maximum range of 24 meters.
DEVELOPER COMMENT:
I want one - its a merging of the Luger P.08 and the Femaru 37; two of the best guns of all time. (It also has some parts from the Glock, but that doesn't count)
-Ulmont
That's it for this week folks!