Hello again everyone!
I'm really starting to enjoy this weekly update routine, so without further ado, here are this week's additions:
Starting off with a new weapon: hand grenades! While not as exotic as some of the other weapons, they do come with their own gameplay characteristics (as everything in the game…), namely:
- relatively powerful (it *is* an exploding device after all…)
- area damage (missed your target? no problem!)
- can get over certain obstacles, such as fences, which other weapons (bullets, missiles, etc.) might not be able to overcome (not pictured yet)
- come in different varieties (more on that next week, wink wink…)
The second addition of this week is blood! We're not going for Postal / Hatred levels of violence, but it's not Pokemon either, so, yeah, characters will bleed ( at least *human* characters … ;) ).
Blood puddles are not just there to look pretty either, they will actually slow down anything that walks over them, cause … you know… blood is slippery I guess? So new get-away strategy: bleed your teammate to death to slow down your pursuers!
Work also continued on the tileset, with more destructible states for the map tiles, such as this ventilaition shaft and these statues…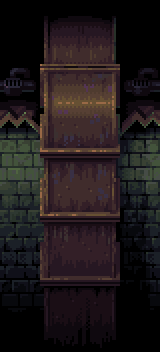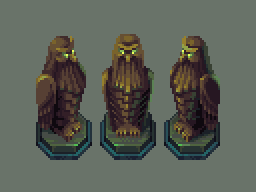 … as well as more props to populate the world (every good Big-Brother-esque dystopian society should come with pesky bureaucrats and their offices!)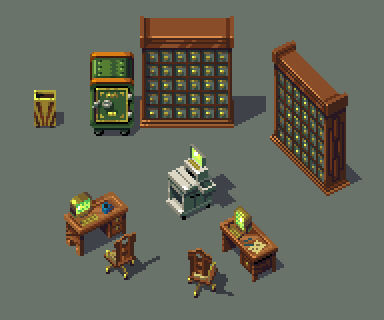 And finally to wrap up this update nicely, as mentioned previously in the game's description / mission statement, cooperative play will be a big part of the experience (though of course the game remains perfectly playable solo, with or without hired AI companions), so we're working on the networking aspects (and all the potential headaches that entails) right from the start.
Here's a quick clip of Cyangmou and myself barrelling through our little test room:
That's it for this week's update! Hope everybody enjoyed reading it as much as I enjoyed writing it, and don't hesitate to post in the comments if you have any questions / support / criticism / suggestions!
Cheers!