Hello everybody,
As we will launch the first private alpha tests on September, we are currently working on making the game playable, with the first important features.
Thus, we worked a lot on the servers lately. Some enhancements have been made as well on the 3D engine to make it look better and prepare it for our next big feature: spaceships building.
Let us know what you think about it!
The game servers
As the deadline is approaching, we are working on making the servers stable and ready for the first testers.
We want our game to let you explore an infinite universe and, as a consequence, an important emphasis is put on starting and stopping our machines depending on what planet you are on.
Thus, we installed some machines that we borrowed from our school to build a mini data center to host our test servers. Here it is!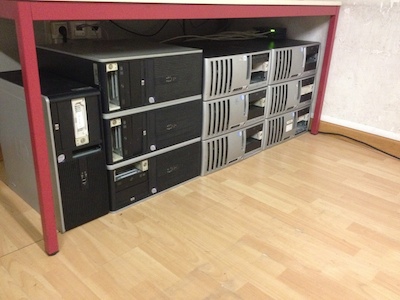 Watch out Google, here comes our data center !
These computers are pretty old but should handle about a hundred of very early players !
Graphics engine
Most of the time spent on the graphics engine was dedicated to optimization and preparation of the imminent arrival of giant cubic spaceships.
We also found some time to add an essential item to our universe which was missing a lot, the Sun !
We can now see the day and night cycle better, and the seasons cycle as well, as the planet rotates around its axis and around its sun.
Join us on the bright side !
We also added post processing to our pipeline, allowing us to develop some cool effects like depth of field and bloom. Here are some pictures!
We advise you to click on them to watch them fullscreen, as these effects are a bit subtle.
Looking at something will make close and distant objects blur, very bright objects now are glowing.
A lot of time was also spent on making the game run on Windows, Mac and Linux with relatively similar colors, as these where awful on some computers.
Finally, as you can see on the left picture, leafs are now transparent, allowing us to add glass and other cool stuff !
In progress
Along with these features, some progress was made on texturing and procedural planet generation. We will come back to you soon with pictures.
The game background story is still the subject of many debates, but we hope to release it soon. Side question: would you prefer a complex and deep story, or is this something you don't really pay attention to when playing a MMO ?
Android and tablets !
What ?! Android ? I thought this game was for PC !
Well, you are right. But as our school organized a Hackaton with Intel on the subject of Android programming, we jumped on the opportunity to start making an app that will allow players to track their character, their corp, and maybe even design their ships !
To achieve this, we started porting our engine for tablets. We currently only display the generated skybox and sun, here you go: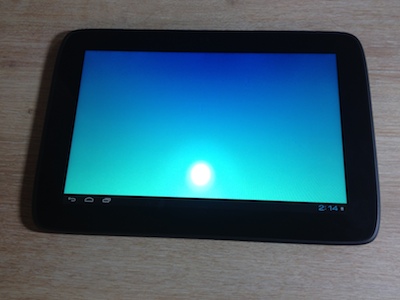 It's currently no big deal, but we would like to design and give our players really useful tools for the game on tablets and phones.
We will come back to you soon with more features to show, and maybe even a first video.
See you soon!