Several gaming-sites already had a first look on Zeit² at Ubisofts Digital Day:
"... Zeit2 works to combine influences from a variety of different games and fuse them into one cohesive package. The game looks a bit like FlOw, plays like Gradius, and thinks like Braid."
and further
"From start to finish, you'll need to regularly reverse time and play through a segment again in a new way. It may sound strange, but after a few tries, it becomes second nature."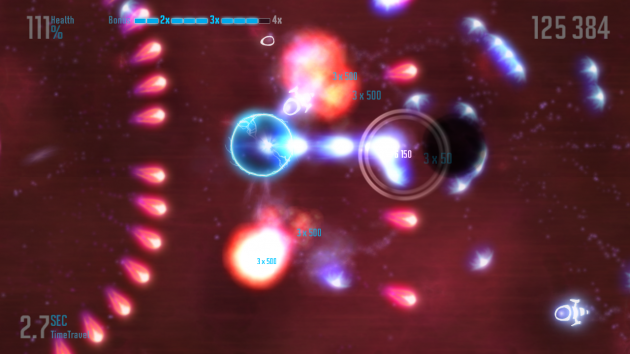 " We Played Zeit, Rewound, Played it Again. Braid never let me blow stuff up like this." IGN

"Time travel makes everything cooler... Likewise video games get way cooler when you can shoot stuff up, rewind, and shoot it again, like in Ubisofts newest shooter coming to XBLA." IGN

"...there are way too many ships to shoot by yourself. So you have to do the only logical thing: rewind time, creating a shadow clone of yourself that you can use to shoot one set of enemies while you blast another. Super obvious, I know." IGN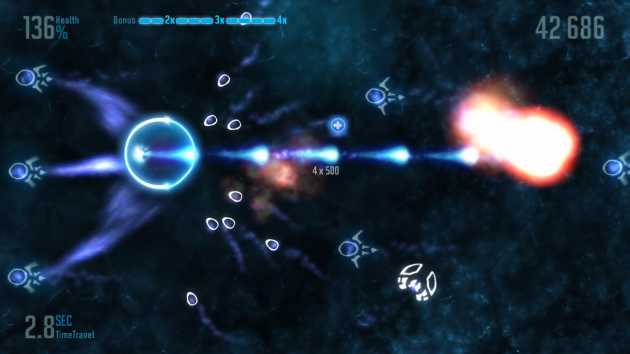 "The game has generated some media coverage long before this week's announcement as Zeit2 was a finalist for the Independent Games Festival Student Showcase in 2009. It also was a finalist for the first annual Indie Game Challenge earlier in 2010." BIGdownload
In a comment on Ubisofts Digital Day gamesradar asked where to go from the simple Shump as a classical concept and wrote:
"Zeit² has gone in another direction, literally; the game is a side scrolling shooter a la R-Type, but it uses a unique time flashback system that not only helps you avoid damage, but is essential to defeating certain enemies."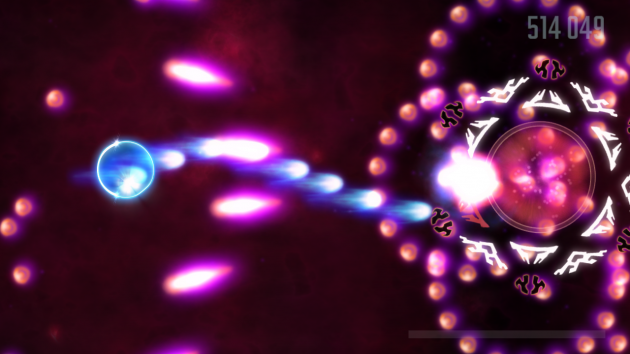 "Much like Ikaruga, mastering the game's unique mechanic is just as important as being good at Shmups. Zeit² demands a level of precision from its players; bullets fired reduce your health if they miss your enemies, and any enemies you allow to slip by also drain your health. Combine this with the game intentionally bombarding you with more enemies than you could possibly handle normally, and you'll find yourself using the flashback feature for a lot more than just fun, you need it to survive." gamesradar
Frag Doll Phoenix had an Interview at Digital Day with the Associate Producer Hiroshi Okun: